New Melbourne Stars captain Elyse Villani was "heartbroken" at her omission from the Australian team but will channel her energies into the Women's Big Bash League, rather than worry if she will play again for her country.
Having crossed from the Perth Scorchers in the off-season, batter Villani will lead the Stars in her debut season for the club having been awarded the captaincy from veteran spinner Kristen Beams, who has announced this will be her final season of professional cricket. The Stars take on the Hobart Hurricanes in a pair of matches at Junction Oval this weekend as the WBBL season commences.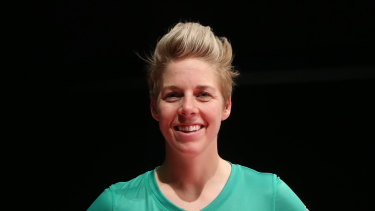 Elyse Villani.Credit:AAP
Villani, 30, is a veteran of 99 internationals across all three formats for Australia but hasn't played an international since March. She was a member of Australia's Ashes-retaining squad in England but didn't play a game, and was then dropped for the subsequent tour of the West Indies.
The Victorian is facing the prospect of being on the outer for this summer's Twenty20 World Cup on Australian soil.
Villani's axing from the national set-up was hard to swallow but she has since refocused.
"If I'm being completely honest, I was pretty heartbroken at the decision and it's something that's sort of taken a bit of time to get past it," she said.
"But I've never played cricket just to play for Australia. I've played cricket because I love the game and I enjoy playing with my friends. I can't control selection, so I guess, for me, it's just about leading the Stars as best I can this season and making sure that I'm enjoying myself and playing with that freedom. Whatever happens, happens I guess. There's no point me worrying about it too much. I've got other fish to fry at the moment, and that's just making sure I can be the best possible leader I can be for the Stars."
Villani said she would look to be a supportive captain as the Stars attempt to qualify for the finals for the first time.
"For me the most important thing is building authentic relationships with the players. From my point of view, I just really want the players to feel backed and supported," she said.
"It's a pretty big honour, to be honest, taking the reins from Kristen Beams, who is such a great friend of mine, and hopefully just continuing on the legacy that she's sort of helped create at the Stars. I've got some pretty big shoes to fill."
Source: Read Full Article