"It's such a coincidence – my son is called Tate!"
Paul Adams does not have much time during the Cape Town Test. But as England push for a win in the second of five matches against South Africa to square the series, he has found a gap in his commentating duties for a chat during tea on day four.
But he doesn't necessarily want to talk about his 45 Test caps for the Proteas and the 134 wickets. Though conversation naturally homes in on his 13 years as a professional – nine as an active international cricketer – and, of course, an action unlike anything seen before, he's not bothered about going over any of that either.
Download the new Independent Premium app
Sharing the full story, not just the headlines
No, Adams wants to talk about the work of abstract painter Frank Bowling. And, as he sits down nursing a cardboard tube containing a print of Bowling's 1996 piece, Orange Balloon (4 Paul Adams), which was part of an exhibition at Tate Britain a few months earlier, he's desperate to learn more about a man inspired by him and a painting made to celebrate him.
"I Googled him as soon as I heard about this painting," says Adams, gesturing to the tube now in the hands of Tate. "What an honour, hey?"
—-
Over the last 60 years, Bowling has been a visionary in his field, combining abstraction of colour and techniques, such as pouring paint and experimenting with different materials, with an open mind and a chest full of personal memories.
He spends his time between London and New York since moving to the former at the age of 19 to study painting at the Royal College of Art alongside fellow soon-to-be luminaries David Hockney and R.B. Kitaj. But it was those formative years spent in his home country of Guyana that not only gave him his most vivid experiences but also established his love of cricket.
Contrary to the theory of nominative determinism, Bowling was an opening batsman by trade. Though he dabbled in Adams' craft of spin, he did not rate himself highly and so worked to become a specialist slip to contribute in the field.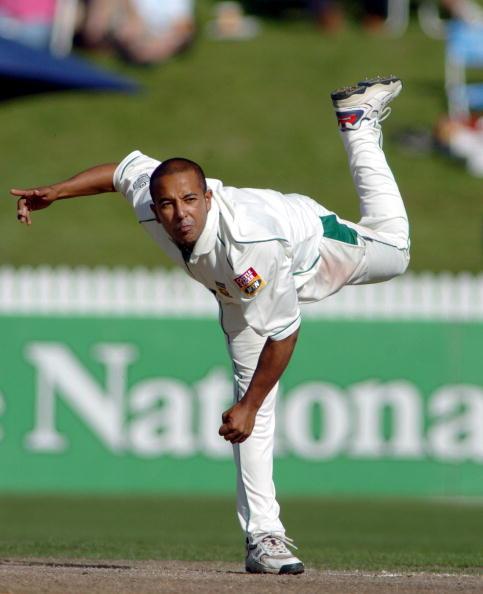 Growing up, he admired the Christani brothers – Robert and Cyril – who also hailed from British Guyana, as it was then, and went on to represent the West Indies. Frank Worrell, as the first black skipper of the West Indies, owns a space in his heart. Later, it was fellow Guyanese Clive Lloyd who led one of the greatest ever sides who won Bowling's affection as much for his charisma as his captaincy.
It was while in London during the winter of 1995/96 that Bowling came across Adams. Despite being an avid follower of the game, this cherubic 18-year old was unknown to Bowling. And he wasn't alone.
Adams, in his third first-class match, took nine wickets in a warm-up to help South Africa A to a six-wicket win against a touring England side captained by Michael Atherton. His sixth and seventh first-class appearances would come in the fourth and fifth Test of that series which he finished with eight dismissals.
Bowling had an immediate affinity for Adams. He was the youngest player to represent South Africa and only the second player of colour to do so. Throughout Bowling's career he, too, would fight his own battles against prejudices. In 2005, he became the first black artist to be elected into Britain's Royal Academy of Arts.
But really, he was sucked in for the same reasons many of us were with Adams – that action. A top-half contortion of limbs, spine and neck. The left wrist over the top of the left shoulder blade fizzing one way and the head so low he was almost kissing the ground with the eyes seemingly looking the other. The frog in a blender, as it came to be known.
"He was deeply impressed by Adams' achievements as the first non-white player to represent South Africa," recalls Bowling's long-time friend and assistant, Spencer A. Richards. "But most importantly it was the unorthodoxy of Adams' mysterious bowling action and the fact that he could make the ball do things that fascinated Frank."
The action, Adams tells The Independent, is the result of starting outside the private school system. To this day, it remains South Africa's most productive pathway for professional cricketers and, for all its success, is rooted in conservatism.
"I didn't grow up playing school cricket," explains Adams. "Only when I transferred to Plumstead High later in my teens was I in that system. By then, my action was mine." Any earlier and it might have been coached out of him.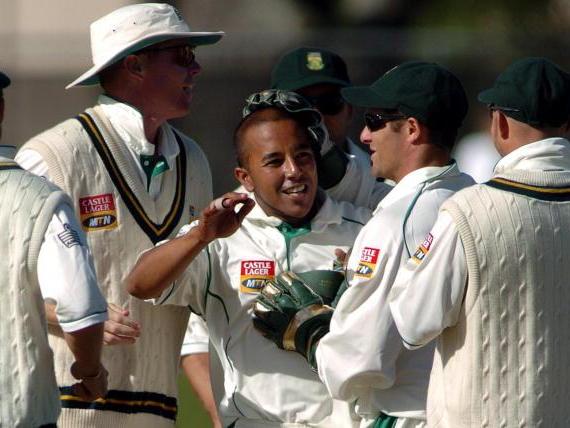 Though he knew he was different, there was no comprehension of the effect he might have on others, let alone a man with a brush a continent away.
"In that moment, I was a young cricketer who just wanted to turn the ball and have fun. I knew my action was unique, something different. And I wanted to own that and use it as a weapon. I think people saw me and realised you don't need to be the norm to be successful. For me, though, I only realise that looking back."
For Adams' thrash of arms, see Bowling's process. Even as the 85-year-old describes, it's hard to keep track of his method.
"What usually inspires the work is another work," Bowling says. "Often things I would have seen but I had to delay going after it because I'd already been pursuing something that was already engaging enough for me to try.
"Going at the work the way I do, extemporaneously, something happens and Rachel or Richard or whoever is in the room catches my attention and I might lose sight of it in the process of actually doing it. Something else comes up and I'll follow that"
It is a method relying as much on the distraction of the mind as a homespun technique. Nothing is out of bounds when it comes to inspiration, either. Tattered parts of old shirts are present in some of his most celebrated works. He once built up a piece around a plastic bag because it had accidentally fallen onto a canvas and looked a bit like the outline of Guyana.
As art critic Matthew Collings put it, Bowling "paints from a spirt of pleasure alongside enquiry… he takes wild risks and fights his own abilities". Just as Adams did, even if the spinner did not appreciate that at the time.
In 1996, Adams added a further 18 Test wickets to his tally with a maiden five-wicket haul (six for 55) against India in December. By then, Bowling had completed his dedication – Orange Balloon.
"Bowling's explosive use of dripped and splotched paint gives this work an extraordinary energy," starts the blurb. "However, the painting also follows a loosely geometric composition."
It is a striking piece, off-the-wall in a figurative and literal sense. The faint outline of a balloon, and indeed the orange, are sideshows among an array of whips and dollops of paint that gives it both a sense of flow and rigidity. Kaleidoscopic through all eyes but his.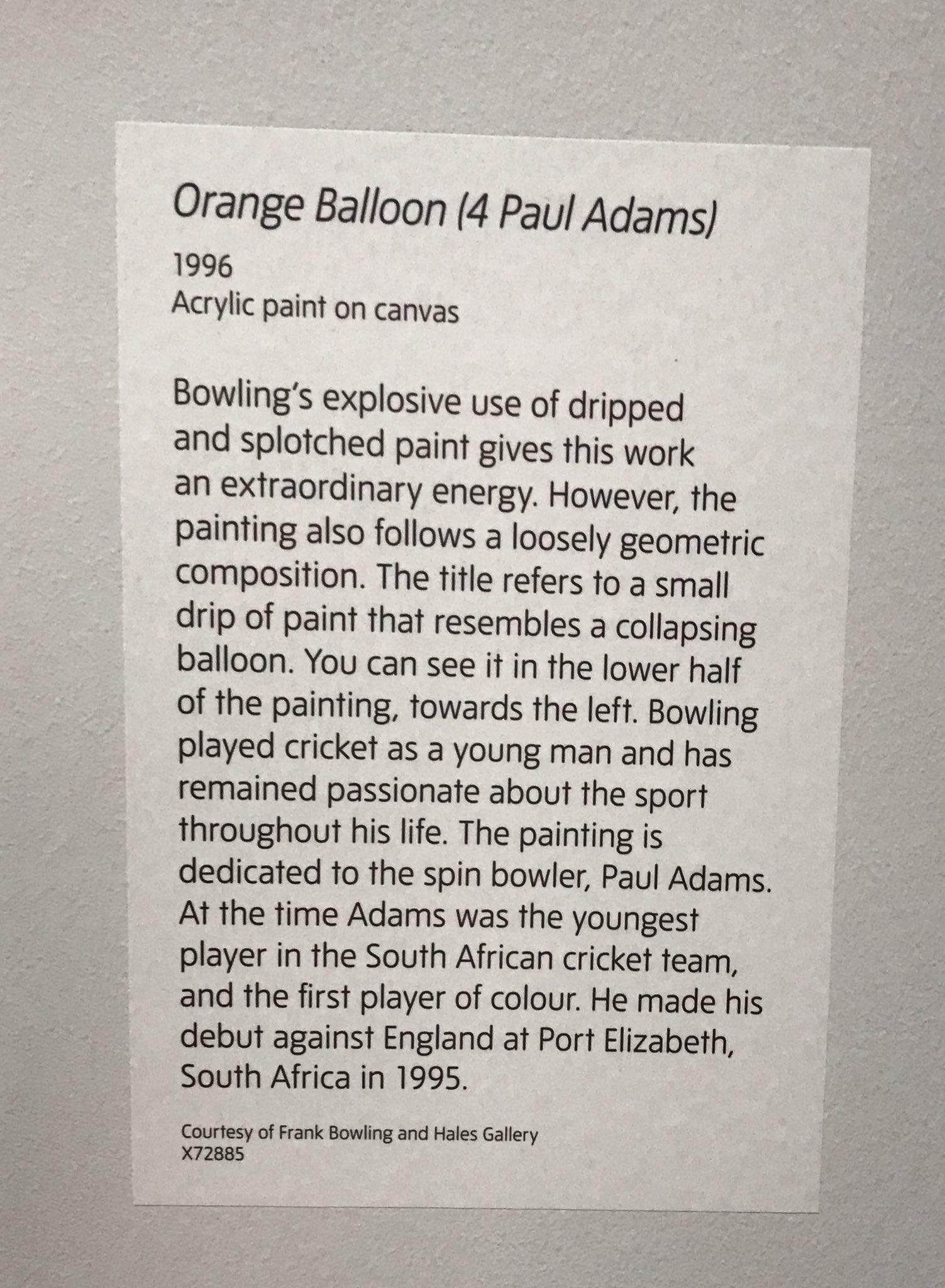 However, while it carries all the signatures of Bowling's work, it came about in a manner at odds with his "extemporaneous" ways. Because despite thriving on the distraction of his mind, the inspiration Bowling garnered from Adams created certainty. So much so that the artist pencilled in "[4 Paul Adams]" into the title before reaching for the paint.
"Frank rarely titles a painting before it is finished," says Richards. "But the canvas on which this painting was executed, a gift of several pieces with curious characteristics from the start, lent itself to an abstracted articulation of Adams' magic in his ability to deliver the ball to a batsman and completely confuse him."
—-
Adams admits he has never really been into art. Cricket has a way of consuming your free time as well, and even upon his retirement in 2008, aged 31, a move into coaching and media was swift.
Yet he finds himself incredibly moved by Orange Balloon beyond the dedication. And its wider meaning – ergo, his wider meaning – is not lost, either.
"For me, when I saw the painting I actually felt touched by it," he says. "I never knew there was someone who dedicated a painting to me and that it is sitting in the famous Tate art gallery. I thought, 'Geez! That's something I would like to show my kids, show my family.' There's someone who really thought highly of what I achieved as a cricketer.
"In terms of an abstractness, the colours, the sporadicness of the painting – it shows that you can be different but still be a beautiful piece. Something that can really stand out in the normality of society."
Reflecting on his work almost 14 years on, Bowling is more than happy to cede it was one of his few pieces to emerge from certainty, of the subject and the execution.
"So the thing is in working extemporaneously," starts Bowling, "without a plan, except for the fact that the material is being carried along by new or not necessarily traditional means, like spilling, dripping, brushing, that when the material lands it takes on its own life.
"But the Paul Adams picture was deliberately made because of my fascination with this young man's abilities, his incredible gift."
—-
Both Adams and Bowling now focus their attention on the next generation.
Adams, 43, remains a passionate advocate of embracing a player's uniqueness which he carries into his coaching. "Natural flair should be encouraged, not suppressed," being his ethos.
Bowling, 86, still paints in his south London studio though ill-health has seen him prescribed a period of rest at the start of the year. He remains, however, a mentor willing to join him on the limits of the creative and technical spectrum and continues to experiment when he can.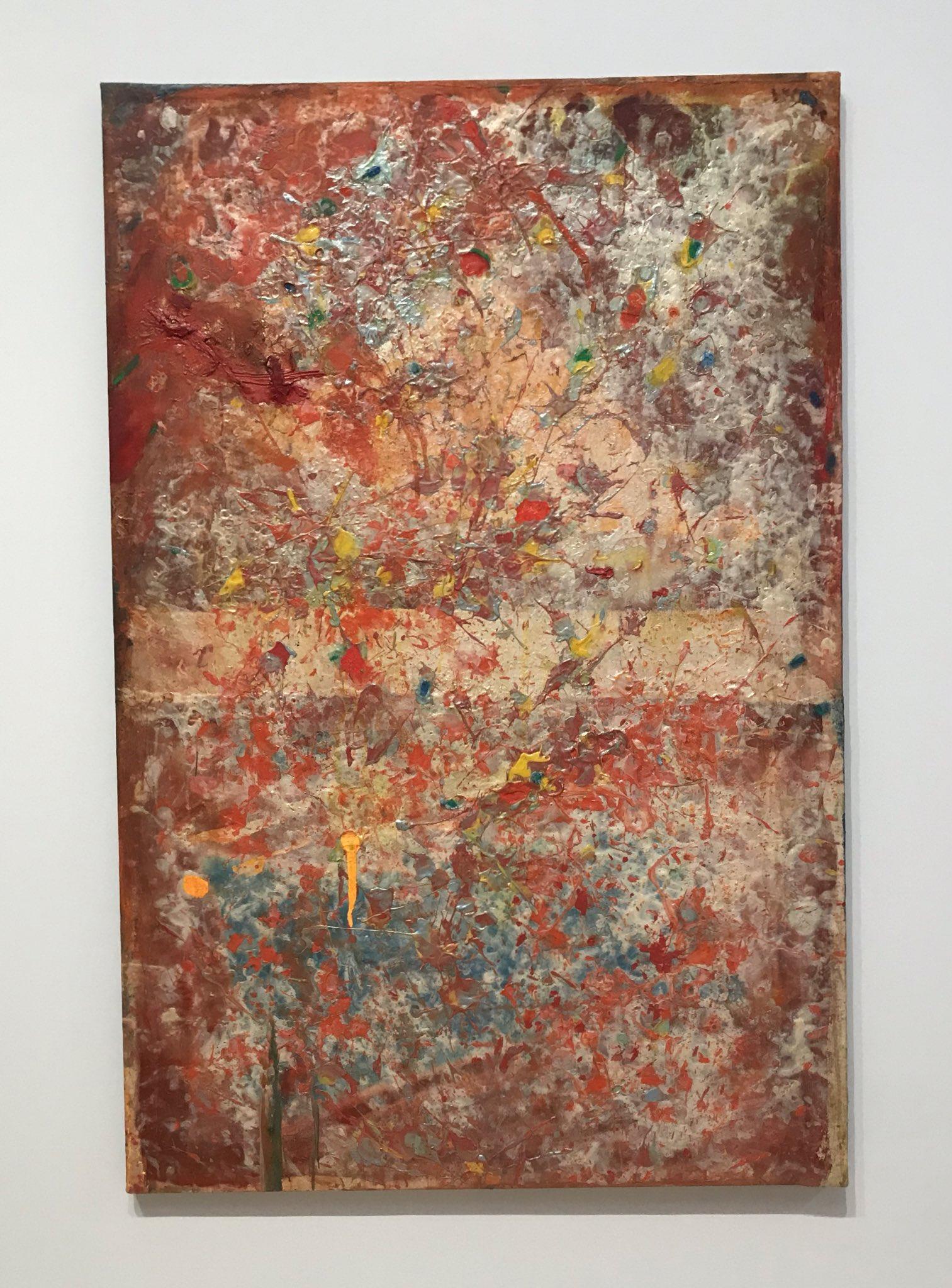 Orange Balloon [4 Paul Adams] is not one of Bowling's most well-known pieces. But it's hard not to delve into its creation and stare at its finished product and surmise that while the majority of appreciation of Adams as a coloured kid with a funny action who could not quite nail himself down as the Proteas' number one spinner, here is a piece that perfectly captures his very essence of difference and hope at its height.
One particular thought relating to Adams, one which he wrestles with himself but shies away from expressing publicly, is that he called time on his career just before T20 cricket took off. When you consider the best T20 bowlers are wrist spinners with unorthodox actions, you wonder if Adams, for his sake, came on the scene too soon.
Yet, what made Adams stand out was being a nonconformist in the homogeny of South Africa and Test cricket. Without that contrast, his effect on Bowling and cricket would not have been so profound.
As such he remains as Bowling painted: vibrant, welcome flashes that came to life even on a pale, uncertain canvas.
Source: Read Full Article