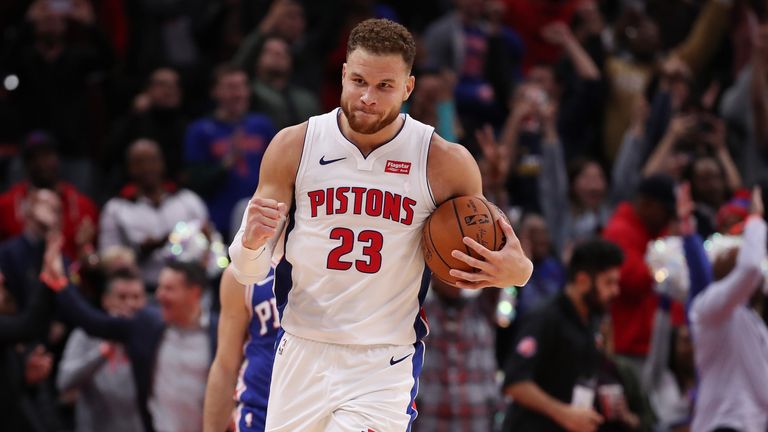 Blake Griffin produced a career-best 50-point performance and hit a game-winning overtime shot as the Detroit Pistons beat the Philadelphia 76ers.
Tuesday night's results
Philadelphia 76ers 132-133 Detroit Pistons (OT)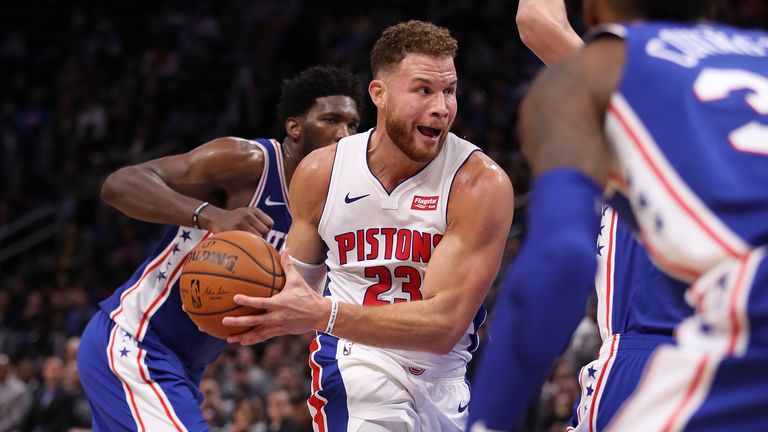 Blake Griffin scored a career-high 50 points, including a game-winning three-point play with 1.8 seconds left in overtime, as the Detroit Pistons edged the visiting Philadelphia 76ers 133-132.
Griffin, whose previous career best was 47 points, made 20 of 35 field-goal attempts and five of 11 free-throw attempts. He added 14 rebounds and six assists.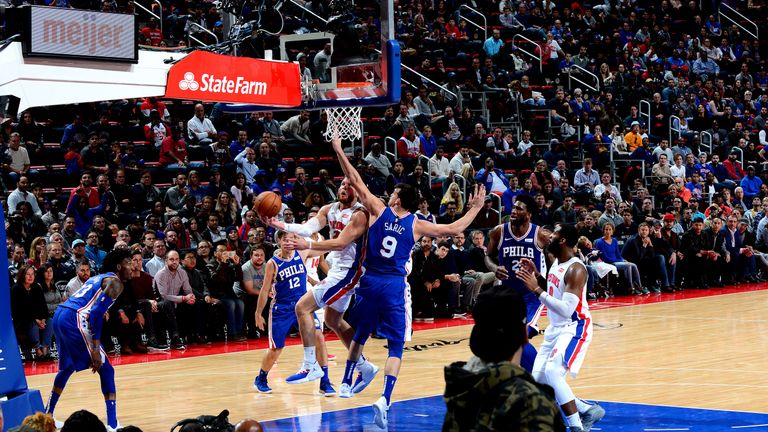 Reggie Jackson supplied 23 points, Ish Smith tossed in 21 off the bench and Reggie Bullock added 17 for Detroit. Andre Drummond had 14 points and 16 rebounds before he was ejected late in regulation after picking up his second technical foul.
Joel Embiid racked up 33 points, 11 rebounds and seven assists, and JJ Redick had 30 points, six rebounds and six assists for Philadelphia. Robert Covington chipped in 16 points and eight rebounds.
Philadelphia point guard Ben Simmons missed the game due to back tightness.
Game stats
Philadelphia 76ers
Points: Joel Embiid -33
Assists: TJ McConnell – 8
Rebounds: Joel Embiid – 11
Detroit Pistons
Points: Blake Griffin – 50
Assists: Blake Griffin – 6
Rebounds: Andre Drummond – 16
Griffin scored the first points of overtime, a three-pointer from the top of the key. He then found Smith in transition for another trey. Philadelphia then reeled off eight of the next 10 points, including a Redick three-pointer that tied it at 128-all.
Redick missed a long two, then fouled Jackson with 20.5 seconds left. Jackson made both free throws.
Redick then came off a screen and drilled a three-pointer from the left wing while getting fouled by Jackson. Redick completed the four-point play to give the 76ers a 132-130 lead with 5.6 seconds remaining. Detroit called timeout.
Griffin then took the inbounds pass, drove the lane and made a layup while getting fouled by Covington. Griffin hit the 50-point mark to give Detroit the one-point lead.
Philadelphia took their last timeout before Embiid missed a three-point attempt at the buzzer.
Los Angeles Clippers 109-116 New Orleans Pelicans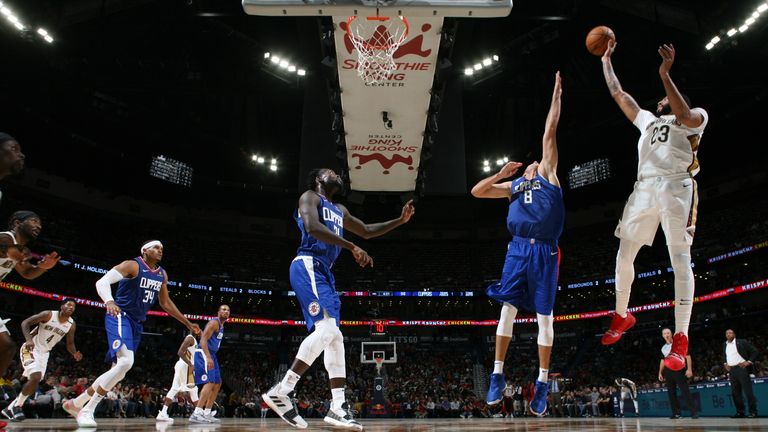 Anthony Davis had 34 points and 13 rebounds as the New Orleans Pelicans continued their early-season roll with a 116-109 home victory over the Los Angeles Clippers.
The Clippers held the Pelicans to 24 fewer points than they had averaged in winning their first two games, but New Orleans still improved to 3-0 for the first time since the 2010-11 season.
Game stats
Los Angeles Clippers
Points: Tobias Harris – 26
Assists: Patrick Beverley – 8
Rebounds: Patrick Beverley – 10
New Orleans Pelicans
Points: Anthony Davis – 34
Assists: Elfrid Payton – 6
Rebounds: Anthony Davis – 13
Elfrid Payton added 20 points, Nikola Mirotic had 18 points and 12 rebounds, Julius Randle scored 18 points off the bench, and E'Twaun Moore chipped in 14 points.
Tobias Harris led Los Angeles with 26 points, Danilo Gallinari scored 24, Lou Williams added 17 off the bench and Montrezl Harrell and Patrick Beverley had 12 each.
Sacramento Kings 112-126 Denver Nuggets
Nikola Jokic had 14 points and 12 rebounds in just 23 minutes and Jamal Murray scored 19 as the Denver Nuggets rolled to a 126-112 homecourt win over the Sacramento Kings.
Gary Harris added 18 points and Paul Millsap scored 15 for the Nuggets who extended their unbeaten record to 4-0, their best start to a season since the 2009-10 season when they won their opening five games.
Game stats
Sacramento Kings
Points: Marvin Bagley III – 20
Assists: Frank Mason – 7
Rebounds: Marvin Bagley III – 9
Denver Nuggets
Points: Jamal Murray – 19
Assists: Monte Morris – 7
Rebounds: Nikola Jokic – 12
Marvin Bagley III had 20 points and Justin Jackson scored 17 points for Sacramento, who wrapped up a three-game road trip.
Sacramento became the first team to break 100 against the Nuggets, but it was window dressing given Denver built a 91-66 lead midway through the third quarter. The lead grew to as much as 27 in the fourth with Denver's starters sitting on the bench.
Sky Sports is the new home of the NBA in the UK with live coverage throughout the week, including selected live games free to all Sky subscribers via Sky Sports Mix.
And www.skysports.com/nba will be your home for news, reports, video and features throughout the season while you can follow us @SkySportsNBA
Source: Read Full Article