Derrick Rose rolled back time on Wednesday night as he poured in a career-high 50 points in the Minnesota Timberwolves 128-125 win over the Utah Jazz.
An emotional Rose was in tears after the game as he walked off the court serenaded by chants of "MVP! MVP!" from the home crowd.
The 30-year-old point guard Rose has been besieged by injury since winning the league's MVP award while with the Chicago Bulls in 2011.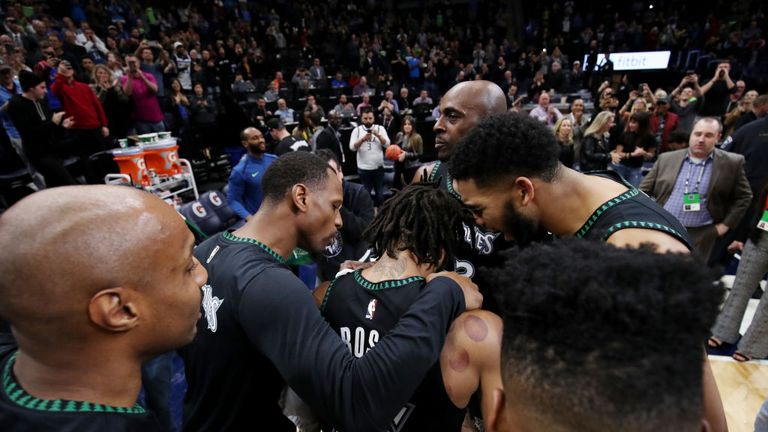 He had 34 points in the second half and 15 in a tightly contested fourth quarter as the Wolves held off the Jazz, who waived Rose in February after a two-day stint.
Rose shot 19 of 31 from the field and hit four 3-pointers in 41 minutes, his most game time in nearly two years.
His basket down low with 30 seconds remaining put Minnesota up for good, and he made two free throws with 13.8 seconds left to make it a three-point lead and then sealed the win by blocking Dante Exum's 3-pointer with about two seconds remaining.
"This means everything," said Rose, who was making his first start of the season. "I worked my butt off, bro.
"I am doing everything just to win. I played my heart out tonight.
"My team-mates told me before the game to just play my game and it was a hell of a night.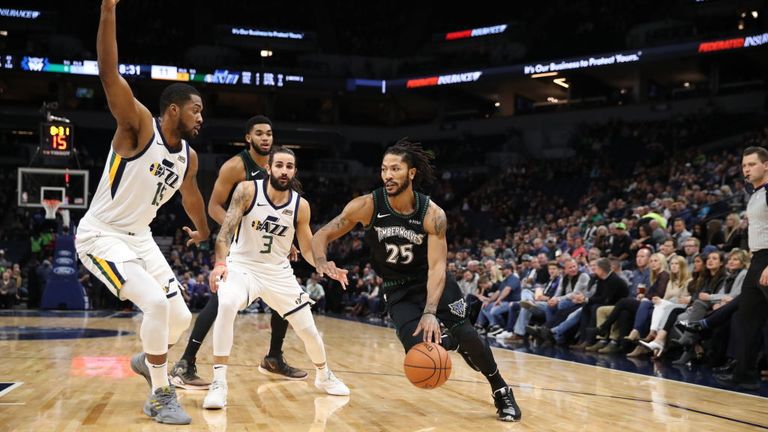 Rose has dealt with four knee surgeries, has had ankle issues and was forced to sit out nearly two full seasons when he should have been in his prime.
The Wolves mobbed Rose on the floor when it was over. They drenched him with water in the locker room while around the league players showed their love.
Man couldn't be more happy for d ?. Can only imagine the emotions after what he's gone through. Well deserved. Hard work is undefeated ??
His former Cleveland Cavaliers team-mate LeBron James said of Rose's performance: "You talk about perseverance, that's the true definition of it.
"To have the battles and battles with his injuries, to be able to come back and no matter what everybody else was talking about – the majority is always people who never stepped into the arena – had so many things to say bad about him And what he should do; he should do this or do that.
Every Basketball fan in the world should feel good for DRose. Tonite was an example of never giving up on yourself and when others believe in you. Amazing things can happen. I'm smiling like i scored 50! Congrts to a good dude!
"For him to set a career high tonight, in a win in Minnesota, I think that's unbelievable.
"I think every kid, you don't even have to play sports, any kid going through anything in life with adversity, triumph, trying to get over the hump, you can look at that performance by Derrick Rose.
D rose!!! One of the greatest dudes out there!! He deserves all the praise he's getting right now!! Congrats homie!!
"That's why our game is so unbelievable.
"Even when a superhero is knocked down, he's still a superhero at the end of the day. Derrick Rose showed why he's still a superhero."
Click play on the video above to watch Rose's inspirational 50-point game for the Timberwolves.
Source: Read Full Article