Oklahoma City Thunder grabbed their first win of the season on Sunday, while the Utah Jazz and LA Clippers also had good nights.
Sunday night's results
Phoenix Suns 110-117 Oklahoma City Thunder
Nerlens Noel scored 20 points and added 15 rebounds in his first start in nearly a year to help the Oklahoma City Thunder pick up their first win of the season on Sunday night.
Noel's addition to the starting line-up was a late one – brought in as a replacement for Steven Adams who was scratched shortly before the game after experiencing left calf tightness in warmups – and he celebrated with his first 20-point game since February 19, 2016.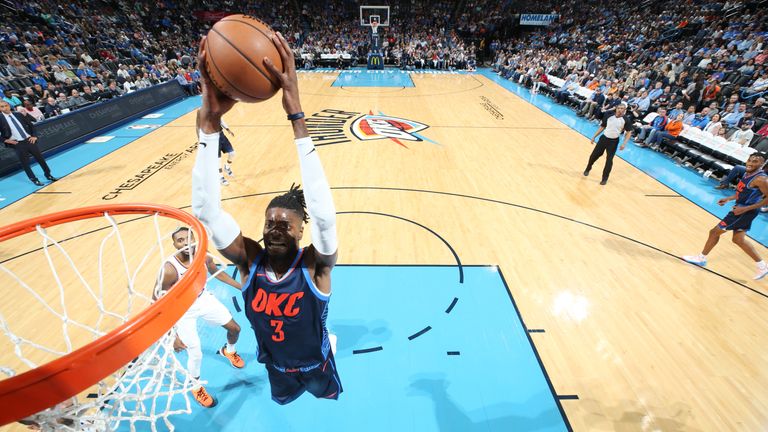 His last start came on November 3, 2017 for the Dallas Mavericks and his contribution was needed, as it helped the Thunder pick up their first win of the young season having lost their opening four games.
Thunder forward Paul George, who scored 23 points, drained a shot from just beyond halfcourt at the third-quarter buzzer to put Oklahoma City up 96-76.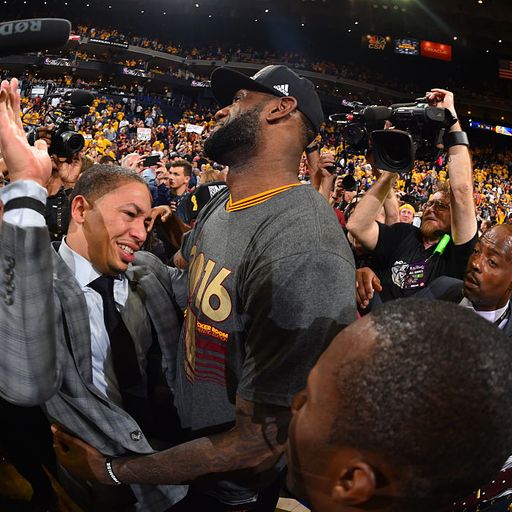 Follow Sky Sports NBA on Twitter
See the NBA's best plays and stay up to date with the latest news
Phoenix, who were without leading scorer Devin Booker for a second straight game, then outscored the Thunder 34-21 in the fourth quarter, but despite memories of blowing a 16-point half-time lead against Boston on Thursday, the Thunder had enough in the tank to get home.
Russell Westbrook also had 23 points for the Thunder, while rookie Elie Okobo scored 18 and No 1 overall draft pick Deandre Ayton added 16 and 11 rebounds for Phoenix.
Utah Jazz 113-104 Dallas Mavericks
Rudy Gobert outdueled DeAndre Jordan in a classic battle of big men, contributing a team-high 23 points to the visiting Jazz's victory over the Mavericks.
Gobert recorded his sixth straight double-double with a season-high 16 rebounds to complement his 23 points, which were just two fewer than the season-best output he had in Utah's win at New Orleans on Saturday night.
Donovan Mitchell scored 20 points and the Jazz shot 52.5 percent from the field en route to their third straight victory.
Dennis Smith Jr topped Dallas with 27 points but this was the Mavericks' fourth straight loss to the Jazz.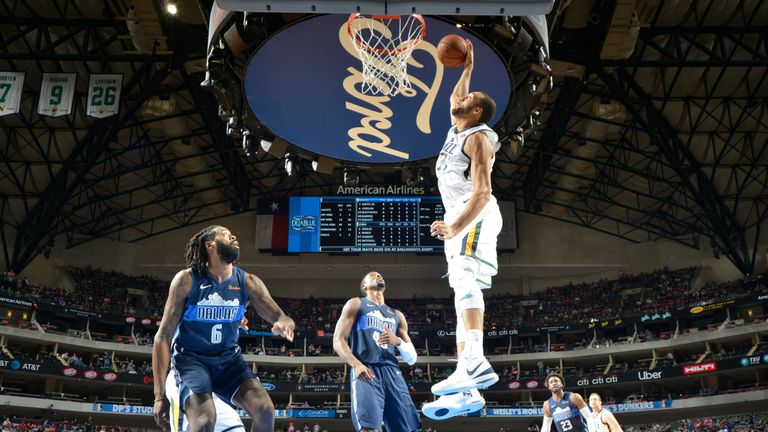 Jordan nearly offset Gobert with his sixth straight double-double, and like his rival pulled down a season-best in rebounds with 19. He also had 12 points and nine assists, narrowly missing his first career triple-double.
After a tight opening three quarters, the Jazz finally took command with a 9-0 burst early in the fourth that turned a three-point game into a 91-79 advantage and they saw the game out from there.
LA Clippers 136-104 Washington Wizards
Tobias Harris had 22 points and 11 rebounds while Lou Williams scored 17 off the bench as the LA Clippers breezed past the visiting Wizards.
Avery Bradley chipped in with 15 points and Montrezl Harrell and Boban Marjanovic both contributed 13 each for the Clippers, who had nine men in double figures and never trailed throughout the game.
Bradley Beal led the Wizards with 20 points, with John Wall posting 18.
The Clippers led by 15 at half-time and by 17 early in the third quarter before Beal capped a mini-Wizards run with a 3-pointer that got Washington to within 81-71.
But the Clippers responded with 16-0 run led by three three-pointers from Patrick Beverly and five points from Danilo Gallinari.
Washington, who converted just 5 of 27 from three-point range, fell to 1-3 on a five-game road trip that ends Tuesday at Memphis, while the Clippers improved to 4-2.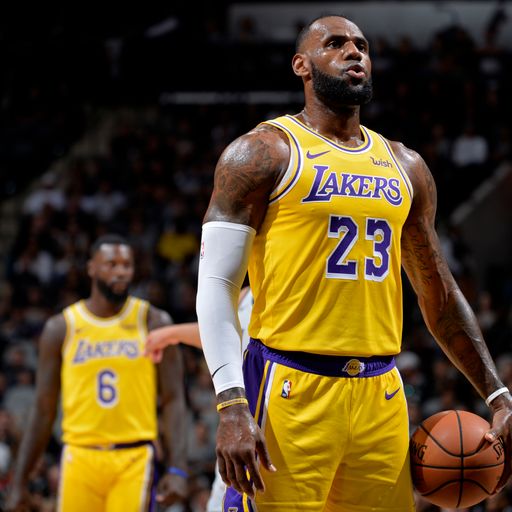 NBA alerts on your phone
Receive the latest NBA news, top plays and features with the Sky Sports app – find out more
Sky Sports is the new home of the NBA in the UK with live coverage throughout the week, including selected live games free to all Sky subscribers via Sky Sports Mix.
And www.skysports.com/nba will be your home for news, reports, video and features throughout the season while you can follow us @SkySportsNBA
Source: Read Full Article