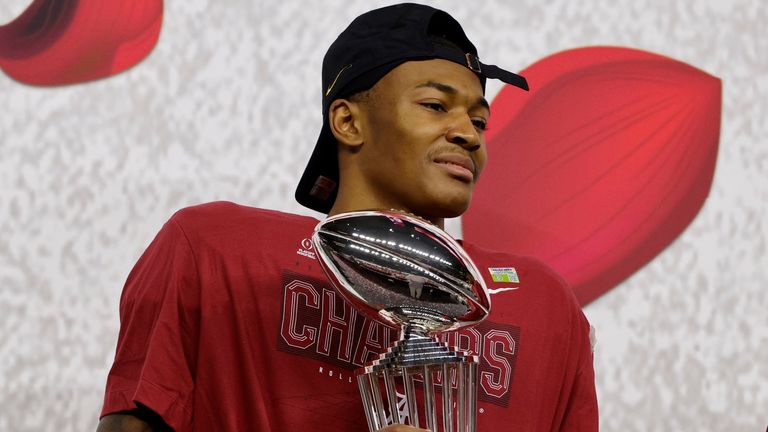 DeVonta Smith has become the first wide receiver to win the Heisman Trophy in 29 seasons, breaking the monopoly quarterbacks have had by beating three of them to the award.
On an Alabama team stacked with stars, Smith emerged as the best player in college football while playing a position that rarely gets that kind of recognition.
"Just to be one of the very few that played receiver to win the Heisman, it means a lot to me," Smith said.
Smith finished with 447 first-place votes and 1,856 points to easily outdistance Clemson's Trevor Lawrence (222, 1,187), Alabama team-mate Mac Jones (138, 1,130) and Florida's Kyle Trask (61, 737).
Crimson Tide running back Najee Harris finished fifth in the voting, making No. 1 Alabama the second team in the 85-year history of the Heisman to have three of the top five vote-getters. Army did it in 1946 with Glenn Davis (first), Doc Blanchard (fourth) and Arnold Tucker (fifth).
Mr. Heisman @DeVontaSmith_6 pic.twitter.com/PBzFc0ItLY
"I want to thank my team-mates," Smith said during his acceptance speech. "With team success comes individual success so without you all, I wouldn't be where I'm at today, winning this award."
Smith is just the fourth receiver to win the Heisman, joining Michigan's Desmond Howard in 1991, Notre Dame's Tim Brown in 1987 and Nebraska's Johnny Rodgers in 1972.
Quarterbacks had won 17 of the previous 20 Heisman trophies, including the last four.
Smith was presented the award in a virtual ceremony orchestrated by ESPN. The usual trip to New York for the finalists was called off because of the coronavirus pandemic and the winner was announced later than it had ever been before.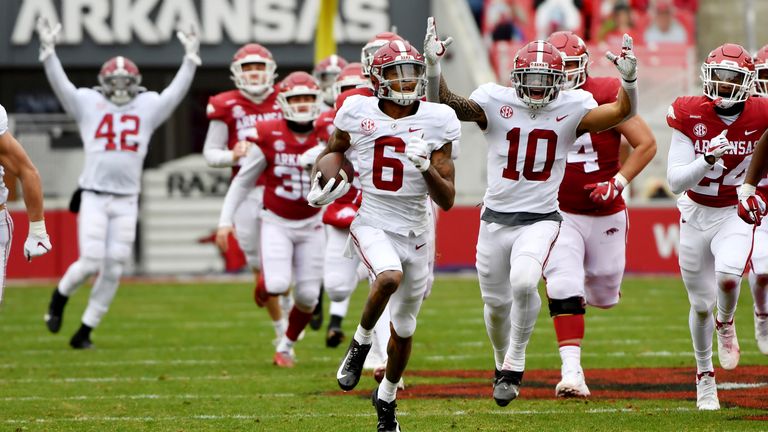 Smith accepted the trophy in Tuscaloosa, Alabama, decked out in a deep crimson jacket and shiny black bow tie.
He got a big hug from his quarterback, who told Smith that he loved and was proud of him. Then Smith held back tears during his speech, recalling how many thought he was too small to become a football star.
"To all the young kids out there that's not the biggest, not the strongest, just keep pushing. Because I'm not the biggest. I've been doubted a lot because of my size and, really, it just comes down to you just put your mind to it, no job's too big," the six-foot-one Smith added.
Sky Sports NFL is your dedicated channel for NFL coverage through the season – featuring a host of NFL Network programming, a new weekly preview show as well as at least five games a week and NFL Redzone, you won't miss a moment. Don't forget to follow us on skysports.com/nfl, our Twitter account @SkySportsNFL & Sky Sports – on the go!
Source: Read Full Article