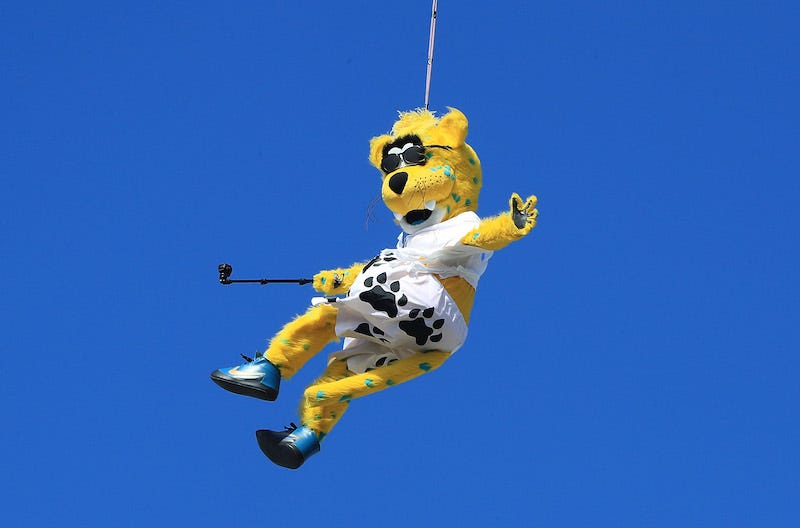 Four Jacksonville Jaguars players were detained, and three were arrested, after they ran up a tab of £50,000 ($64,000 U.S.) at a London club that "features burlesque and circus performers" early Saturday morning, according to the UK's Sun newspaper. All four were released after the tab was settled, per NFL Media's Ian Rapoport, who described the incident as "a misunderstanding."
Rapoport identified the four players as safeties Barry Church, Ronnie Harrison, and D.J. Hayden, and cornerback Jarrod Wilson. All but Church was arrested, though none wound up being charged.
The Jags are in London to play the Eagles in a game that just kicked off. They arrived Friday morning, and that night several players and staffers were boozing it up at the Reign Showclub, which the Sun described as a "private members club." They knocked back "champagne, starting at starting at £450 bottle, and vodka," according to the Sun's source, only to be confronted by bouncers after trying to leave without paying around 4 a.m. Saturday.
From NFL.com:
The players went to a club on Friday night, were sent bottles of champagne and other high-end liquors and ran up a huge bill, sources told Rapoport. The players believed that the bottles were comped, but instead they were on their bill. When the bill arrived, the players refused to pay it, believing that it was not what they owed. An argument ensued and local police made several arrests.
Advertisement
"Things got pretty heated and there was a lot of swearing and shouting and things became physical," a source told the Sun, which also reported that the players were in custody for nine hours. London police told NFL.com no further action would be taken. "The bill has been paid and the matter has been resolved," NFL Media's Mike Garafolo reported this morning. Any discipline, if any, will be handled internally, the Jaguars told NFL.com in a statement.
Hayden is inactive for today's game, but that's injury-related. The other players involved are expected to play.
Source: Read Full Article