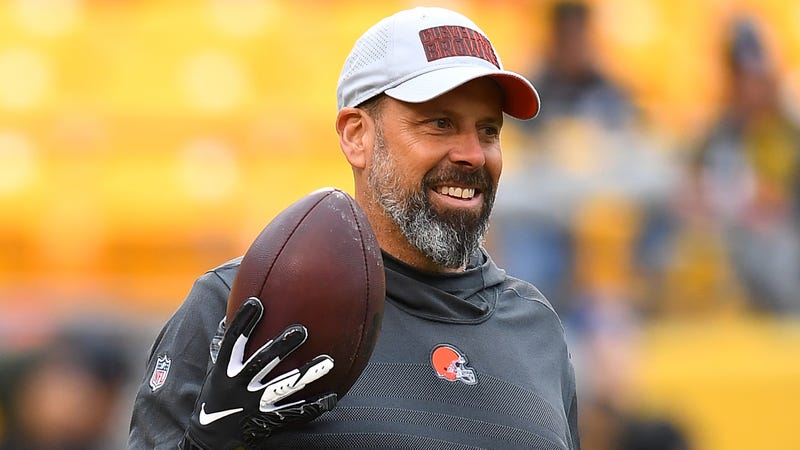 Failure that breeds dysfunction that breeds potential coaching staff or front office changes. It might as well be the Cleveland Browns' motto. That remains true even in a season in which the Browns are finally showing some signs of life. But Cleveland has lost three of its last four games, and the Hue Jackson-Todd Haley coaching arrangement has problems.
Per NFL Media's Ian Rappaport, the Browns are mulling a switch, which is what they do. But this one has a twist. One option has Jackson getting shitcanned, while another has Haley taking the fall.
Per the report:
The spotlight is usually on the head coach, especially one with a current Browns record of 3-35-1. And clearly, if the wins don't come, Browns owner Jimmy Haslam, general manager John Dorsey and the brain trust have a decision to make on Jackson.
But another option is to remove Haley. That would also be under consideration. Those involved have wondered when Jackson speaks, does Haley listen? Jackson has a woeful record, but is still in charge.
Advertisement
Jackson added Haley to his staff this past offseason, and the two have seemingly been at odds from the start. Back in August, an episode of HBO's Hard Knocks showed a heated argument between the two over the wisdom of resting players in practice. Haley's choice to start Josh Gordon in Cleveland's home opener after Jackson had said the receiver would begin the game on the bench was another source of tension.
The most recent issue came after the Browns lost to the Buccaneers last Sunday in overtime. Jackson told reporters afterward that he felt the solution to fixing the team's offense was to butt in a little.
"I feel like I have to, and I want to [get more involved in the offense]," Jackson said. "That's what I know, so I'm not going to continue to watch something that I know how to do keep being that way. That's just the truth. That's nothing against anybody in our building. I just think that's what I do, and I think I need to be a little bit more involved."
Advertisement
Jackson would later clarify that he wasn't going take any responsibilities away from Haley, who dismissed the comments as a heat-of-the-moment thing. But Haley also took a backhanded jab at Jackson as he said this:
"This is an emotional game. It's not for everyone," he said. "Coaching in the NFL, especially being in that spot, is not for everyone. It's a high-pressure, high-stress job, and we've just got to keep doing what we know is right."
Mary Kay Cabot of Cleveland.com reported that the comments didn't go over well within the organization. Win or lose today against the Steelers, the situation is starting to seem intractable. Same shit, different year. The Browns just can't help being the Browns.
Source: Read Full Article