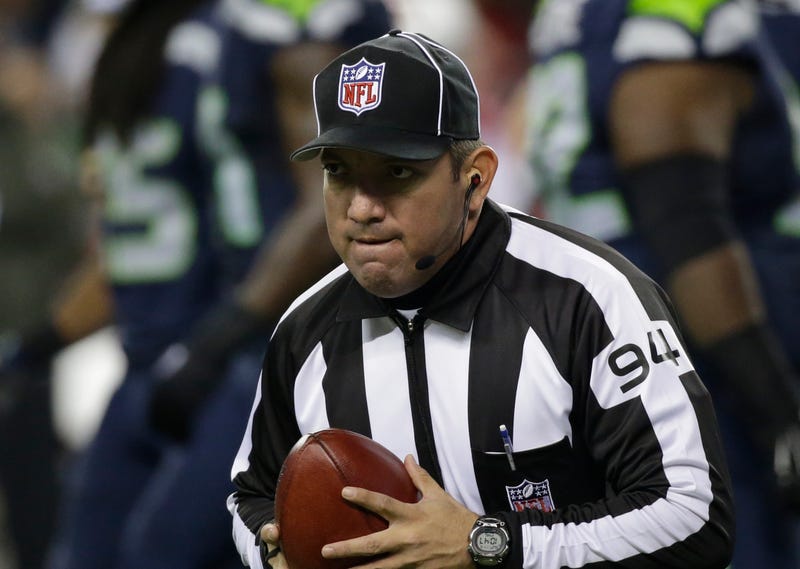 Outside of the confusion about roughing-the-passer calls (which falls as much on the diktat from New York as on those tasked with enforcing it), it feels like NFL officiating has generally been pretty good this year—that is to say, it's been largely unnoticeable. Which made this blatantly missed false start in Week 6, that should have nullified a Chargers touchdown against the Browns, so glaring:
That calls was the responsibility of the down judge (a position that was renamed from head linesman beginning in 2017), who is positioned at the line of scrimmage on the near sideline. The down judge in that game was Hugo Cruz. It would be the last NFL game Cruz ever worked.
Football Zebras reports that Cruz has been fired by the NFL, effective immediately. And it's wasn't just that missed call.
One of the sources confirmed that Cruz was not "maintaining a very high level of performance over a sustained period," while another told Football Zebras in March that Cruz's future with the league was already in jeopardy. This is partially borne out by his lack of postseason assignments for the two seasons he would have qualified for, not counting assignment as an alternate last season.
Cruz, a former Conference USA official, was recruited by Gerry Austin and joined the NFL in 2015. He was assigned to Carl Cheffers's crew this year, but weirdly, worked on other crews for three of his six games. I am totally guessing, but it's possible that he was shuffled around as a "last chance" to see if he would perform any better with different crewmates.
Advertisement
The firing of an NFL official is a rare thing. Football Zebras says Cruz is the first official to be fired mid-season since the merger, and just two officials have been fired over the last decade. (Those two are side judge Keith Parham, in the 2014 offseason, and side judge Jimmy DeBell in 2015. Though this obviously doesn't count those officials who have been encouraged to step down or retire than be outright fired.)
Ben Austro, the editor-in-chief of Football Zebras, had previously written that this is a crucial season for Al Riveron, the NFL senior VP of officiating, for reasons related both to a series of officiating controversies and an unprecedentedly inexperienced roster of officials. Austro went so far as to say Riveron could be on the hot seat if it's a bad year for the zebras. A midseason firing could very likely be Riveron trying to prove to his bosses that he's in control.
Source: Read Full Article