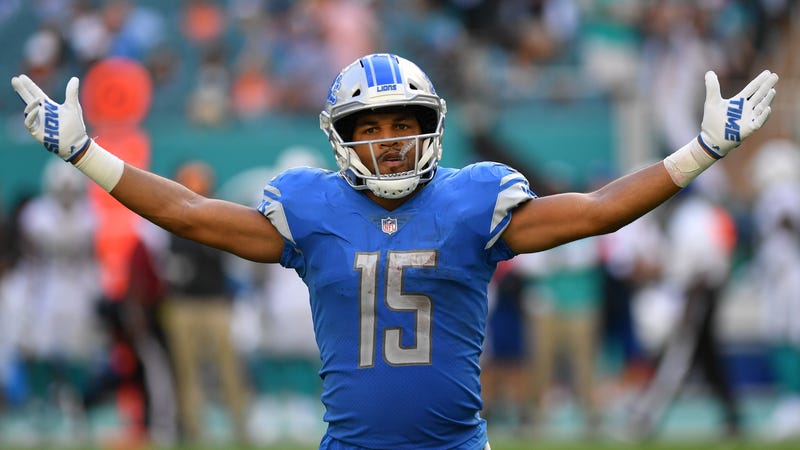 The NFL stove is notoriously ice fucking cold throughout the regular season, but teams have been feisty over the last few days, and some big-name players have been traded for significant draft picks. The league trade deadline passed at 4:00 p.m. EDT today, and would you believe it, some more guys got traded. Folks, the stove is well and truly hot, so please maintain a safe distance from the stove while you read this trade deadline roundup.
The Trade: The Texans send a fourth-round pick and a seventh-round pick to Denver for wide receiver Demaryius Thomas.
Hot Trade Analysis: Denver sucks big-time and has no reason not to get what they can for a 30-year-old wide receiver who will be long gone by the time they can think about being good again. The Texans are filling the hole left by Will Fuller's ACL tear with a guy who used to be good and is now probably not very good. That's life!
The Trade: Eagles trade a third-round pick to the Lions for wide receiver Golden Tate.
Advertisement
Hot Trade Analysis: This trade is cool because it means that the Lions will have to throw to Kenny Golladay more often, and Kenny Golladay rules. You heard it here first!
The Trade: Ravens trade a seventh-round pick to the Packers for running back Ty Montgomery.
Advertisement
Hot Trade Analysis: Montgomery did the Packers a solid by switching positions from wide receiver to running back in 2016, and then provided them with some solid production before missing a handful of games due to injury in 2017. But all he'll be remembered as in Green Bay is the dingus who coughed up Aaron Rodgers's shot at two-minute glory. This trade should eliminate any remaining excuses Mike McCarthy has for not giving more carries to Aaron Jones, who is actually good, but never discount his ability to make life as hard on Rodgers as possible.
The Trade: Rams trade a third-round pick and a fifth-round pick for defensive end Dante Fowler.
Advertisement
Hot Trade Analysis: Folks, the stove simply does not get any hotter than this! Fowler was the third overall pick in 2015 and so far has been something of a disappointment, racking up just 14 sacks so far in his career. But he's still just 24 years old, and the Jags are a mess right now, and it's not hard to imagine him slotting into a defensive front that already features Aaron Donald, Ndamukong Suh, and Michael Brockers and spending the next few weeks wrecking shit. He'll be an unrestricted free agent after this season, which means the Rams must be convinced he's still good enough to justify burning two picks for a half-season rental.
The Trade: Washington trades a fourth-round pick to the Packers for Ha Ha Clinton-Dix. This is nice because he already has a buddy on the team:
Advertisement
Hot Trade Analysis: I guess Washington isn't playing around this year. They are dead serious about going 9-7 and getting eliminated in the first round of the playoffs.
Man, look at all those trades! Now you know about all the trades.
Source: Read Full Article