Daniel Ricciardo's tweet was carefully worded, stubborn and genuine. "I am committed to McLaren until the end of next year and am not walking away from the sport," it began. "I'm working my ass off with the team to make improvements and get the car right and back to the front where it belongs. I still want this more than ever."
As it turns out, Ricciardo's July 13 social media post was futile, and too late.
The unanimous ruling by Formula 1's contract recognition board on Friday (AEST) that McLaren, rather than Alpine, had a valid deal with Oscar Piastri to drive for the team next season revealed that Piastri had signed with McLaren on July 4, nine days before Ricciardo's defiant social media statement, and a month before McLaren notified Ricciardo that it planned to end its three-year deal with him – with the option over that final year on his side – a season early.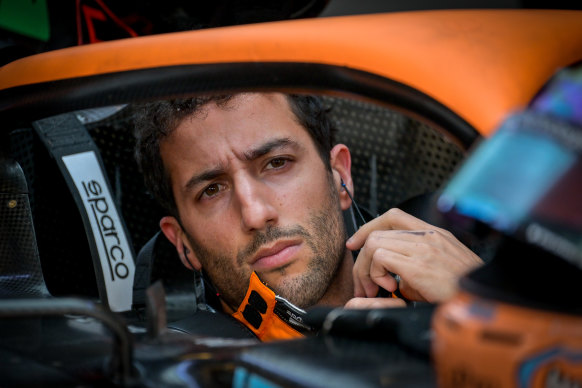 Daniel Ricciardo will part ways with McLaren at the end of the season.Credit:Eddie Jim
McLaren sacked Ricciardo on August 24 as rival F1 team Alpine insisted it had a deal with Piastri, its current test and reserve driver, that tethered him to the team beyond this season. Formula One's four-man board ruled that Piastri's McLaren contract, negotiated by his manager and former Australian F1 racer Mark Webber, was the only valid deal for next season, and McLaren quickly announced he would drive alongside Lando Norris for the 2023-24 seasons.
McLaren and Ricciardo had been discussing the Australian's underwhelming performances in his second season at the team for several months since McLaren Racing CEO Zak Brown publicly acknowledged break clauses in Ricciardo's contract on the Monaco Grand Prix weekend in May, commenting "there are mechanisms in which we're committed to each other, and mechanisms in which we're not".
However, on Friday at the Dutch Grand Prix Ricciardo said he was unaware that McLaren had signed Piastri – to a deal the-race.com reported was not explicitly for a race seat in 2023 should it not come to terms for an early termination with Ricciardo – as early as July 4.
"To be honest, on the [July 4] date, that's the first I've heard," Ricciardo told Sky Sports at Zandvoort.
"I'm not aware of timelines and this and that, what the team's discussing. In terms of timelines – also I guess what the team does preparing Oscar – that's not also my business in terms of what day they spoke. If that's the case, then so be it. It's not really my decision to make."
In response, McLaren team principal Andreas Seidl said in the Netherlands that he and Brown had been "open and transparent" when asked if the team had been clear with Ricciardo during the gap between securing Piastri's signature and Ricciardo's social media statement.
"We don't go into the detail of what was in the contract that we signed with Oscar," Seidl told reporters.
"But regarding Daniel, as we have communicated last week, I think throughout this year, Zak and myself, together with Daniel, had an open and transparent dialogue at any time of where we both are. And therefore there's no issue in that aspect."
Ricciardo's July 13 social media post was a public reminder to McLaren that he, not the team, held the whip hand over the final year of his deal, and was issued to quieten the rumours that surfaced over the preceding weekend at the Austrian Grand Prix that Piastri, expected to be loaned out to backmarker team Williams under Alpine's control, had another option elsewhere for the 2023 season.
When the team failed to repost or comment on Ricciardo's statement, speculation only intensified that McLaren was looking to move on from the 33-year-old, with Ricciardo receiving a formal letter from McLaren after the July 31 Hungarian Grand Prix that he was no longer their first choice for a race seat in 2023.
In losing Piastri, and after incumbent driver Fernando Alonso abruptly broke off negotiations to sign with Aston Martin for two seasons, Alpine has paid a high price for assuming Alonso had nowhere else to go and could take its time to re-sign the 41-year-old two-time F1 champion, believing Piastri would be patient enough to wait for Alonso's negotiations to conclude, and underestimating Piastri's ambition to secure a more competitive seat on the grid next year.
Out-manoeuvred by Alonso and spurned by Piastri, Alpine is now expected to sign Scuderia AlphaTauri driver Pierre Gasly to create an all-French team alongside Esteban Ocon for next season, with Ricciardo likely set for a sabbatical from the sport before a host of seats at other teams open up for 2024.
Most Viewed in Sport
From our partners
Source: Read Full Article