The only predictable thing about Des Hasler's return to Brookvale has been stories of him being precisely the opposite. Players have been regularly baffled by a coach that remains a rugby league Rubik's Cube.
Even then, what you think you see is not always what you get. What Tom Trbojevic thought was a left-field motivational ploy during a video session, where Hasler was talking about Japanese emperors, turned out to be a long-winded joke that lost a few pilgrims along the way.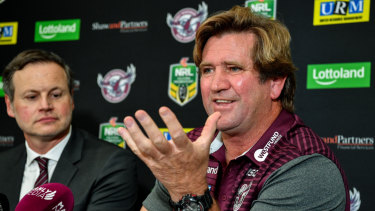 He's back: Des Hasler liked what he saw on Thursday night.Credit:AAP
Get it? Maybe. Was there even a punchline? Who knows. Not many on the outside really get Hasler, so it's little surprise he has taken some adjustment from almost all of Manly's playing stock apart from Daly Cherry-Evans, the only survivor from the 2011 premiership side before Hasler left for Canterbury.
For Manly fans who endured a difficult 2018 under the guidance of Trent Barrett, the return of Hasler was widely interpreted as a good news story. Regardless of the circumstances in which he left the Bulldogs, here was a Sea Eagles man through-and-through, back to steady an increasingly listing ship.
But being left-of-centre is well and good provided you have a well-and-good left centre. And fullback. And a bench deep enough to help patch over the holes left by the injured Tom Trbojevic and Dylan Walker, stood down by the league as he faces domestic violence charges.
Travel beyond the sentiment and nostalgia and it's abundantly clear that Hasler has one of the most challenging jobs in the NRL in 2019 as he attempts to do much more with virtually the same squad that finished second last under Barrett.
Hasler was typically quirky when he spoke on Friday before his side's season-opener against the Wests Tigers at Leichhardt Oval this afternoon, bantering with reporters in his first full press conference since taking over once again last October. He said a year out of the coaching picture ensured a degree of catch-up but he liked what he saw in Melbourne's win over Brisbane on Thursday night, philosophically speaking. The more referees allow the game to flow, the simpler it will be to reacquaint himself with the NRL.
"It's hard to gauge, because the game 12 months ago is different to the game today as far as the playing style goes," Hasler said. "But if last night is any indication, things that got through were reduced stoppages, the more fatigue, the more play-the-balls, the more time the ball is in possession, the easier the game is to play. It's more of a spectacle."
Hasler's record at Manly remains excellent. After 256 games for the Sea Eagles as a player, he coached them from 2004-2011, with seven trips to the finals and premierships in 2008 and 2011. In five years at the Bulldogs after that there were two grand final appearances before a messy departure that ended in an out-of-court settlement.
Debate continues about his handling of the roster and recruitment at the Bulldogs, with his critics suggesting the array of back-ended contracts left them lame ducks in the recruitment market until 2021.
Former chief executive Raelene Castle, now in charge of Rugby Australia, remained one of his defenders, saying the club did what it needed to try to win another premiership. In any case, recent history at a rival club will matter little to the Sea Eagles faithful if Hasler can inch Manly out of the premiership basement.
But the pressure on him to help Manly show rapid improvement remains tangible, as does the pressure for him to prove he can continue to be an effective coach at the highest level. Sea Eagles icon Ken Arthurson knows that's the case but has backed Hasler to deliver over coming seasons.
"I'll be honest about it – undoubtedly he has [pressure to perform]. But he's already a premiership-winning coach and he had the Bulldogs into a grand final. Let me assure you, there is nobody in the game, nobody, that knows more about the game than Des Hasler," Arthurson said.
"In many instances, good coaches are made by the players they have available. Manly have had problems with the salary cap and injuries so that's an issue. But as far as Hasler is concerned, I have a lot of faith that he can do well back at the club."
Source: Read Full Article