Save articles for later
Add articles to your saved list and come back to them any time.
Goalkicking great Malcolm Blight says Harry McKay needs to be reprogrammed in a bid to ease his woes in front of goal.
McKay's goal-kicking issues have added to the troubles at Princes Park, where the Blues have slipped to ninth on the ladder, having dropped four of their past five matches, heading into Sunday's blockbuster against Collingwood.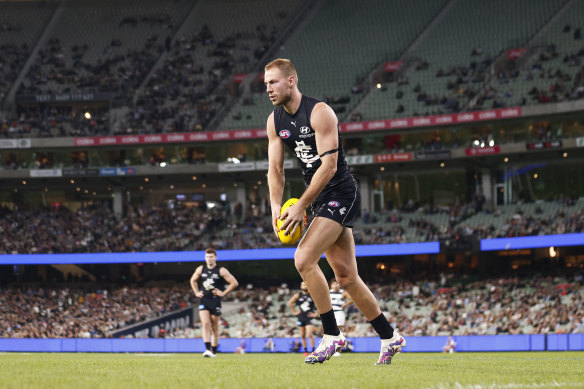 Kicking up a storm: Harry McKay's goalkicking approach has become a point of debate in a season where the Blues have underachieved.Credit: Getty Images
The star full-forward has only 12 goals in nine games and his shot-at-goal accuracy has dropped to a career low 37.5 per cent, having been at 56.9 per cent in his 2021 Coleman Medal year.
So bad has the big Blue become that three-time Coleman Medal winner Matthew Lloyd declared McKay "can't kick for starters", this coming as McKay's preference for set-shot snaps, rather than taking a conventional, straight-run approach, is again under the microscope after he botched a set-shot snap 35 metres out, directly in front of goal in the loss to the Western Bulldogs on Saturday night.
Blight, who booted 444 goals in his 178-game VFL career with North Melbourne, was the 1982 Coleman medallist and is a Hall of Fame legend, said McKay needed to find a confidante.
"Someone has just got to grab hold of him, someone who he believes in, maybe someone outside the club, have a kick in the park," Blight said.
"Whatever you can do that is repeatable is the right answer [for a routine], but kicking around corners is less accurate than if you are running straight. It just makes sense.
"If you miss two or three [shots], as I said, there isn't one player who hasn't been in that situation, and the gremlins start in the head. That's why if you have a gilt-edged practice routine doing the same thing over and over again, you actually get better at it and kick the demons out."
Blight said his technical advice for McKay was to have his right shoulder line up with the right goal post, and then run straight.
"Generally speaking, you will find the middle of the goals. And people call it a drop [of the ball], but it's a guide down – the closer you can guide it on to the boot the better," Blight said.
The three-time Geelong grand final coach and two-time Adelaide Crows premiership coach, who provided advice for goalkicking greats Tony Modra and Gary Ablett senior, said snaps were a 55 per cent chance of going through for a goal, while set shots were about 75 per cent. Blight also pointed to the commentary of legendary Hawthorn goalkicker Jason Dunstall.
"Every now and again, he says: 'Why don't they just run straight to the middle of the goals?' This is the same theory of mine, except for the goal post lining up with your shoulder," Blight said.
Former Carlton greats contacted on Monday, but who did not wish to publicly comment, questioned what McKay was being told by his coaches, and whether he was living up to his lucrative contract worth more than $800,000 a season.
Lloyd has questioned whether McKay is a "factor" in a struggling Blues forward line, which managed just 10 points to half-time against the Bulldogs – the lowest score in the Michael Voss era.
Lloyd said McKay's botched shots for goal were "deflating as a coach, and it's demoralising for your team", and pointed out he was not even "hitting the belly of the ball with his snaps where he was good [in previous years]" . However, he said it was too early to consider dropping him.
Carlton coach Voss has backed McKay, but says he needs to become a master of his craft. Ashley Hansen is the Blues' forwards coach.
Former Blues goal-kicking coach Sav Rocca told The Age in February his preference had been for McKay to run straight towards goal.
"If he kicks goals doing it, why not? I certainly like the straighter-on approach but if he is more comfortable kicking around the corner, it's whatever gets it done," Rocca said.
"I don't know if it's psychological – it's easier for him to kick a goal that way with his technique. These kids growing up, that's all they would have done – kick around corners. No one really wants to kick a goal from straight in front."
McKay's woes add to the Blues' scoring issues, for the connection between the midfield and forwards has been questionable, while slow ball movement was again an issue in the first half against the Bulldogs.
Keep up to date with the best AFL coverage in the country. Sign up for the Real Footy newsletter.
Most Viewed in Sport
From our partners
Source: Read Full Article