Toronto: A tiny shop in a hip downtown neighbourhood is not your typical rugby league team headquarters. But not much is typical about the Toronto Wolfpack.
Inside its merchandise store – tucked between a Greek diner and a bakery, and across the road from the Wolfpack's stadium – last year's RFL Championship trophy takes pride of place on the counter, ribbons dangling. There is no room to sit down; meetings take place at a cafe down the street.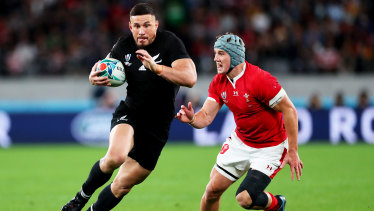 SBW bowed out of rugby with victory against Wales in the bronze medal World Cup play-off.Credit:Getty
Williams will begin training with the Wolfpack in January – a month before their season opener in England (they won't play in Toronto until two months later, when the snow will have melted).
In the meantime, they will upgrade their 54-year-old stadium to match their top-tier status. Currently, its 9600 seats are concrete benches, its locker rooms are spartan, and there is no big screen – just a dated scoreboard.
The Wolfpack will fund most of the upgrades. Its wealthy backer, Toronto-based Australian mining executive David Argyle, has invested millions into building the team's success.
"As they always say, how do you become a millionaire? You start as a billionaire and then you buy a rugby club," Argyle told The Sydney Morning Herald at his Toronto restaurant.
Sure, it's prestigious to own a team, but Argyle said his motive was singular: get more eyes on rugby league, and therefore more rugby league balls into kids' hands.
"This game needs to be spread wide and far," Argyle said. "If you look at Beckham and the LA Galaxy, he helped to legitimise football in North America. Our objective is bigger, better, faster, stronger, and that's the way you actually get more engagement from the youth."
He added, with a grin: "Sonny Bill is bigger, better, faster, stronger than David Beckham, Kawhi Leonard, LeBron James, Pele and Cristiano Ronaldo combined."
Do people buy that kind of hype? Wolfpack chief and chairman Bob Hunter hopes so. He has been tasked with translating the Wolfpack's rising global profile into sponsorship deals.
"This opportunity now with Sonny Bill is actually probably one of the best marketing tools I've ever worked with," Hunter said.
As well as trying to entice big-name brands to the team – the likes of Williams' own endorsement deals, with adidas and Powerade, are on the wish list – Hunter wants to sell out every home game, like last season's RFL Championship final.
The Wolfpack brought in extra seating so fans could see them wallop Featherstone Rovers 24-6, earning a ticket to the Super League.
There is one further challenge next year. Argyle is talking with Kangaroos coach Mal Meninga about a possible warm-up clash before Australia's tour of England. And it's fighting talk.
"I said [to Meninga], now you're gonna have to do some beefing up on your side because I'd hate to give you an ass-whooping in Toronto."
Source: Read Full Article