Cronulla have drawn the battle lines with neighbours St George Illawarra over Kogarah Oval, the long-term spiritual headquarters of the Dragons but now the home of the Sharks for the next two years while their own stadium is built.
The Sharks' new sabre-rattling chief executive, Richard Munro, said of next year's round 3 clash between the bitter rivals: "I'm looking forward to seeing Dragons in the visitors' change-room at Kogarah Oval.
Bronson Xerri's Sharks will be hoping their move into enemy territory pays dividends over the next two NRL seasons.Credit:Getty
"Cronulla will be the major tenant of Kogarah Oval. We're playing 11 games there, while the Dragons are only playing five."
Pivotal in the battle is St George Leagues Club, which sits majestically across the road from what is now named Netstrata Jubilee Stadium.
Its boss, Danny Robinson, is a wily operator who has long been opposed to football fans, including Dragons supporters, filling up the spacious car park of the "Taj Mahal".
Robinson reasons that football fans take the car spaces that could be used by poker machine players.
The "members only" sign usually goes up outside the club premises on game day. Sydney FC, who are playing 10 games at Kogarah in the current A-League season, have become accustomed to this. When the game starts, the sign comes down. If you want to park at the club, either miss the start of the A-League game or become a paid-up member of St George Leagues Club.
The Sharks' own licensed club is closed, along with their home ground, while a commercial/residential development proceeds on the site.
They have amalgamated with Kareela Golf Club, 10 minutes' drive from their old clubhouse, hoping members will patronise it until the new premises are expected to open in October 2021.
But will Sharks fans leaving Kogarah Oval divert to Kareela or cross the road, buying drinks on the St George club membership they have taken up in order to guarantee a car park space?
A more significant question is: will the Sharks fans even attend Kogarah Oval?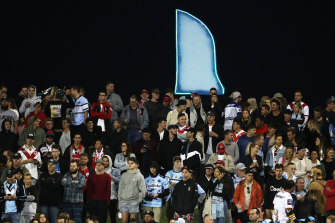 Cronulla will share Kogarah with the Dragons while their new NRL home is built.Credit:Getty
Cronulla have the second lowest away crowds in the NRL: that is, the total attendance at away venues for a season divided by the number of games.
An enterprising young freelance journalist, Ramy Haidar, has calculated away crowds between 1957 and 2019, for 28 clubs, including now defunct sides like North Sydney Bears, Adelaide Rams and Gold Coast Seagulls.
The Sharks (11,282) sit 19th on the table, ahead of only Penrith (10,514) among existing NRL clubs.
Interestingly, St George Illawarra (19,111) are No.1, while St George (13,857), when it was a stand-alone entity, ranks seventh.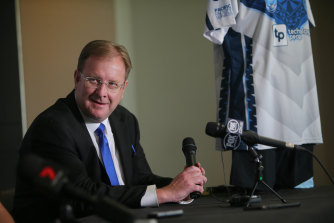 New Sharks boss Richard Munro is bullish but Cronulla rank above only Penrith in terms of travelling support among current NRL clubs.Credit:John Veage
While the away crowd figure captures the neutral supporter as well as the travelling one, it is a sound index of a club's "brand", a term former Dragons boss Peter Doust was fond of using.
So, while the Dragons have a 60-year-old record of fans following them to away games, the Sharks have a 50-year history of staying at home.
Perhaps this is why the Sharks have chosen Kogarah as their interim home, the shortest distance for their fans to travel.
Munro, who has been Cronulla chief executive since May, says: "We did a lot of work on different options, such as Bankwest at Parramatta, WIN in Wollongong. Kogarah was the best fit for our members, given its proximity."
Yet some corporate box holders at Shark Park are already demonstrating resistance. Told that if he didn't take a box at Kogarah he'd be on the waiting list for a suite at the new Shark Park, one Cronulla businessman said: "But I don't want to go to Kogarah."
The Sharks have long been considered the NRL's endangered species. They have sold off their natural habitat – 10 hectares of land to developer Capital Bluestone who, in turn, recently formalised a deal to become part of Hong Kong-based Aoyuan International.
The development began in 2011 and has seen $57 million transfer to the Sharks, including $12m held in an escrow account specifically to deliver the Leagues Club refurbishment. But the farm has been sold. As chairman Dino Mezzatesta concedes, "The final payment has been made to us."
Cronulla must rely on Kogarah gate takings and corporate box sales, sponsorships and NRL distributions to survive the next two years before moving to their new ground and licensed club.
"The Sharks are on the way up," boasts Munro. "We're happy to go into Dragons territory and upset them."
The Dragons would say they are entering dangerous waters.
Source: Read Full Article