Western Sydney Wanderers captain Mitchell Duke has credited caretaker coach Jean-Paul de Marigny's lofty standards for driving a change in "mentality" that has led to a late-season renaissance and another A-League derby win.
Having come into this campaign without a victory over Sydney FC in nearly three years, the Wanderers now have two on the bounce after Friday night's 1-0 triumph at a pulsating Netstrata Jubilee Stadium.
Jean-Paul de Marigny has significantly boosted his chances of staying on as Western Sydney's permanent coach.Credit:AAP
Under de Marigny, they have taken 10 out of a possible 12 points and played with a structure and swagger that was only ever seen in fleeting glimpses during Markus Babbel's disastrous reign as coach. Their record since the German's sacking only underlines that it came weeks, if not months too late.
Western Sydney now find themselves within touching distance of the A-League's top six – they are two points behind sixth-placed Brisbane Roar, who they meet next Friday night at Suncorp Stadium.
Duke – who scored the decisive goal against the Sky Blues on Friday night as well as in round 3 – directed much of the credit for their turnaround to de Marigny, who has strongly enhanced his chances of retaining the job on a full-time basis.
The 29-year-old striker said de Marigny was a hard man to please on the training paddock, but that it was bringing the best out of the Wanderers.
"He really gets on your back. He doesn't accept any sloppy passes, just the small details, he really gets onto you. You've pretty much got no option to either improve, or you're not going to play," Duke said. "That ruthlessness sometimes [can] take you up to that next level. He's just got such a good relationship with the boys. It's been an easy transition for him and we're all just having a great time. We've all probably come a bit closer for it as well."
Duke also paid tribute to the Wanderers fans – in particular the boisterous Red and Black Bloc, who lit several flares behind the goals during the game, and outside the ground after it – for getting them over the line.
"They helped push us through that final 20 minutes of the game – every tackle, every challenge, they were cheering us on, even every run, they were right there behind us. It gives you that extra percenter to keep going," Duke said.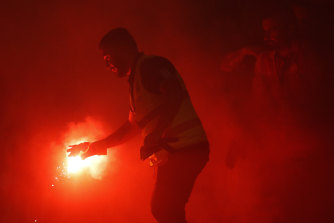 A supporter marshal grabs a flare lit by Wanderers fans during Friday night's derby.Credit:AAP
After numerous social media reports of clashes between fans and police, a Wanderers spokesperson said the club was "investigating several matters that arose" from the derby.
"There are a number of matters that have surfaced regarding our members that we will prioritise in these conversations," the club said in a statement. "These conversations do not include those involved in discharging incendiary devices."
As for the Sky Blues, suddenly they are the ones in the midst of a derby drought. It's now been 441 days since Sydney's last win over the Wanderers in December 2018 – and with a midweek AFC Champions League clash against K-League title-holders Jeonbuk Motors, they don't have much time to recover.
Sydney coach Steve Corica, meanwhile, is likely to escape any formal sanction for his post-match blow-up at Daniel Georgievski. Cameras caught Corica verbally remonstrating with Georgievski in the tunnel, presumably over the incident that saw Western Sydney defender sent off in added time for lashing out at Marco Tilio's face with his foot.
Judging by the way other incidents have been handled this season, it would not surprise if Georgievski received more than just the mandatory one-match suspension.
"He deserved his red card," Corica said. "That's the way it goes, that's football. He's a competitor and he made a mistake, kicking out – you can't have that, especially in the face."
Source: Read Full Article