Western Sydney Wanderers are scrambling to sign additional players to avoid the prospect of taking just two fit substitutes in Thursday night's W-League clash with Melbourne City, who need only to avoid defeat to clinch the premiership.
A season that began such promise for the Wanderers threatens to end in disaster, with coach Dean Heffernan's squad left decimated for what had been a hotly-anticipated match against City due to injuries, suspensions and departures.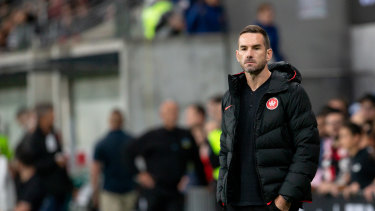 Wanderers W-League coach Dean Heffernan is refusing to give up the ghost on their season.Credit:Getty
Of the team's three prized signings from US NWSL champions North Carolina Courage, none will take the field at Marconi Stadium. Kristen Hamilton is suspended, while Denise O'Sullivan's short-term contract expired last month, and star striker Lynn Williams was released from her deal this week to focus on her international commitments – and with the transfer window shut, the Wanderers couldn't bring in a replacement.
Midfielder Ella Mastrantonio is also banned due to yellow card accruals, while Alix Roberts is suffering from the flu and will be sidelined alongside captain Erica Halloway (knee).
It leaves Heffernan with little choice but to put his trust in the 13 who are left standing. He said he would likely field a team littered with teenagers and hand out at least three debuts, but would only have two players on his bench – unless some eleventh-hour reinforcements can be found and rushed through.
"We're going to look at it today and see what we can do, but that's where we're at," Heffernan said. "But honestly, it's exciting. I'm more excited for this game than all the others because it's such a big opportunity for these girls who really have nothing to lose.
"We'll have a good game plan going into it to give us every chance of causing a big upset."
City are undefeated and fully intent on sealing the title on Thursday, but Heffernan is desperate to prevent it happening on home soil, and still believes the Wanderers can make something of this season in the finals, once Hamilton, Mastrantonio and others are back on deck.
"It's definitely not over. Not in our eyes," Heffernan said. "We've spoken at length about the challenges that we've got and how excited we are to meet them head-on. We're going to have to work harder than we ever have but we've got a chance to be the first team to beat Melbourne City.
"We don't them want to win it in western Sydney. If we can stop that, we will."
Source: Read Full Article