Sixth-placed Bournemouth can still improve following their 3-0 win over Fulham, says manager Eddie Howe.
Two Callum Wilson goals and another from David Brooks helped the Cherries to defeat Fulham, who had Kevin McDonald dismissed, at Craven Cottage.
Bournemouth are impressing at both ends of the pitch this season, with Saturday's clean sheet their third in as many games.
"It's not perfect, there are definitely things we could have done better," Howe said.
"I thought it was a much better performance than the one against Watford where we won 4-0 and got a lot of plaudits, but there were aspects of the play that day which were below where we'd want to be. But today was a lot better and most aspects of the play were great.
"The three clean sheets in a row are huge for us and that's given us a real boost around the team."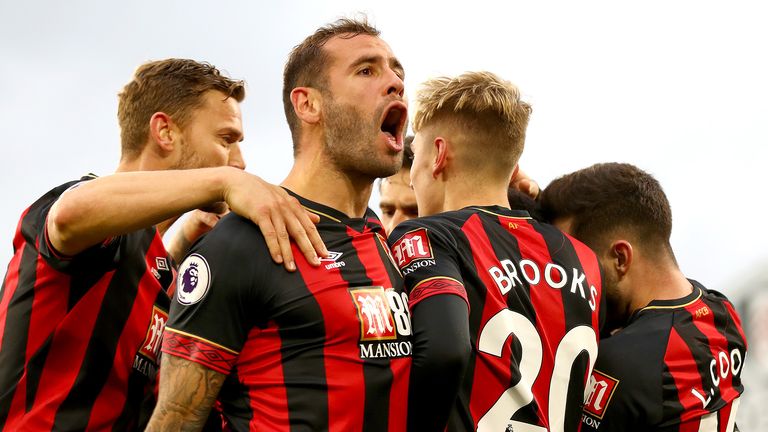 The victory takes Bournemouth to 20 points this season and keeps them in sixth place, but Howe will not allow his team to rest on their laurels.
"Hugely impressed today because we know how difficult the Premier League is; each week you're put under a different test than the week before," he added.
"With the good start we've had it's easy to just sit back and maybe not really go for the results we crave, but the mentality of the players today was excellent. We were bright, we were very motivated to do well and that showed in the performance."
Wilson scored twice but the form of Brooks will be a great boost to Howe who sigied the forward from Sheffield United during the summer.
"His all-round game today was very good, he was technically excellent," said Howe. "His understanding of the position we asked him to play was very impressive and he capped it with a really good goal, so it's been a very good afternoon for him."
Despite Bournemouth's lofty position in the league, Howe is not getting carried away.
"We're just trying to do our best in every moment of the season," he said. "It's a brilliant start, we're so pleased with how we've done so far, but that's all it is and we need to build on that in the next game."
Source: Read Full Article