England lost the final of Euro 2020 at Wembley Stadium last night, beaten by Italy on penalties to see ensure their 55 years of hurt will become 56, if not even more.
Luke Shaw's half-volleyed opener at the back post gave England the perfect start, but Gareth Southgate's side lost control of the game and Italy's superiority resulted in an equaliser through Leonardo Bonucci following a corner on 67 minutes. With neither side able to find a winner in normal time, extra time followed. Still parity remained, with Southgate bringing on Jadon Sancho and Marcus Rashford at the last moment – just in time for the young pair to take penalties.
Both would miss, however, as would Bukayo Saka with the decisive spot-kick for a 3-2 shootout defeat. The trio were the victims of racial abuse after the game, only adding to England's misery. Italy, meanwhile, were able to celebrate a 34th straight win under Roberto Mancini and a second European Championship triumph – marking their sixth major trophy. England remain on one, still clinging to that 1966 World Cup triumph at Wembley, which was stormed by ticketless fans ahead of kick-off yesterday evening. Follow all the fallout from England's Euro 2020 final defeat.
Recommended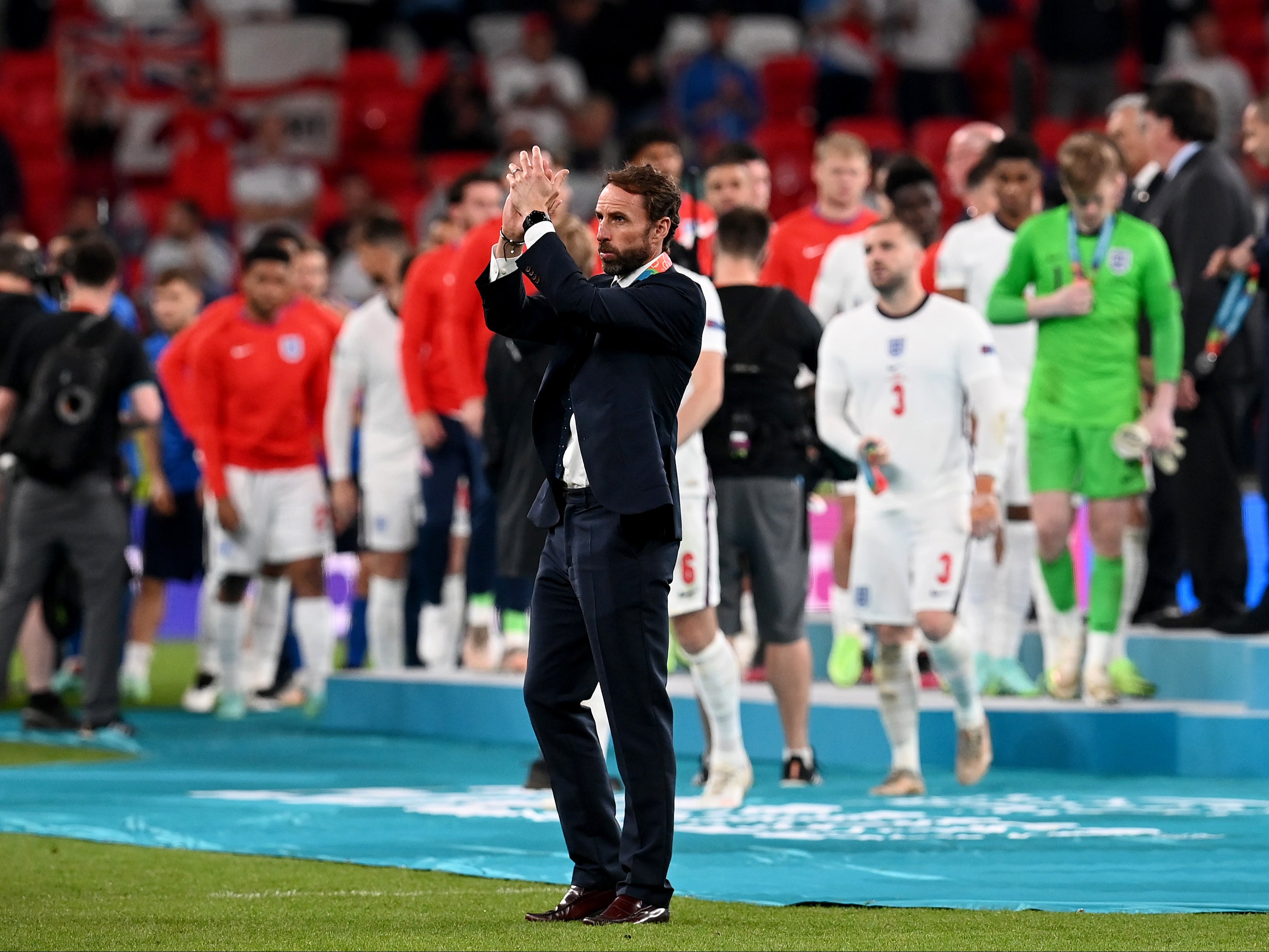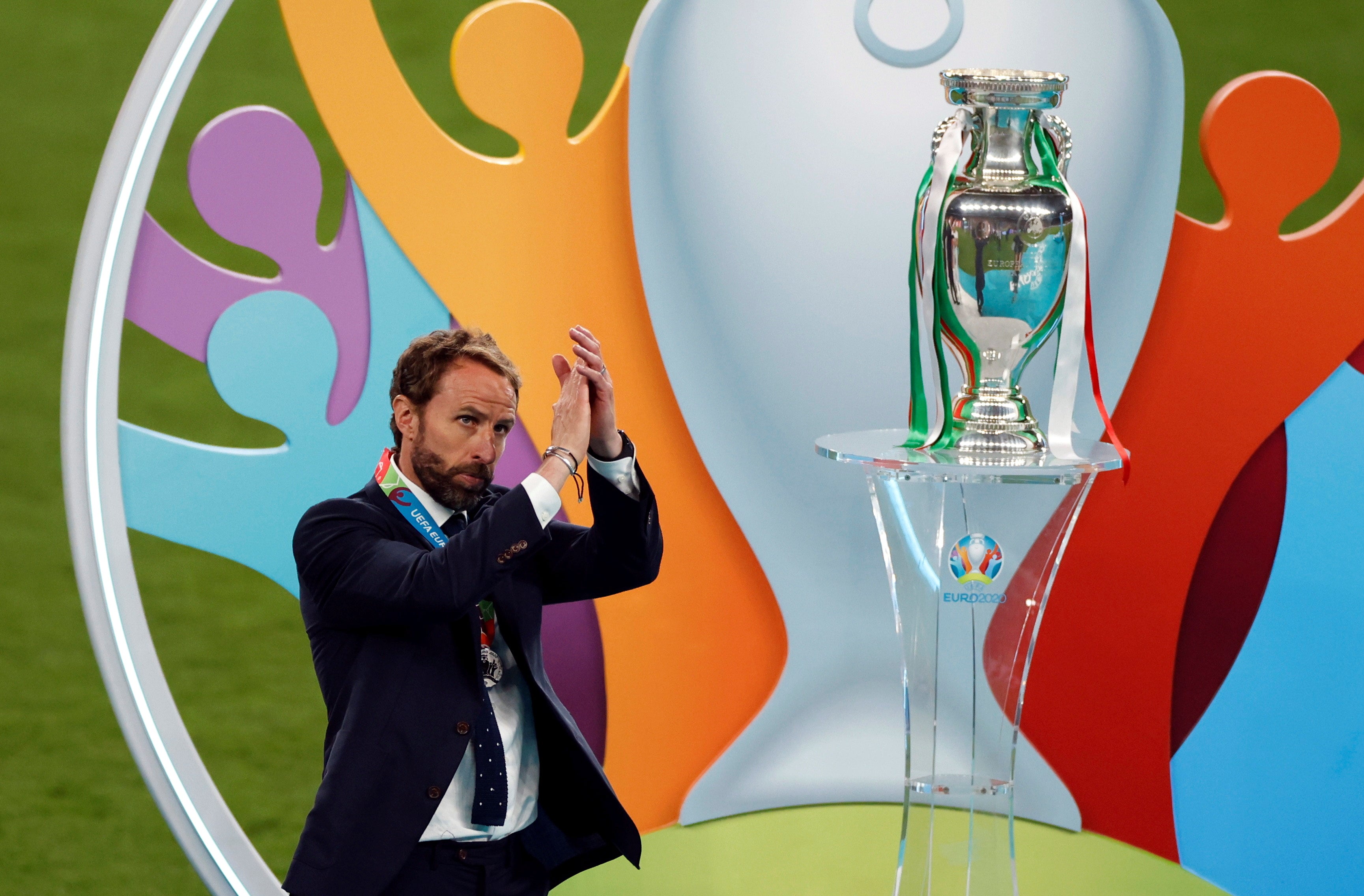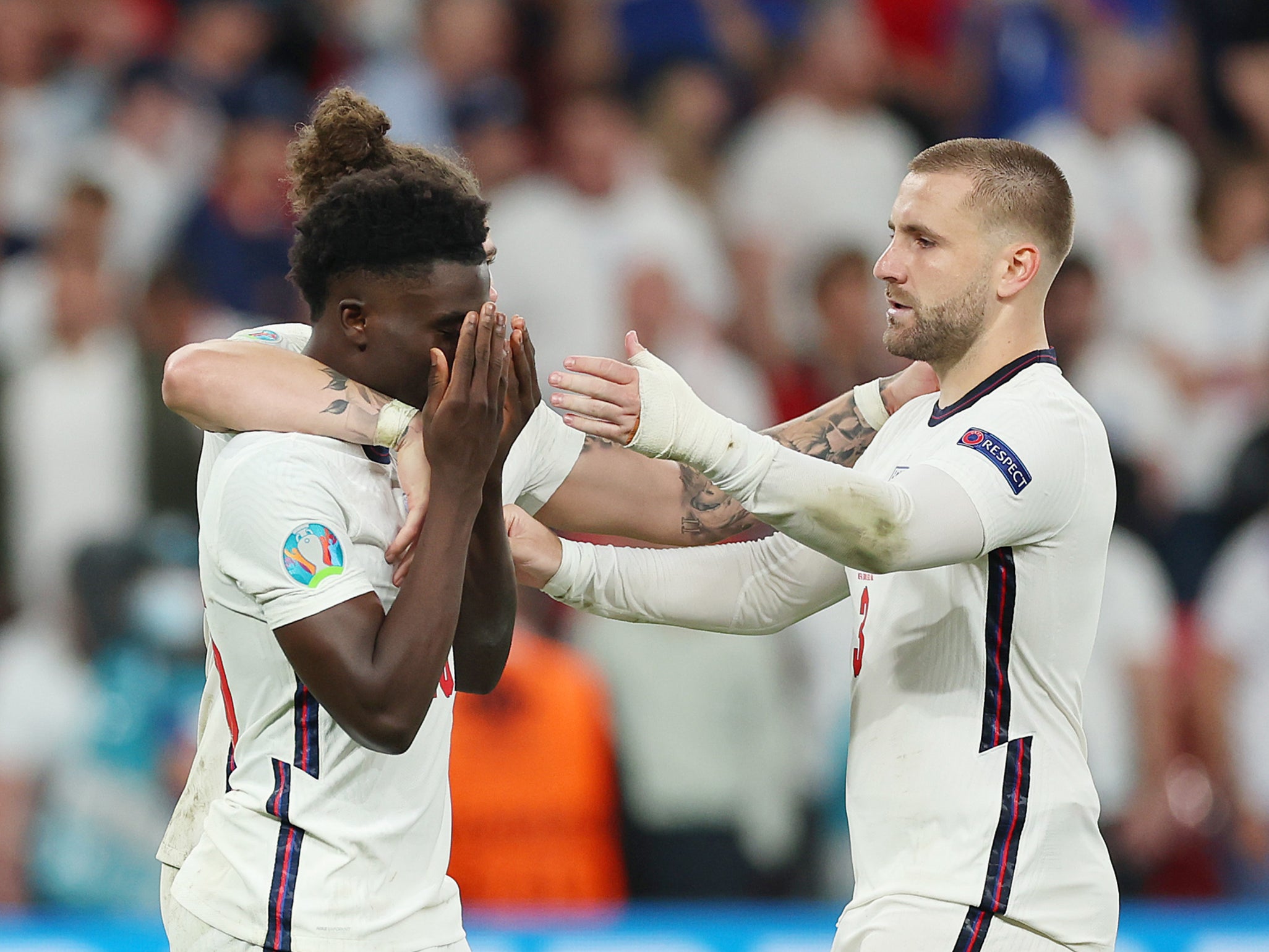 Sterling completed most dribbles at Euro 2020
Raheem Sterling was one of the best players at Euro 2020. And the statistics agree with that as they show the England forward to have completed the most dribbles in the tournament.
Mancunians leave hearts and messages on defaced Marcus Rashford mural
Members of the public have left brightly-coloured hearts and messages of support on a mural dedicated to Marcus Rashford after it was defaced following the Euro 2020 final on Sunday night.
The mural, painted on the side of a cafe in Copson Street in Withington, south Manchester, was graffitied on within hours of his missed penalty in the match. Police are treating it as a racist incident after Rashford, Bukayo Saka and Jason Sancho, who all missed a penalty, have been targeted with racist abuse on social media.
The graffiti has been covered over with black plastic sheets and duct tape while Greater Manchester Police undertake an investigation to find the offender.
In the meantime, people have gone to the mural to stick paper hearts and notes to show their support for Rashford, who successfully campaigned for the government to provide free school meals to children in England during the Christmas holidays last year.
One message reads: "I can take or leave football but I cannot take or leave people like you. Thank you for your passion, compassion and desire to change lives."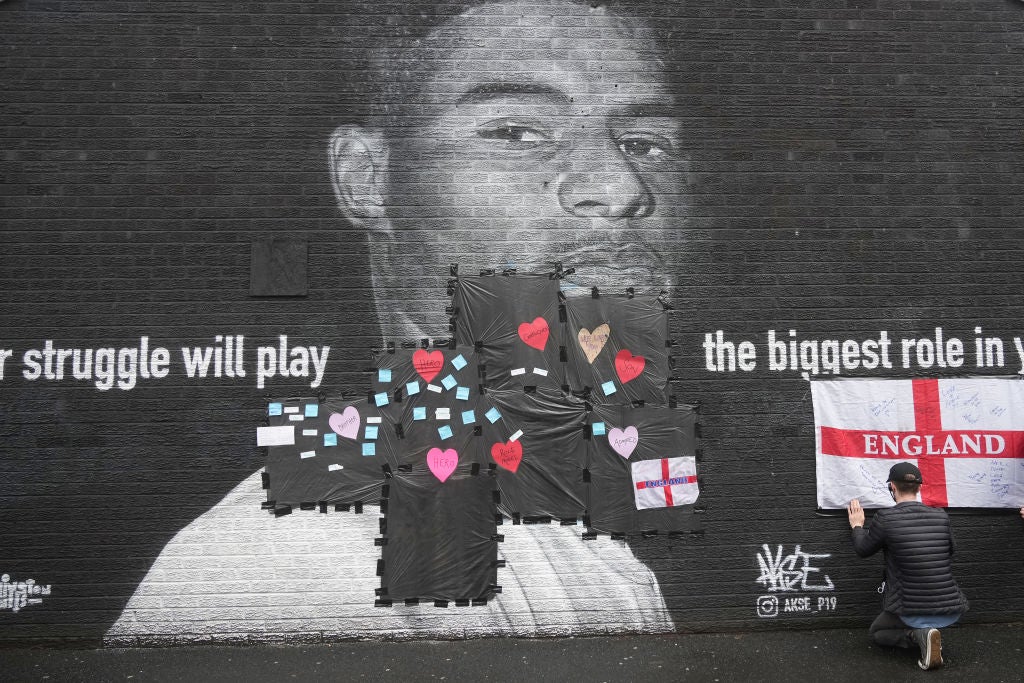 Message from England camp
England have sent out a message to the fans after the heartbreaking Euro 2020 final defeat to Italy last night.
The official England team tweeted: "It hurts, of course it will hurt. But let's not forget the incredible memories we made together this summer.
"This is a special group of players – and they will be back!"
England's roads deserted as country watched Euro 2020 final
England's roads were eerily empty on Sunday as tens of millions of people watched the Euro 2020 final.
The match kicked off at 8pm and ended shortly before 11pm after a penalty shoot-out between England and Italy.
Between 9pm and 10pm, congestion levels in London were at just 3 per cent, compared with 14 per cent during the same period a week earlier, data from location technology firm TomTom showed.
Leicester saw a decrease from 23 per cent to 5 per cent in the same period and other cities, including Birmingham (from 11 per cent to 3 per cent), Liverpool (9 per cent to 3 per cent) and Manchester (9 per cent to 1 per cent), also registered sharp reductions.
Tube journeys also decreased in London while the match was on. According to Transport for London, 164,000 Tube journeys were made between 8pm and 11pm on Sunday, compared with 225,000 during the same period a week earlier.
However, after England's loss, traffic soared with congestion levels between 11pm and midnight at 27 per cent in London, 13 per cent in Birmingham and Leicester, and 11 per cent in Liverpool and Manchester.
Some 209,000 tube journeys were also made between 11pm and midnight.
That was the highest demand for the Tube at that time of day since the start of the pandemic.
Additional reporting by PA
Estate agent Savills suspends employee over racist tweet after England defeat
An estate agent has suspended an employee over racist comments which have been circulating on Twitter.
A man based in Manchester, who has since hidden his account, was the author of a highly-circulated racist tweet after England lost the Euro 2020 final on Sunday.
When social media users brought this to the attention of the man's employer, the UK-based estate agent Savills, the company responded by launching an investigation into the comments.
A spokesperson for Savills told The Independent: "Savills abhors and has zero tolerance to any form of racism and racial discrimination and is appalled by the racist comments in these tweets. Savills is immediately investigating and will take appropriate action."
The company later tweeted that the employee has been suspended, but that the man claims his account was taken over by a third party.
"Savills has acted swiftly and confirms that the individual is suspended from duty pending the findings of this investigation, which is being processed as a priority," the company said.
Grealish 'absolutely devastated' after England loss
Jack Grealish has poured his heart out to the England fans following their defeat to Italy last night.
He said: "Absolutely devastated.. I can't actually explain what it means personally the way the fans have acted this past 7 weeks.
"To every single one of youse, I hope I can repay you."
Comedian's shows cancelled after racist joke about England footballers
Comedian Andrew Lawrence has had scheduled performances pulled by venues after making a racist joke about England's Black footballers on Twitter.
Footballers Marcus Rashford, Bukayo Saka and Jadon Sancho were all subjected to racist abuse by some England fans after their penalties were missed or saved during England's Euro 2020 final loss to Italy last night (11 July).
Earlier this morning, Lawrence tweeted: "All I'm saying is, the white guys scored."
He then added: "Equality, diversity, s*** penalties."
In another tweet, the comedian wrote: "I can see that this has offended a lot of people, and I'm sorry that black guys are bad at penalties."
His comments drew criticism from Twitter users and fellow comedians, and several venues announced that they were cancelling his bookings forthcoming tour.
Hampshire's Hanger Farm Arts Centre wrote on Twitter: "Following the racist comments made by comedian Andrew Lawrence on Twitter we made the decision to cancel his show. As a part of learning disability charity Minstead Trust, we work hard to promote inclusivity, provide safe spaces for everyone and have zero tolerance for racism."
Euro 2022 pending
A reminder that Euro 2022 is happening next summer. Let's hope England's Lionesses can go one step further than the men did last night.
Chilwell reacts to England defeat
England defender Ben Chilwell has reacted to Gareth Southgate's side's defeat last night. The Chelsea full-back has not played at Euro 2020 but stuck by his teammates following the loss.
He said: "I love this group, we gave it everything and hopefully made you all proud. We will be back stronger!"
England goal vs Italy
In the midst of all that has gone on since the match, let's not forget this sensational moment. Luke Shaw capping off a brilliant tournament with the early goal.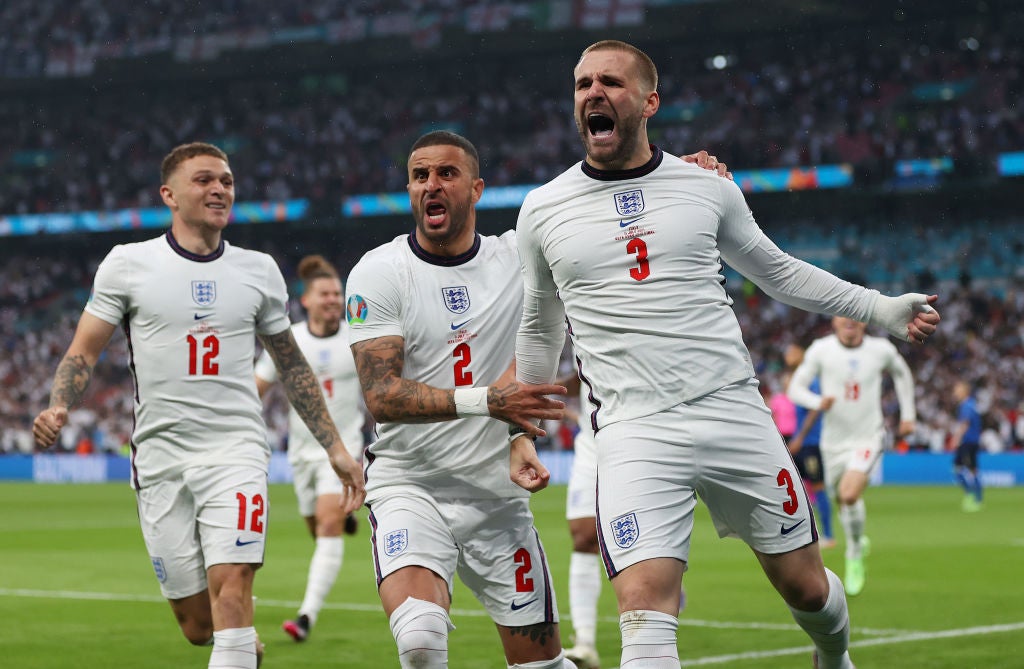 Source: Read Full Article