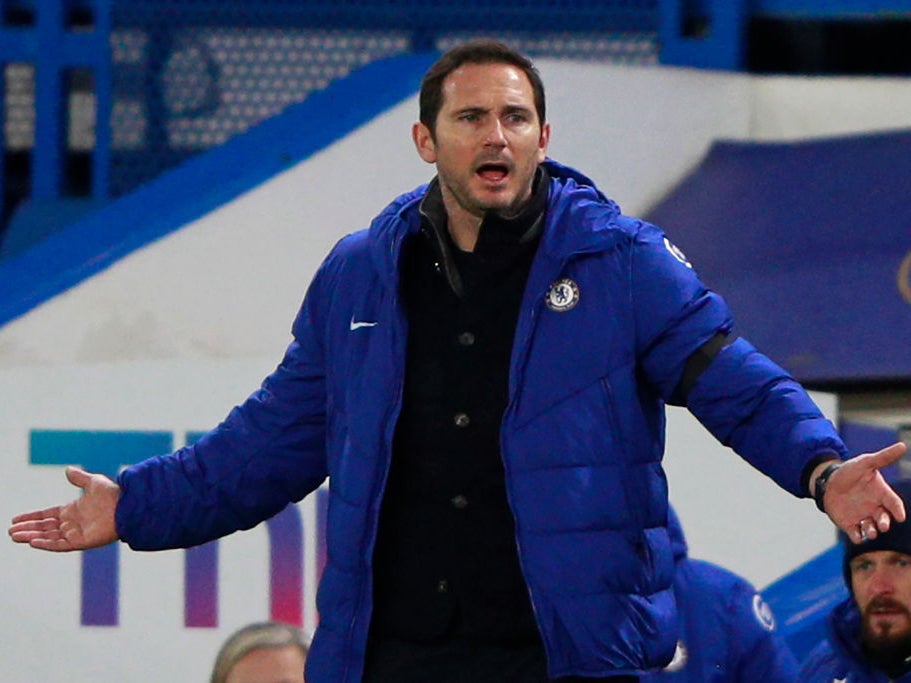 Lampard protests on the touchline during the loss to City
Some of the circumstances for the differing tone are pretty clear. Chelsea expected to beat Arsenal, while this match against a manager and team of title-winning repute was always going to be a barometer for Lampard's side as contenders. The answer, unequivocally, was nowhere near. However, you imagine he'd have been coaxed into a soundbite of a title challenge had they beaten the bookies' second-favourites to move within four points of leaders Liverpool.
Even with the short turnaround from Arsenal into the draw against Aston Villa 48 hours later, Chelsea's week was set against Lampard's admonishment of those at his disposal. To many, this was a shifting of blame from a man who now averages 1.67 points per game, the lowest of any Chelsea manager in the Roman Abramovich era. Of those who have taken charge of the club for at least 20 games since the start of the Premier League (1992), only Glenn Hoddle (1.27), Ian Porterfield (1.28) and Ruud Gullit (1.65) have inferior records.
Independent Football Newsletter
Get the latest football headlines direct to your inbox twice a week
Read our full mailing list consent terms here
Independent Football Newsletter
Get the latest football headlines direct to your inbox twice a week
Read our full mailing list consent terms here
Worse, though, has been how those at the club viewed that criticism. The Independent understands individual players already doubting Lampard's capabilities were irritated by the assertion the majority of the blame should lie with them. It was not the first time he has stated his view that poor performances are down to a lack of adherence to his tactics and messaging rather than issues with the tactics and messages themselves.
Further up the chain, there is frustration at his inability to make the most of new signings Timo Werner and Kai Havertz. While Werner has had opportunities to come good, returning to the line-up as the middle of a front three on Saturday, Havertz is a piece of the puzzle Lampard has yet to fit.
The 21-year old was introduced in the 77th minute, providing an assist for another substitute, Callum Hudson Odoi, who was perhaps unlucky not to be entrusted with a start after impressing in recent weeks. Especially given Hakim Ziyech, for all his talent, was thrown back into the first-team after seven games out with a hamstring injury. On the outside, the meritocracy of the 2019/20 season, particularly regarding the youth players who helped Chelsea to fourth, seems to have dissipated.
The situation with the two German stars is most fraught given the nature of their acquisitions. Lampard was key to Werner choosing Chelsea over Liverpool, while the £72million forked out to take Havertz from Bayer Leverkusen was at the insistence of Abramovich.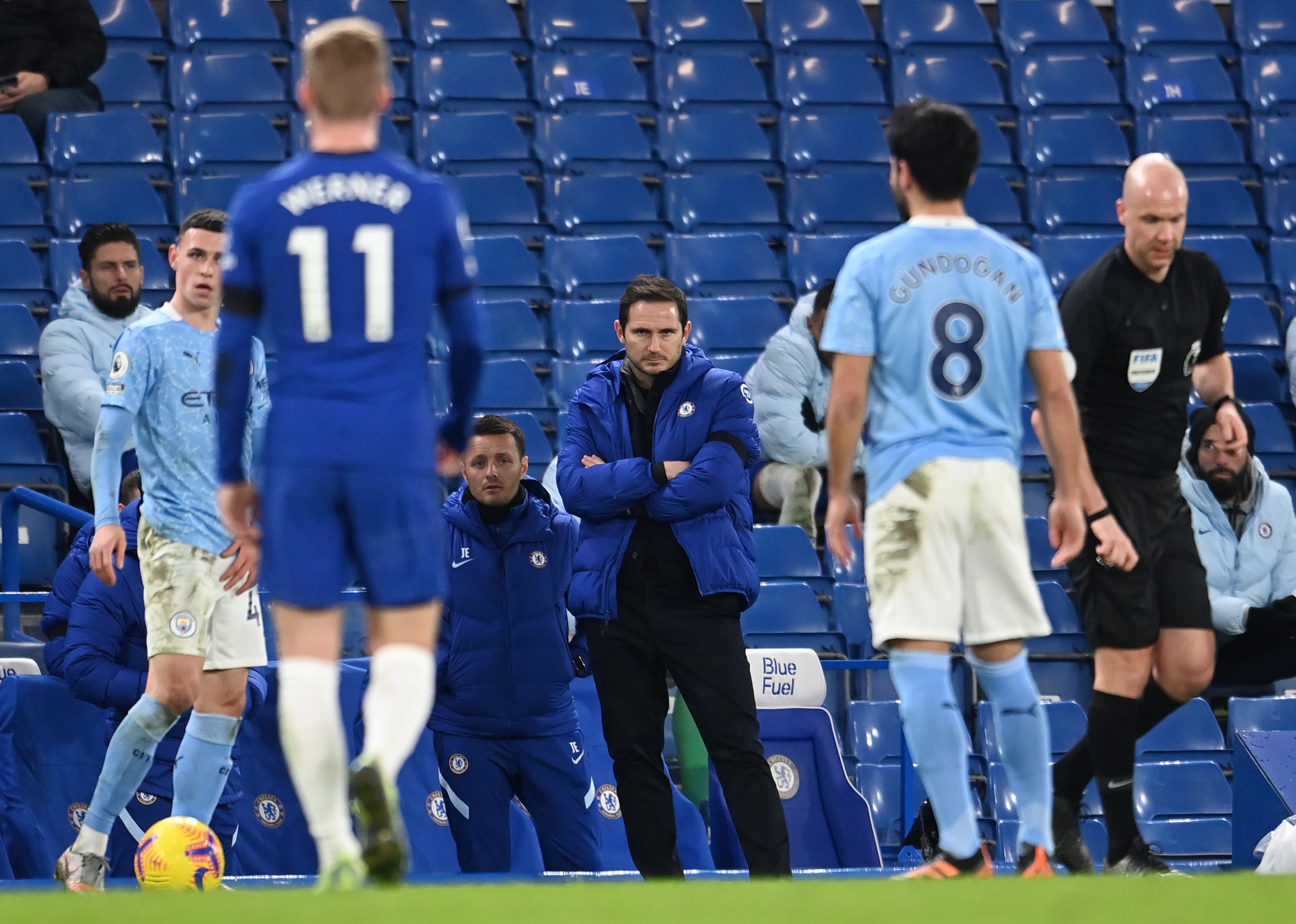 Lampard looks on during the 3-1 defeat at Stamford Bridge
Such politics are nothing new to Lampard, who spent 14 of his 16 seasons at Stamford Bridge under the Russian billionaire. But they are more your problem when you're in charge of mixing it all together – the £222m spent in the summer, the high expectations – while maintaining the utmost diplomacy.
Thus, Sunday saw Lampard shoulder the burden, both of the predicament and the disappointment of sitting eighth. And with that, he offered a sterling defence of his players.
"At the minute, we are in a tough period. I understand it as I played here for a long time. I understand the minute that you lose a few games in a short period of time then everyone looks and asks questions. Then everyone looks at it differently and says you spent that much money. Well, the reality is that a lot of the players who came in are young, new, have been injured, not played together before.
"I think when you say established players, Kai Havertz is young and Timo Werner is young and they have never played in the Premier League. I spoke before that players who have come into the Premier League and needed time to adapt, some of the greatest players that have ever been in this league. Ben Chilwell is young, and Thiago Silva is at the other end of his career."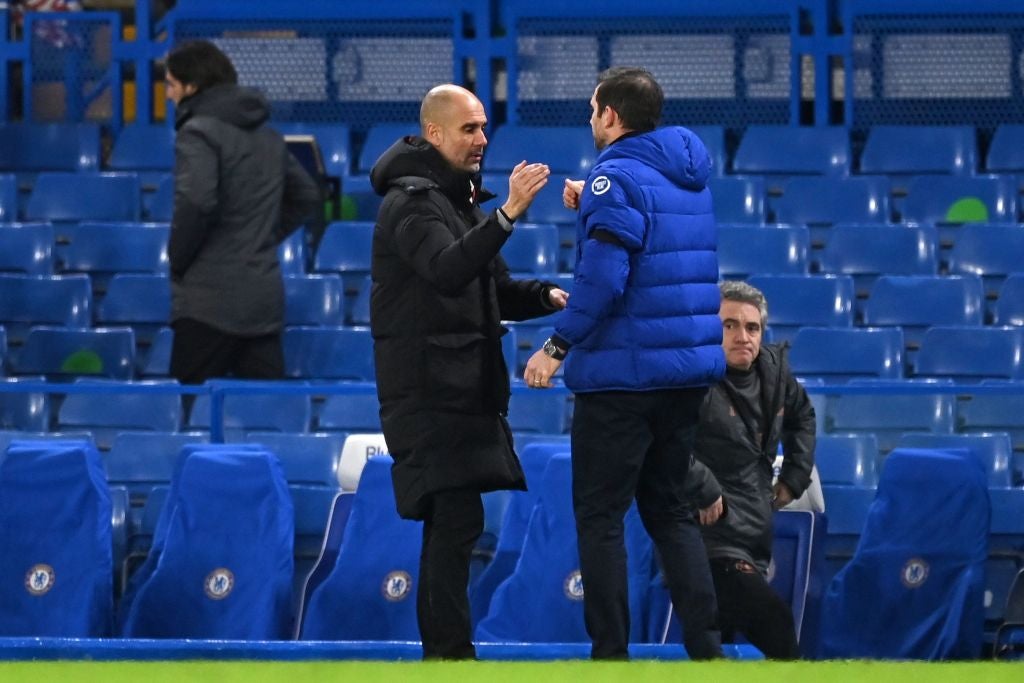 Frank Lampard shakes hands with Pep Guardiola
Any talk of imminent danger to Lampard's employment seems absurd in isolation. The run preceding the December drop-off was 17 games unbeaten in which Chelsea looked to have cemented a footing in the top three to push on for much more. And when you consider how topsy-turvy the league has been, the next fixture against Fulham in two weeks could be the start of a much-needed about-turn.
But Abramovich has never been afraid of pulling the trigger on managers. Replacements have never been hard to come by, compensation fees never too high to pay out. Given Lampard's deal expires in the summer of 2022, he might even have that money on him. Thus the trip to Craven Cottage carries with it a risk of being Lampard's last post-match press conference in Chelsea stash.
Perhaps the most instructive soundbite in Sunday's post-game chat came when rallying against the notion that success was ever going to come easy. A point he has been consistent on throughout.
"The expectations after Leeds (another 3-1 that temporarily put Chelsea top in matchweek 11) that we are title contenders was not real. I am real now in saying the club has to take pain for where we want to get to. Any build or re-build that we have with the players we brought in takes pain. That means pain on the pitch, pain behind-the-scenes and fight and character. That's how you build."
The sentiment is wholehearted and steeped in logic. But the club's hierarchy has never put sentiment and holistic reasoning above tangible success that shows a clear path to titles. Ultimately, the pain Lampard speaks of may solely be his to endure.
Source: Read Full Article