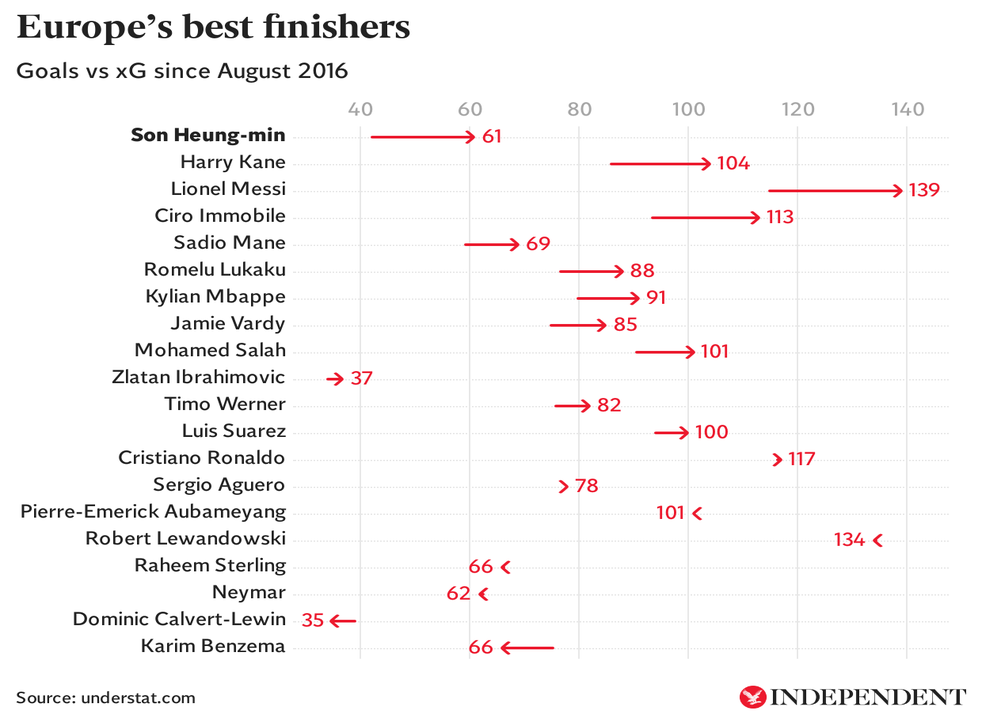 Analysts The Independent spoke to had their own theories. "It's difficult because xG models weren't originally designed to evaluate a single player's finishing ability," says Mike L Goodman, the former managing editor of StatsBomb. It is possible that Son may therefore throw up quirks in the data. His natural talent with both feet, for example, might confound models which consider whether a shot was taken on the attacker's stronger or weaker side. Son's specialism on the counter-attack may also play into his favour statistically, because xG models struggle to interpret impeding defenders and so rate one-on-ones as a little more difficult than they might be. "The reality is just that it's very hard, from a pure stats and numbers approach, to get enough shots under your belt to say conclusively that somebody who has been a great finisher will continue to do that in the future," says Goodman. "You can look at Son and say his numbers suggest that he's a really good finisher, absolutely, but it's just about being careful saying what we can prove."
Goodman agrees, though, that in a game of mostly uniform standards of finishing, Son's numbers are startling. And perhaps this is the point. That in the heart of Big Data maybe there is little to choose between the finishing prowess of one footballer and another, but on the fringes of numbers, at the spreadsheet's poles, there might just be something or someone worth discovering. Son will soon regress and probably won't finish 2020-21 with more than double his expected goals, as he's currently tracking, but the long-term trends suggest he has mastered the art of finishing to an efficiency above even greats like Messi and Ronaldo, and it shows no sign of tailing off.
It is worth noting that, as a team, Tottenham have been performing above their xG this season too, and that after Son they also have No2 on the list of Europe's top finishers. In a season which already defies convention in so many ways, perhaps Son and Kane will continue to resist xG's pull towards the mean for a little while longer yet.
Source: Read Full Article