Former English Premier League boss Richard Scudamore believes the lure of marquee players is overrated, saying "alchemy" can be created in the A-League through a focus on homegrown talent, good football, small stadiums and high occupancy rates.
Scudamore has landed in Australia for his first round of face-to-face talks with clubs in his new role as an advisor to the A-League, first revealed by the Herald last month.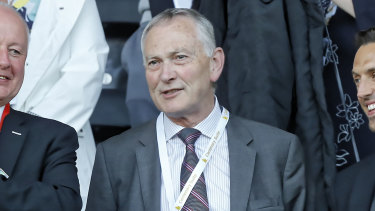 Former Premier League boss Richard Scudamore has arrived in Australia.Credit:Getty Images
It will be a whistlestop trip for the 60-year-old, who will barely have a spare hour as he consults with owners and administrators, discusses strategy and the impending separation from Football Federation Australia, and attends fixtures on Saturday and Sunday before flying out on Monday.
In an hour-long briefing with reporters on Friday morning, Scudamore made it clear there was no silver bullet for the A-League and was not willing to make any predictions as to where it could be after five or 10 years of independence.
But he said a recent move from the clubs to prioritise youth was the right one, saying big-name marquees were not essential and pointing to Leicester City's famous title-winning season as an example of how players like Riyad Mahrez and N'Golo Kante – largely unknown at the time – can become overnight celebrities.
"Australian teams don't need a whole load of globally-recognised superstars that walk around and everybody knows who they are," Scudamore said.
I've seen every single model there is to see where football sits within the pecking order in each country.
"What you need to build is club loyalty. Homegrown is still the most exciting thing … the holy grail is the local boy made good because they are your best asset.
"My firm, simple belief is [having] your young players playing against the best foreign players you can afford to have – that's the way they develop."
The clubs believe it is Scudamore's experience at the helm of the World Leagues Forum that will prove most valuable to them as they confront the challenges of Australia's increasingly competitive sporting landscape.
"I've seen every single model there is to see where football sits within the pecking order in each country," Scudamore said.
"What I do know is this: football is the world's best game, bar none. It's a question of putting strategies in place to build this thing. It will happen, the professionalisation of football here will find its place and find its voice and the opportunity is huge."
Scudamore said improving the quality of the on-field product and the "intensity" of play was vital, as was enhancing it by placing teams in appropriately-sized venues that generate contagious atmospheres.
"In some ways priority number one is full attendance – occupancy, I mean. Only do then do you start to build, strategically, a product that people want to attend, want to be involved in, want to watch, and [generates] media attention," he said.
Scudamore was "excited" by the ever-changing media landscape, and believes content owners – and particularly sporting competitions – are in a powerful position.
"How that content gets delivered, distributed and monetised is a challenge and of course there's various models," he said. "The one thing about the younger generation, they are engaging more via these devices [phones] than my generation ever, ever did."
As for the prospect of linking the A-League up with a mooted national second division, and introducing a system of promotion and relegation which would drive the sort of competitive tension he believes is essential, Scudamore said he was yet to broach the topic.
"Bear with me, I've been here a day," he joked. "It's not been on my agenda yet. If we get to it, I'll share some insights. But [Major League Soccer in the US] has done pretty well in terms of attendance and interest without any promotion and relegation.
"[It] is a long way off from being strategically discussed, because I think there's other things that you've got to do before you can do it."
Source: Read Full Article