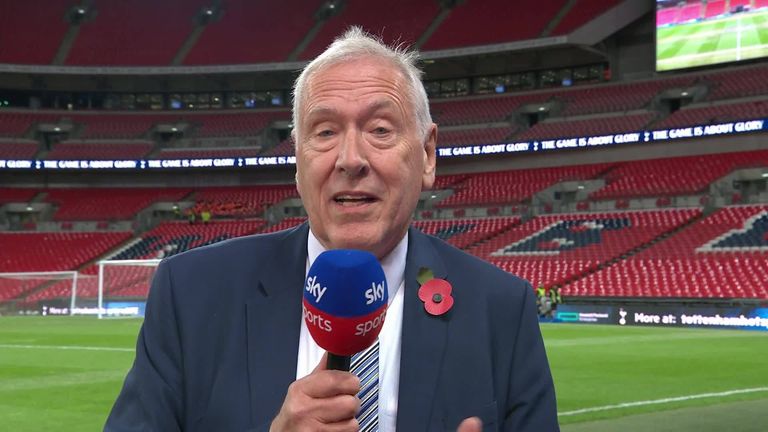 How many teams have failed to win any of their opening 10 Premier League games and stayed up? Is Bruno-Glenn Murray the oldest goal combination in Premier League history?
Sky Sports commentator Martin Tyler has the answers to those questions and more in his weekly stats column, and don't forget to try his tricky teaser in the video above.
Got a question for Martin? Tweet @SkySportsPL with the hashtag #TylersTeasers and the voice of football could be answering your question next week!
Martin's starting stat
Man City have still only conceded three Premier League goals this season after the 1-0 win at Spurs.
They enjoyed their sixth consecutive league clean sheet in that game and have scored 17 goals since they last conceded in the competition – to DeAndre Yedlin of Newcastle – and it's 10 hours since they last conceded in the league.
Both Harry Kane and Christian Eriksen made their 200th Tottenham appearance under Mauricio Pochettino in what was his 232nd game in charge. Kane has scored 142 goals in those appearances, but could not add to that on Monday night.
Raheem Sterling made his 200th Premier League appearance and got his 36th assist to go with 53 goals and he got his 117th win.
Riyad Mahrez played in his ninth game against Tottenham, scoring his fourth goal. He scored in both of Leicester's Premier League games against Spurs last season, including his final game for Leicester. He is the only Man City player to play in all 15 games in all competitions this season (including eight starts).
Waiting for a win
Newcastle and Huddersfield haven't won after 10 games in the Premier League – how many clubs have done this and stayed up? Jon
MARTIN SAYS: Before this season, there had been 11 teams to have started the season without a win from the first 10 games, and only three of them avoided relegation.
Everton finished 15th in the 1994/95 season despite not winning any of their opening 12 games in a 42-game season.
Blackburn managed even better in 1996/97 as they ended the season in 13th place, having not won until their 12th game of the season.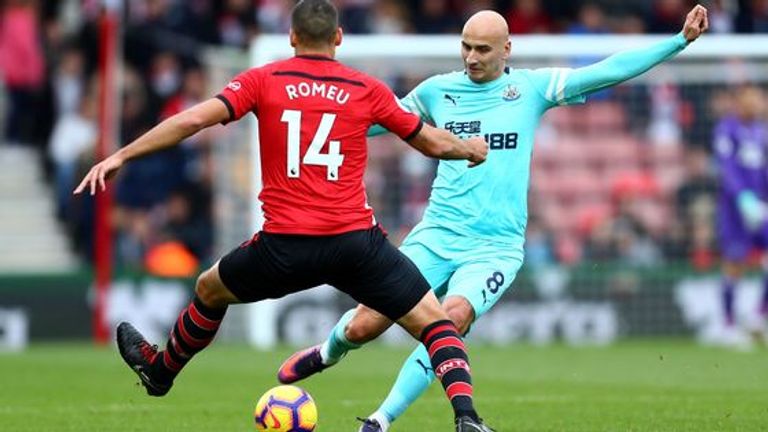 Derby also avoided relegation in 2000/01, finishing 17th after failing to win until their 12th match.
However, teams have usually found it hard to recover from 10-game winless starts.
Swindon (1993/94), Watford (2006/07), QPR (2012/13) and Sunderland (2016/17) all finished bottom while Norwich (2004/05), Reading (2012/13) and Burnley (2014/15) ended second from bottom.
Manchester City were also relegated on goal difference in 1995/96 after not winning of their opening 11 matches.
There only been one other season when two teams have failed to win in their first 10 Premier League games – 2012/13 when QPR finished bottom and Reading finished second bottom.
Teams to start with 10-plus winless runs
Fulham's struggles
Fulham haven't kept a clean sheet yet. What's the longest wait for a clean sheet at the start of a season? (Martin)
MARTIN SAYS: Fulham may not have got a clean sheet in their first 10 games, but Blackburn did not keep a clean sheet until the 28th game of the 2011/12 season, and it proved costly as they were relegated from the Premier League.
Norwich went 22 matches without a clean sheet in the 2011/12 campaign but avoided relegation, finishing 12th in the table.
Bolton also stayed up in 2009/10 after not keeping a clean sheet in their opening 21 matches.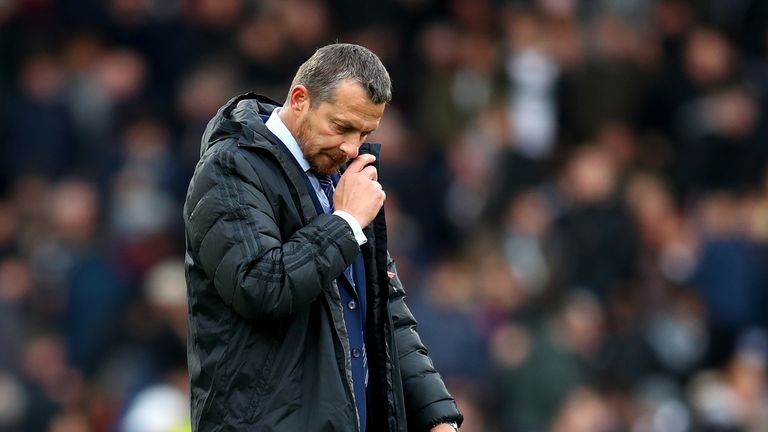 However, Leicester were relegated in 1994/95 after a 19-game run without a clean sheet.
Worryingly for Fulham they have conceded at least twice in nine of their 10 games this season.
If they continue at this pace they would set the record for most games of conceding two or more goals.
Ipswich conceded two or more goals in 28 games in the 1994/95 season (a 42-game season) while Wolves conceded two or more in 27 games in the 2011/12 campaign.
Longest wait for a clean sheet
Zaha in the spotlight
MARTIN SAYS: Since the start of 2013/14 – the season in which Zaha made his Premier League debut – he is third in terms of being fouled for penalties, including the spot-kick he won in the 2-2 draw against Arsenal on Sunday.
He has been fouled for 11 penalties in that time, putting him behind only Manchester City's Raheem Sterling (14) and Leicester's Jamie Vardy (13).
Zaha's Crystal Palace team-mate Christian Benteke has had eight while David Silva has been fouled for penalties seven times.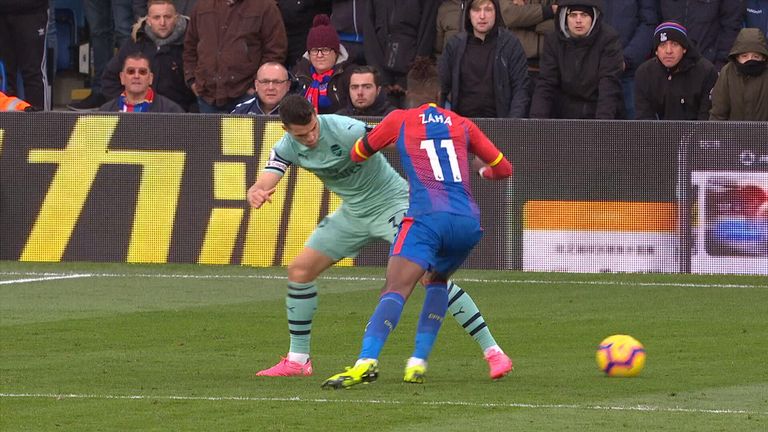 Zaha is also the most fouled player in the Premier League this season, having been fouled on 30 occasions.
Leicester's James Maddison (28) is next in the list, followed by Chelsea's Eden Hazard and Watford's Will Hughes (both 26), and then Manchester United midfielder Paul Pogba and Arsenal's Lucas Torreira (both 23).
How refreshing it was to hear Granit Xhaka admit after the game on Sunday that he had fouled Zaha and it was a penalty!
Still going strong
Has there been an older assist-goal combination in Premier League history than Brighton's Bruno and Glenn Murray? (Linda)
MARTIN SAYS: Thanks to our friends at, 73 years and 57 days, this is the oldest combination to score a goal in Premier League history.
Murray and Bruno combined to secure victory for Brighton over Wolves at the weekend, beating the previous record of 72 years and 168 days which was set by Manchester United duo Ryan Giggs and Paul Scholes, when Giggs scored against Newcastle on August 16, 2010.
Teddy Sheringham and Tim Sherwood were a combined age of 72 years and 59 days when they linked up to score for Portsmouth against Charlton in 2003.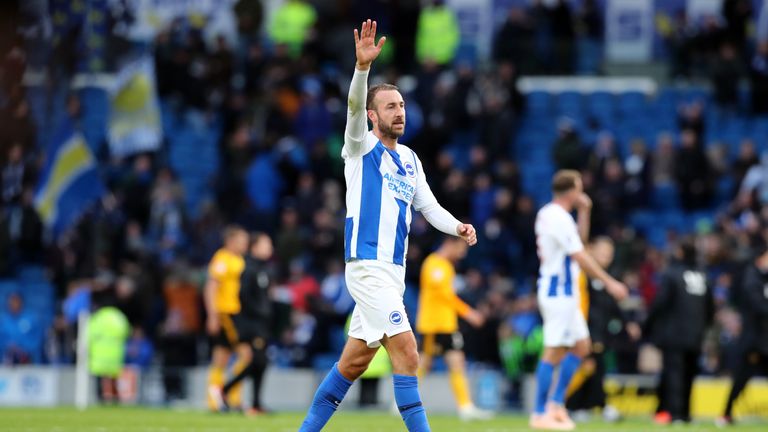 While Sheringham was the scorer on that occasion, he set up Tottenham team-mate Les Ferdinand in 2002 to score a goal against Southampton with a combined age of 72 years and 51 days.
By contrast, the youngest goal combination was Everton duo Francis Jeffers and Danny Cadamarteri in 1999, with a combined age of 37 years and 170 days.
Leeds' Alan Smith and Jonathan Woodgate were a combined 37 years and 227 days when they linked up to score in 1999, and Cadamarteri was also involved in a goal with Michael Ball in 1998 that recorded a combined age of 37 years and 357 days.
Source: Read Full Article