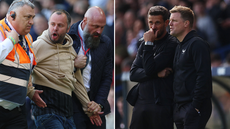 While Howe said he was unhurt during the incident, he views it as a wake-up call for the game.
"I actually can't remember whether he pushed me or not, I've got no idea. It's such a strange thing because you're concentrating on the game and you don't expect it to happen," Howe said.
"He confronted me, said something that I can't repeat and was then led away. I'm OK.
"I don't know if I had time to be fearful because it was over in a flash but it certainly makes you think 'what if?'.
"No one should have to face that, playing a sport we love and trying to entertain the country, no one should feel like their own personal safety is violated. It is something for us to reflect on."
Source: Read Full Article