Team doctors have reinforced the importance of precautionary health and safety practices to Matildas players after their Chinese opponents were cleared entry into Australia – barely a week after training in the city where the deadly coronavirus originated.
Players and staff from the Chinese national team touched down at Brisbane airport on Wednesday, ahead of next week's Olympic qualifying tournament which they were originally supposed to host in Wuhan.
FFA chief executive James Johnson and Matildas midfielder Elise Kellond-Knight at Bankwest Stadium, where Australia will meet China next weekend.Credit:Getty Images
Instead, three double-headers will be played in Sydney next week: the first two – on Monday and Thursday nights – at Campbelltown Stadium, before the Matildas and China meet in a potentially decisive fixture at Bankwest Stadium next Sunday evening.
The games were hastily rearranged because of concerns around the spread of the coronavirus throughout China, where cities are in lockdown  and a swathe of sporting events are being either cancelled or postponed.
But the mysterious nature of the disease still presents issues for the Australian team. Doctors believe it is contagious before people show symptoms, giving rise to the possibility that members of the Chinese travelling contingent may be infected without knowing.
The Matildas, too, are acutely aware, with the team's doctor James Ilic having briefed players on taking safeguards against germs and how to handle sharing the same pitch as the 'Steel Roses'.
Matildas goalkeeper Lydia Williams is relieved her and her teammates will be spared from a trip to China.
"Our doctor has covered a lot of health and safety things … make sure you wash your hands, use Dettol, don't touch your face," goalkeeper Lydia Williams told the Herald.
"But that's the same if someone gets the common flu or gets gastro or something like that. It's common practice for anyone who might have a bit of a sickness.
"And there's people just in Sydney [who have it] – there's a new case reported every other day. Really, it's something we need to be aware of.
"But for us, going into these games with that in mind, I don't think it really deters us – it just makes us more cautious."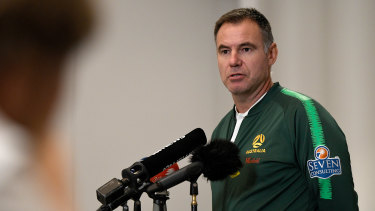 Matildas coach Ante Milicic will steer his team in qualifiers at Campbelltown Stadium and Parramatta Stadium next week.Credit:AAP
China has brought a full squad with them, although precisely which players made the trip is unclear even to coach Ante Milicic and his offsiders. Reports from China suggest up to five players – including 108-cap midfielder Wang Shuang – have been unable to negotiate a way out of Wuhan, having returned there after the team's training camp was relocated to Suzhou.
For the Matildas, the prospect of a depleted China is a distinct advantage – on top of their sudden and unexpected procurement of hosting rights and home-ground support in the grandstands at Campbelltown and Bankwest. However, Williams said Australian players felt for their Chinese counterparts.
"You never want to see competitors get caught up in something like that," she said. "It's devastating, what's happening. There's so much heartbreak coming out of Wuhan and China, and it's sad to hear some players might not be coming."
Football Federation Australia faces a difficult challenge in filling stadiums at such short notice, with tickets going on sale Thursday morning – although hopes are high that the match against China could break the team's record crowd of 20,029, which was only set in November at Bankwest.
Milicic, meanwhile, is delighted with one particular aspect – the quality of the surfaces they'll be playing on.
Campbelltown Stadium – where Milicic will be a regular next season when he coaches Macarthur FC in the A-League– looked impeccable on Wednesday, whereas pitches throughout Asia tend to be a lucky dip.
"That's what scares you, to be honest," Milicic said. "When you go to Asia … what you get in terms of pitches [varies]. And it's the little things, but those little things sometimes add up."
Source: Read Full Article