Jose Peseiro denied he had even watched it, at first. "Why on earth would I want to watch a goal like that?" he barked towards the end of his press conference, when asked what he had made of Arsenal's scintillating third against Crystal Palace on Monday night. But he could not keep up the pretence for long. Of course he has watched it. Everybody has watched it.
There was at least one silver lining for the Sporting manager. "I know that Mesut Ozil was the man who played the pass and he might not be playing tomorrow," he added, perhaps a little too hopefully. "But yes I have watched it and of course I know what Arsenal are capable of. We are fully aware."
Arsenal are among the Premier League's great entertainers again and word of their goal-scoring exploits has already reached Portugal's capital city. Only Pep Guardiola's Manchester City have managed more than their 22 goals nine games into the new season – while no side has scored more in the Europa League group stage so far.
It is already hard to believe that when Unai Emery first pitched up at London Colney at the beginning of summer, he arrived with a reputation for fashioning exceptionally pragmatic, defensively robust teams. In complete contrast with that early assessment his Arsenal side have so far proven themselves to be thrillingly lightweight: just as likely to score a sublime, free-flowing team goal as they are to concede a sloppy chance at the back.
And ahead of Arsenal's top of the table clash with Sporting, Emery admitted that he believes it is important for his side to continue entertaining their supporters — preserving the club's hard-won reputation for attractive, expansive football.
"For me, the individual goal scoring statistics for the players is very important, as it is for the supporters to be excited with many things on the pitch," he said ahead of Arsenal's third Europa League match of the season. "And scoring goals is important for this spectacle.
"But we also want the balance, and to not concede a lot of goals. We want to score a lot with different players and I want our strikers to have a lot of chances to score but also to find the balance defensively."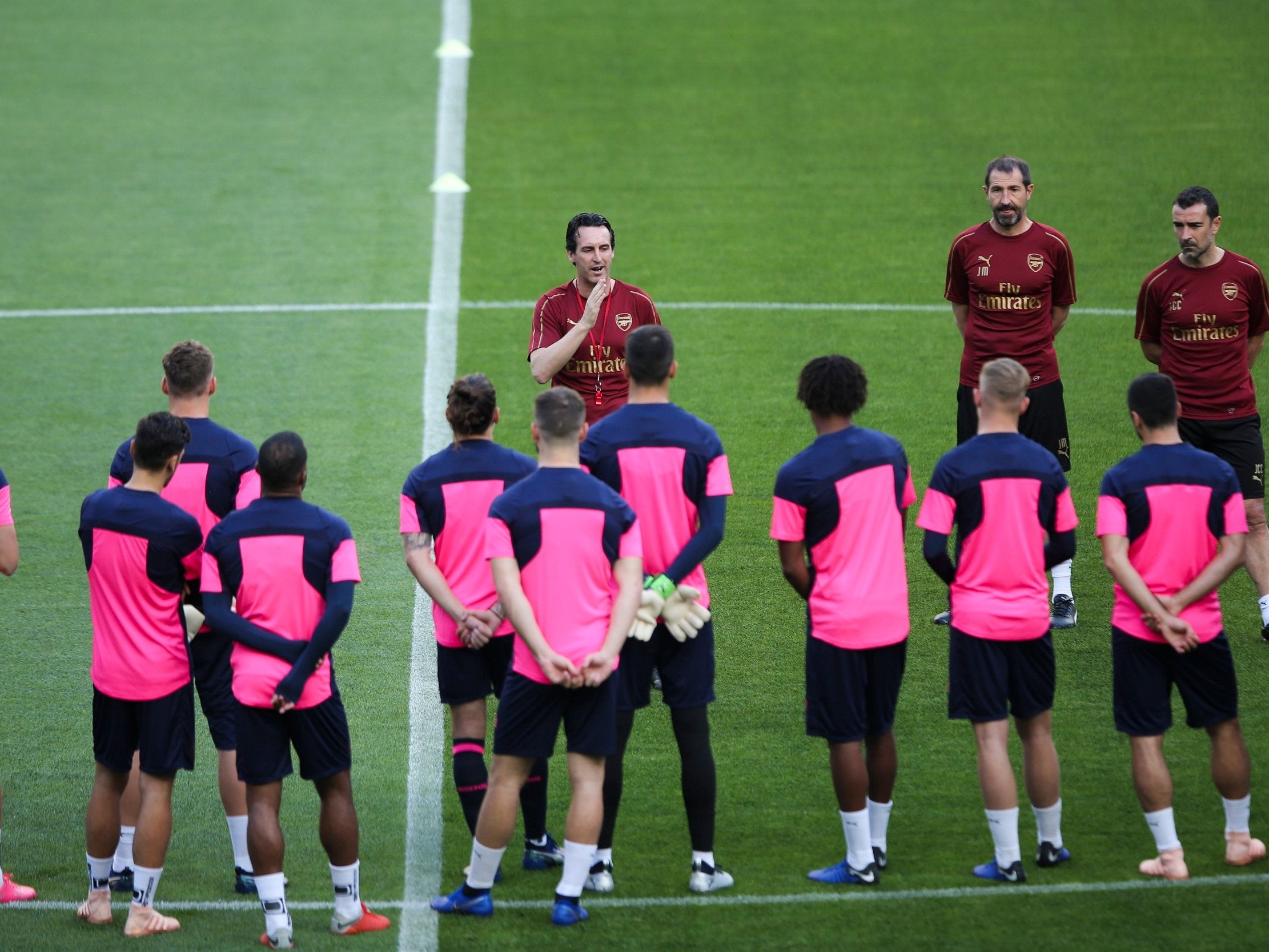 Arsenal's Europa League campaign will step up a notch when they take on Sporting in the late afternoon sun on Thursday. Although the Portuguese side have made a relatively unassuming start to the new season, they are a cut above both Vorskla Poltava and Qarabag FK, and whoever wins will be in an excellent position to top the group and avoid a Champions League team in the Round of 32.
In Arsenal's last European match, a 3-0 shellacking of Qarabag in Azerbaijan, Emery tested out a back three and indulged himself by shuffling his pack. Not this time. Here he warned that a match at the Estádio José Alvalade was neither the time nor the place for further experimentation — especially considering how highly he values this tournament.
"Now we are finding the best combination with our players, the best performance we can give with our tactical idea," he said.
"Some matches are a very good moment to try different options but tomorrow is not the best for us, because with our composition with the players tomorrow I think we will continue tactically how we are doing."
His opposite number is certainly expecting a difficult evening.
"We know how strong Arsenal's attacking dynamic is," Peseiro added. "They can also play at great speed and are strong defensively, so we know we have to be very assertive and solid, especially in our transitions. It is crucial for us to get on the ball and take the initiative, and we know that we can beat them."
Follow the Independent Sport on Instagram here, for all of the best images, videos and stories from around the sporting world.
Source: Read Full Article