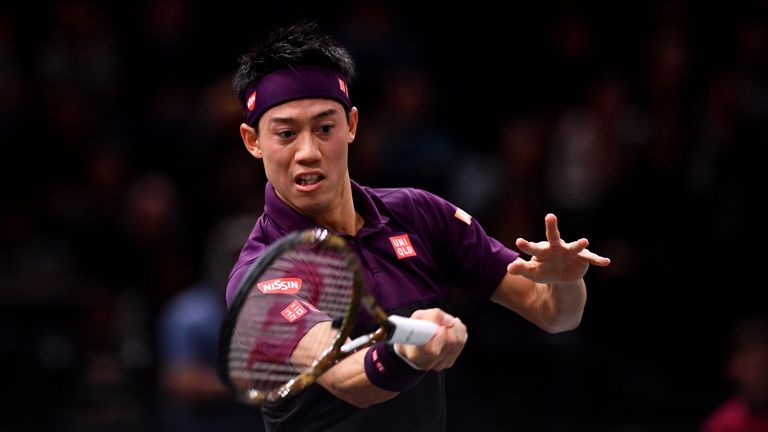 Kei Nishikori's return to the top echelons of the men's game in 2018 has been a remarkable story.
From an injury-hit 2017 that forced the Japanese star to miss five months of action due to a wrist injury, to his incredible return to form, this season has been capped off with him qualifying for the ATP Tour Finals.
Live Tennis: ATP World Tour Finals
November 11, 2018, 1:45pm
Live on
If Novak Djokovic has a case for 'Comeback of the Year' then 'Special K' as he is known to his fans, does so too – after all, Nishikori was ranked outside the Top 200 in January when he began his long road to form on the ATP Challenger circuit.
??? pic.twitter.com/kdue1xSaro
The 28-year-old is one of the most complete players in the game. Competent off both wings, a force to be reckoned with on the baseline that allows him to dictate play by manoeuvring his opponent from side to side in order for him to create an opening to ferociously pounce with his shot of choice.
It was these sorts of passages of play that saw Nishikori reach a career high of No 4 in the world in early 2015. By the time he reached the US Open final in 2014, he had already won three ATP titles and beaten Roger Federer and Novak Djokovic.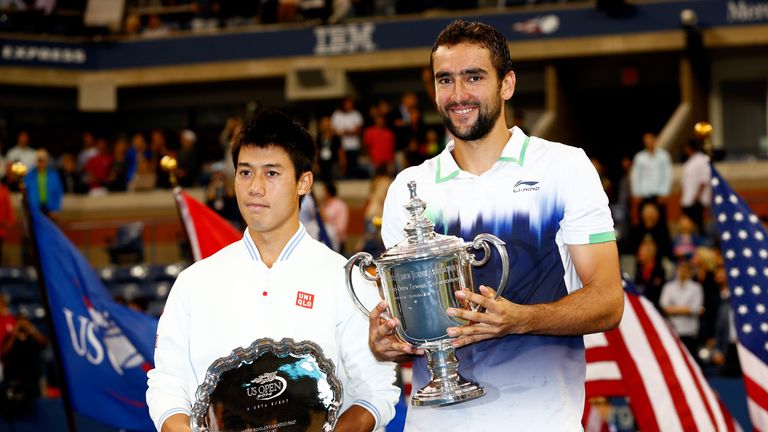 His talent in the early stages of his career was on full display. He quickly became a player with a burning desire to be amongst the best players in the world.
Playing in his first Grand Slam final at the US Open in 2014, Nishikori was beaten by Croatia's Marin Cilic in straight sets. It was a run that saw Nishikori beat then world No 3 Stan Wawrinka before coming through against Novak Djokovic in the semi-finals in four sets.
A painful loss it would seem as Nishikori was bidding to become the first Asian player to win a Grand Slam title but it was the coaching appointment at the start of that year to bring former French Open champion Michael Chang on board that saw both parties reaping the rewards.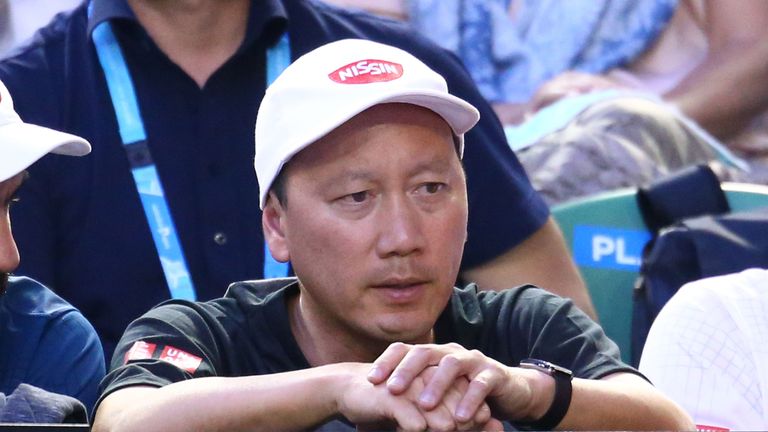 Through his guidance, Chang became an integral missing jigsaw piece that all of a sudden fitted perfectly to the Nishikori game. Chang's calm aura in Nishikori's players box and only visibly being animated when deeming it necessary, along with his coaching expertise to encourage Nishikori to be more offensive when the opportunity presented itself took him to new heights.
Along with Juan Martin del Potro, the Japanese star was tipped to be the one of the guys that would eventually break the stranglehold that Federer, Nadal, Djokovic and Murray had on the men's game for so long.
But just like his Argentine counterpart, it has been a career of niggling injuries. In 2009, Nishikori didn't play any of the Grand Slam events due to a persistent elbow injury. In 2013, he had knee issues during the early part of the season. Even in his breakthrough year in 2014 a groin injury halted his progress.
Fast forward to last year and after cutting his season short in August after scans revealed a tear in one of his tendons, Nishikori was forced to ask himself the question that no top sports athlete in their prime ever was to contemplate – retirement.
What was to follow this year has seen Nishikori dig deep through perseverance, not giving up his childhood dream of becoming a professional tennis player and pure determination to reach the top of the game again.
A champion's mentality instilled by Chang and Nishikori at his own accord saw him win a Challenger event at the beginning of the year in Dallas – It was back to basics.
This was a decision Nishikori and his team will look back on whatever the outcome is at the Tour Finals next week and know that they made the right call. An incredible run at the Monte Carlo Masters that saw him reach the final only to lose to the 'King of Clay' Rafael Nadal was ultimately not only a win for him but for the tennis community who were all ecstatic to see him playing his best tennis again.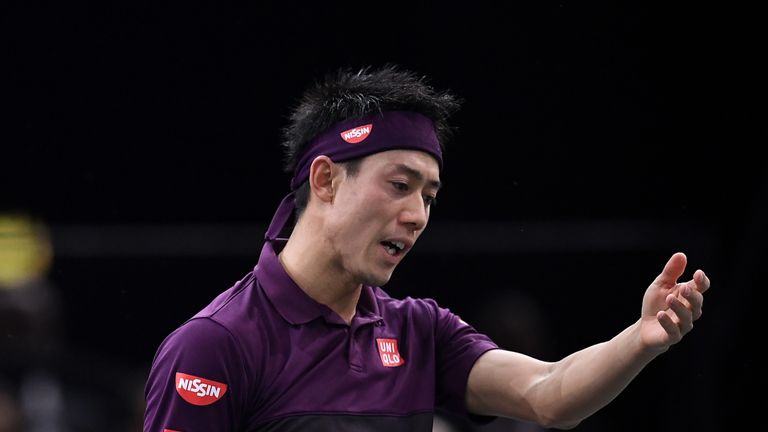 "I had the most difficulty with my feelings. For the first couple of months after comeback, I didn't have sharp feelings as before. Honestly, the thought that my tennis career is over crossed my mind."
Kei Nishikori
On the way to the final, Nishikori cut through the competition, defeating Alexander Zverev, Marin Cilic and Tomas Berdych. His game and confidence were finally coming together again. A quarter-final run in Rome and Wimbledon saw him back in the Top 20.
At the US Open Nishikori was about to announce to the world that he was well and truly back. A fairytale run saw him reach the semi-finals only to be beaten by eventual champion Novak Djokovic. A devastating loss to Russian Daniil Medvedev in front of his home faithful in the final of the Tokyo Open was sure to be one of toughest losses of his year but again this was progress – he was now 12th in the world rankings.
Nishikori would lose in the final of the Vienna Open to Wimbledon finalist Kevin Anderson in but a quarter-finals defeat to Roger Federer at the Paris Masters last week and the unfortunate withdrawal from the end of year championships due to injury from Juan Martin Del Potro secured Nishikori's berth at the tour finals for the fourth time in his career.
? pic.twitter.com/hjgDg2zkq8
Back inside the Top 10 for the first time since August 2017, Nishikori's road to the being considered one of the best players in the world started off by losing a first round challenger match at the beginning of the year.
In April, Nishikori was ranked No 74 in the year-to-date world rankings. A winner of 11 ATP titles, the 28-year-old will look back at this season as a year of undeniable triumph.
We will have coverage of the ATP Finals at London's O2 in November with every match live on Sky Sports. See TV listings HERE.
We have every major tennis event covered from all angles via our website skysports.com/tennis. On the move? Head to our app for mobile devices and iPad, or follow our Twitter account @SkySportsTennis to join in the conversation.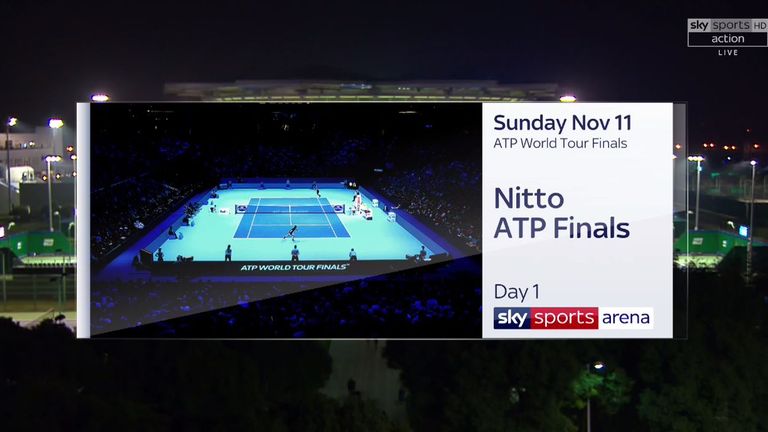 We will have coverage of the ATP Finals at London's O2 in November with every match live on Sky Sports.
Source: Read Full Article