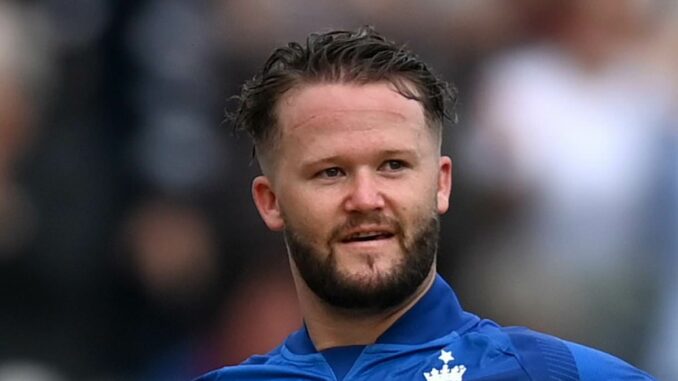 England batter Ben Duckett out to seize his big chance to impress in the Caribbean after watching his 'tired' team-mates struggle at the World Cup
A new-look England will face the West Indies in three ODIs next month
Ben Duckett hopes to add to the eight one-day caps he has won in seven years
The 29-year-old has been at the heart of the Bazball revolution in Test cricket 
A refreshed Ben Duckett wants to take the Caribbean by storm next month after watching his 'tired' team-mates struggle at the World Cup in India.
Duckett, who has been at the heart of England's Bazball revolution in Test cricket, intends to show what he can do in 50-over cricket when a new four-year World Cup cycle begins with the first of three ODIs against West Indies in Antigua on December 3.
And he believes the simplicity of his approach, which essentially remains unaltered whatever the format, will stand him in good stead as he looks to add to the eight one-day caps he has won since his debut in Bangladesh seven years ago.
'I've been a part of the best generation of England white-ball cricket and it's been near to impossible to break into the team,' he told Mail Sport. 'Now there's an opportunity to go and get my place.'
Managing director Rob Key said on Sunday he felt England's one-day team had not been helped by comparisons with the aggressive Bazballers. And with many of the 30-somethings who have fallen so short in India being omitted from the trip to the Caribbean, a new-look one-day side will include the Test-match top three of Duckett, Zak Crawley and Ollie Pope.
England batter Ben Duckett wants to take the Caribbean by storm next month
Once, England used the one-day team as the route into Test cricket. Then, under Ben Stokes and Brendon McCullum, the Test side copied their one-day counterparts' aggression. 
Now, with Key observing that the 50-over team has gone away from the style that helped make England double white-ball world champions, it is as if the wheel has turned full circle.
The 29-year-old Duckett hesitates to call himself young, but admits: 'The exciting brand that the likes of me, Zak and Popey play is exactly what England want in both formats. It will be an opportunity for some fresh faces to go and show what they can do.
'I've always found I don't have a different gameplan for Test match, 50-over and T20. In the past I'd always say you just take a few more risks in T20, whereas now I'm running at Josh Hazlewood in a Test match on day one.
'There's also Harry Brook, Will Jacks and Phil Salt – there are so many names. All those guys are playing a similar brand of cricket throughout the formats, which makes life a lot easier.'
Duckett does not believe that the squad for the Caribbean spells the end for England's Class of 2019, and says the selectors were always going to look elsewhere for a trip that starts so soon after the World Cup.
He says he was told he was 'pretty close' to selection for the tournament himself, and found it 'tough' to watch England lose six games out of nine.
The 29-year-old has been at the heart of England's Bazball revolution in Test cricket
'I'm sure the lads are more gutted than anyone,' he said. 'It's a side that were good enough to go and win. I'm looking at half or three-quarters of that squad, and the timing being straight after the English summer. All the lads have been playing so much cricket.
'I felt for them flying straight off at the end of the summer, with no break, going straight to a World Cup in India. It must have been incredibly hard, and there must have been tired bodies.'
Duckett, by contrast, has had six weeks off after the end of a summer in which he opened in all five Ashes Tests and made an unbeaten 107 off 78 balls in an ODI against Ireland in Bristol.
'I've had a really nice break, and I feel fresh and ready to go.' Music, after the last few weeks, to English ears.
Source: Read Full Article