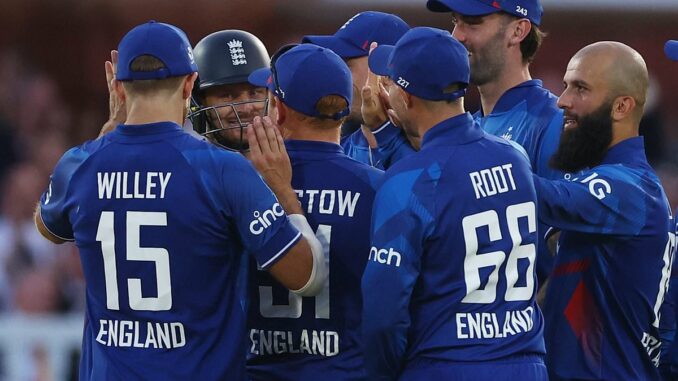 England stars 'reject multi-year contracts from the ECB' ahead of the Cricket World Cup… with players 'keen to remain available' to lucrative offers from T20 franchises
The ECB are expected to offer up to eight two-year central contracts to stars 
Plans to increase match fees given to players have been shelved by the ECB 
The ECB are reportedly braced for England players to reject multi-year contracts
England stars have reportedly rejected multi-year central contracts from the ECB to remain available to earn lucrative contracts with Twenty20 franchises.
Talks have been ongoing with England players ahead of next month's Cricket World Cup in India, which will run from October 5 to November 19.
Negotiations have stalled over the multi-year central contracts, as reported by the Telegraph, after an expected increase in match fees was not part of an initial offer.
Talks are expected to continue between the ECB and the Team England Player Partnership, who are overseeing talks for the players.
The ECB are reportedly braced for players to turn down multi-year deals, with stars instead preferring to sign on a year-by-year basis which would enable them to receive offers from T20 franchises.    
Talks have reportedly stalled over multi-year contracts being offered to England players
Harry Brook is among the England stars earmarked by the ECB to sign a multi-year contract
Mail Sport revealed in July that the ECB had been looking to give multi-year deals to a handful of players after England managing director Rob Key lobbied his employers to make the move.
The aim of the multi-year contracts was to reduce the risk of players turning down white ball tours in favour of competing in T20 franchise competitions.
Mail Sport reported earlier this month that the ECB had shelved plans to increase match fees for England's men in favour of offering up to eight two-year central contracts to their top players.
The ECB had been planning to increase match payments to coincide with the start of the World Cup, but put back the pay rise until next year at the earliest due to financial limitations.
Instead, the ECB were set to offer up to eight two-year deals for selected players, worth up to £800,000-per-year.
Harry Brook has been earmarked for a longer deal due to his age and importance to the side across all three formats, with Mail Sport understanding that Ben Stokes, Joe Root, Jos Buttler and Mark Wood will also be offered two-year deals.
The move came after Alex Hales, Sam Billings and Liam Dawson all opted out of England's white-ball tour of Bangladesh in March to play in the Pakistan Super League.
Ben Stokes is one of the players the ECB are expected to offer a two-year central contract
Wood has signed up for next year's IL T20 in the UAE which could limit his involvement in England's five Test series in India.
If successful three-year contracts could be offered in subsequent years.
The ECB's thinking on match fees had been influenced by their announcement that England's female players will receive the same payments as the men moving forward – around £3,500 for T20's, £5,000 for one-day internationals and £12,500 per Test match.
England's women had previously received around 25 per cent of the men's fees for white-ball games and 15 per cent for Test matches, although there remains a huge gulf between the value of their central contracts which are worth up to £100,000 and £800,000 respectively.
Source: Read Full Article