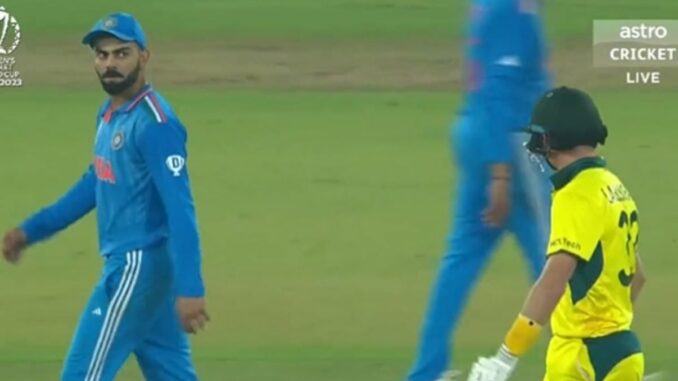 Moment Virat Kohli and Marnus Labuschagne share INTENSE staredown during Cricket World Cup final with Australia vs India on a knife edge
LIVE: Follow India vs Australia on Mail Sport's live blog 
Virat Kohli and Marnus Labuschagne were locked in an intense stare-off 
The pair are fighting hard to win the Cricket World Cup for their nations 
Marnus Labuschagne and Virat Kohli were locked in one of sport's most intense staredowns in the heat of their Cricket World Cup final battle.
The cricket superstars emulated the world's best boxers by refusing to avert their gaze at the end of an over as Australia looked to hunt down India's first innings score of 240 runs to win the tournament in Ahmedabad.
Kohli, a feisty character on the pitch for his country, attempted to intimidate the quirky Labuschagne as he and Travis Head steadied the ship for Australia after a trio of early wickets for the tournament hosts.
Labuschagne refused to be spooked by India's hero and followed him all of the way down the crease while the other players returned to their positions.
Virat Kohli (left) and Marnus Labuschagne (right) were locked in an intense staredown
Kohli attempted to intimidate Labuschagne at the change of end early on
Kohli has been in sensational form with the bat for India this tournament, with his efforts helping his side enter the final with a perfect record of 10 wins from 10 games.
He was unable to score big in Ahmedabad, however, playing onto his own stumps from Pat Cummins' bowling to depart for 54 runs. 
Cummins revealed how his side have planned to silence the 130,000-strong crowd in Ahmedabad, and kept the crowd quiet for much of the first innings following an initial blitz from Rohit Sharma.
But the opener was greedy after smashing Glenn Maxwell for two boundaries and mistimed his next shot, looping the ball high into the air. Travis Head was on hand to catch superbly.  
Source: Read Full Article