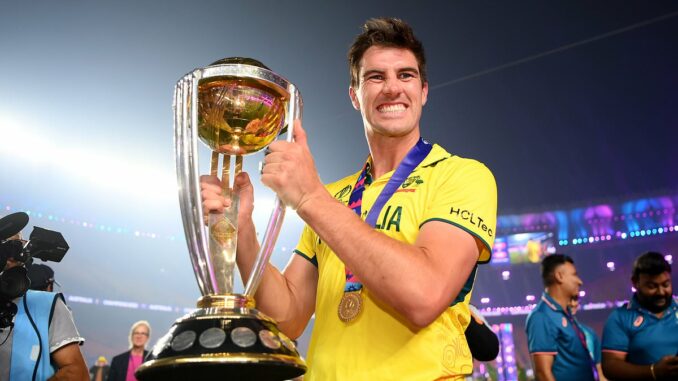 NASSER HUSSAIN: Pat Cummins' brave decision to bowl first and superb strategy on the dry Ahmedabad pitch was outstanding… everything the Australia captain touched turned to gold against India
Australia are world champions again after winning the Cricket World Cup final 
Pat Cummins was vindicated for a bold call to bowl first on Sunday 
Recap all the action from Australia's World Cup final win here
Australia were brilliant in this final and their captain Pat Cummins had an exceptional day in everything he did. The captain produced the perfect performance and silenced this huge crowd as he said before the match he intended to do.
Make no mistake, that was a brave call in a World Cup final to bowl first, especially with the way India's batting has fired throughout this tournament, but it was the correct one.
Sometimes a captain can make decisions they know won't reflect quite as badly on them if they go wrong but if Australia had lost after bowling first Cummins would have copped all the blame.
The Australian captain was absolutely right because he correctly calculated that this dry Ahmedabad pitch would become better for batting later on in the evening as the dew came down and the ball skidded on.
Then after getting it right at the toss the tone was set by Australia's outstanding fielding and their bowling when a dry pitch made the ball abrasive and brought reverse swing for Mitchell Starc along with effective slower ball bouncers from Cummins himself.
The captain Pat Cummins produced the perfect performance and silenced this huge crowd as he said before the match he intended to do – despite early criticism from fans at home
Australia are world champions yet again after winning the Cricket World Cup final in India 
Pat Cummins celebrating with the World Cup trophy as Australia win their sixth World Cup 
Australia captain Pat Cummins celebrates with coach after winning the Cricket World Cup
An Australia fan celebrates in a sea of blue, with the Ahmedabad crowd stunned into silence for much of Sunday's game
India superstar Virat Kohli watched on helplessly as Australia silenced the Indian crowd with an incredible performance
It was one of those days when everything the captain touched turned to gold. Each time you looked down on the outfield Cummins had his fielding positions spot on, with the right people in the right places on every occasion.
Remember, too, that Cummins was under immense pressure when Australia lost their first two games of this World Cup and people back home were criticising him. But he grew in confidence out of that adversity culminating in Sunday's outstanding victory.
It would be extremely hard for anyone to criticise Cummins leadership now. Last summer he led his side to the World Test Championship, then retained the Ashes and has now added the 50-over World Cup. It has been an exceptional year for him and his team.
If India had a say in the type of pitch prepared for this final then they made an error. They think they are backing their spinners by having a dry surface but it brings the opposition into it and they are actually at their most dangerous when they play on a good surface that just turns a little bit.
Just look at the semi-final against New Zealand in Mumbai. It was a belter and their batsmen thrived on it while making 397 while their attack was good enough to give them victory by 70 runs. Then they had to adjust to a different surface here.
It could have turned out differently after a frenetic start to the Australian innings when India's bowlers were swinging the ball round corners and took three quick wickets even though Mohammed Shami didn't quite get it right.
But that's the gamble Cummins took and the calm partnership of Travis Head and Marnus Labuschagne made sure it was the right one as conditions duly eased.
What a year Head has had. He got a hundred against India in the World Test Championship final and then a century in his first World Cup game. 
He has returned after injury with runs, wickets and catches like the brilliant one to get rid of Rohit Sharma here.
This is the most exceptional of Australia's achievements under Cummins. Almost everyone had India down as overwhelming favourites before the tournament although I did think the fact they had no real all-rounders was a potential weakness.
Marnus Labuschagne and Glenn Maxwell were in the middle to hit the winning runs
Travis Head hit a sumptuous century to secure a memorable victory in Ahmedabad 
That lengthy tail came back to haunt India on Sunday because, with Shami at eight, the likes of Virat Kohli and KL Rahul had to chew up deliveries and knock it around again because they knew if they got out cheaply the tail would be putting on their pads.
I have enjoyed this World Cup. Interest might have died down back home after England's early hugely disappointing elimination but here it has captured the imagination.
India have shown they are the epicentre of world cricket now and put on a great show but Australia are worthy winners of this World Cup.
Source: Read Full Article