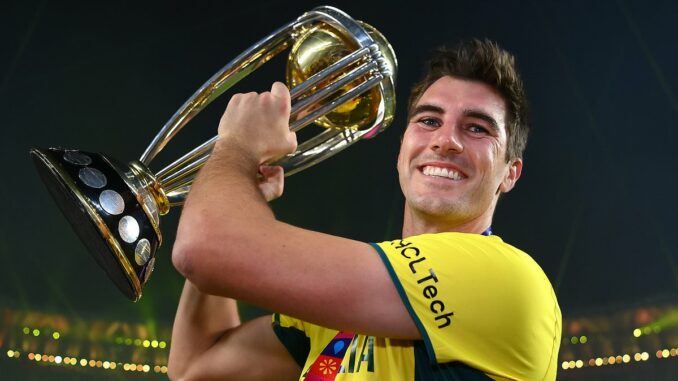 Michael Vaughan slams India for not staying out on the pitch to see Australia lift the World Cup… but former England captain later deletes social media post
Australia are world champions again after winning the Cricket World Cup final 
Travis Head scored an incredible century to lead his side to victory in India 
Virat Kohli denied the chance to crown his brilliant career with World Cup glory 
Former England captain Michael Vaughan slammed beaten finalists India for not staying out on the pitch as world champions Australia lifted the trophy on Sunday.
Travis Head's outstanding century carried Australia to World Cup glory for the sixth time as they downed all-conquering India to silence over 110,000 home fans in Ahmedabad.
The hosts brushed aside all-comers – including Australia in their opening group game – as they marched to the final with a 100 per cent record, but came up short in a six-wicket loss in front of an enormous but increasingly morose crowd at the Narendra Modi Stadium.
Afterwards Vaughan posted on X: 'Didn't like not seeing the Indian side stay out on the pitch to see the Aussies lift the trophy.'
But he later deleted it. It was not clear if he had been mistaken over the trophy snub.
Australia are world champions yet again after winning the Cricket World Cup final in India
India star Virat Kohli walks past the trophy after losing the final in Ahmedabad on Sunday
Vaughan was impressed with Australia on Sunday.
He claimed the current Australia team are worthy of comparison to the legendary sides of the 1990s and early 2000s after 'the most incredible World Cup victory'.
Pat Cummins' side stunned hosts India to win the men's 50-over World Cup in Ahmedabad following their triumph in the World Test Championship and retaining the Ashes, while they also won the T20 World Cup in 2021.
Vaughan believes this group of players are 'moving away from that shadow' of the great sides led by Steve Waugh and Ricky Ponting, who won three World Cups in a row between 1999 and 2007.
'I have this as one of the real great World Cup victories,' he said on BBC Test Match Special.
'If you look at this group of players, you always feel they are living in the shadow of that great side of the 90s and early 2000s. They won three World Cups on the trot and pretty much won everywhere.
'But if you actually start to monitor what this group of players have done in the last few years, they won the World Cup in Australia in 2015, they've retained two Ashes in the UK but pretty much hammered England in Australia, they've won a T20 World Cup, they're the world Test champions and now they're the World Cup winners in India.
'This group now needs to be talked about in a similar vein.'
Source: Read Full Article