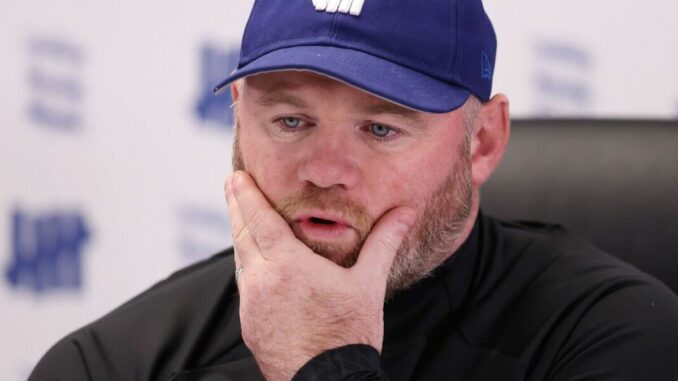 Five potential opponents for Jake Paul on boxing return
Manchester United legend Wayne Rooney could go head-to-head with social media sensation Jake Paul in a celebrity boxing match, according to Eddie Hearn. The growth of influencer crossover boxing has exploded both in the UK and around the world, turning the fight industry on its head. Sellout fights such as KSI vs Tommy Fury at Manchester's AO Arena have demonstrated the draw of celebrity competitors.
Even WBC heavyweight champion Tyson Fury has been unable to resist a slice of the action, with the Gypsy King set to face former UFC world champions Francis Ngannou in Saudi Arabia on October 28.
England great Rooney, who was recently appointed the new manager of Championship club Birmingham City, was a boxer in his youth before concentrating totally on football. He is often spotted ringside at major boxing events and now promoter Eddie Hearn has revealed that he has been working on a plan to get United's record goalscorer into the ring with influencer Jake Paul.
Hearn raised the matter when appearing as a guest on the latest episode of Gary Neville's Sky podcast 'Stick to Football'.
Hearn said: "After every big fight, especially with a YouTuber, sometimes Wayne Rooney will fire me a message. I've said to Wayne, who had a very limited amateur pedigree but could still fight, imagine the shape you'd get in [if you trained for a fight]. I told him, Wayne Rooney against Jake Paul at Old Trafford, imagine that.
"I get asked the question all the time, if there were two footballers [who wanted to fight] – most footballers follow boxing and secretly they'd all love to have a go. Everyone thinks they can fight."
It is not the first time that Matchroom promoter Hearn has suggested that Rooney could get into the ring with Paul.
Prior to Anthony Joshua's clash with Jermaine Franklin at the O2 Arena in March, Hearn admitted that Rooney, who was managing DC United in the MLS at the time, had been known to send him messages about facing Paul in the ring.
Don't miss…
Dillon Danis to appeal Logan Paul defeat despite getting himself disqualified[APPEAL]
Jake Paul next fight date confirmed after KSI narrowly loses to Tommy Fury[WHAT'S NEXT?]
Mike Tyson's condition to agree to £245m mega fight with Jake Paul[TERMS SET]
We use your sign-up to provide content in ways you've consented to and to improve our understanding of you. This may include adverts from us and 3rd parties based on our understanding. You can unsubscribe at any time. More info
Speaking on Rio Ferdinand's FIVE YouTube channel, Hearn said: "I have actually spoken to Wayne a few times about a Jake Paul fight. Normally, if he has a couple of glasses of red [wine] he will fire in a couple of messages to me at night going: 'Listen, I want to fight that geezer.'
"Wayne can fight, he had a couple of amateur fights. But, him against Jake Paul at Old Trafford that is actually a makeable fight."
Should the fight eventually get the go-ahead Rooney will be hoping to fare better than he did when he engaged in a sparring session with former Premier League defender Phil Bardsley in 2015, which according to the Manchester Evening News ended with Rooney being temporarily knocked out in his own kitchen.
Source: Read Full Article