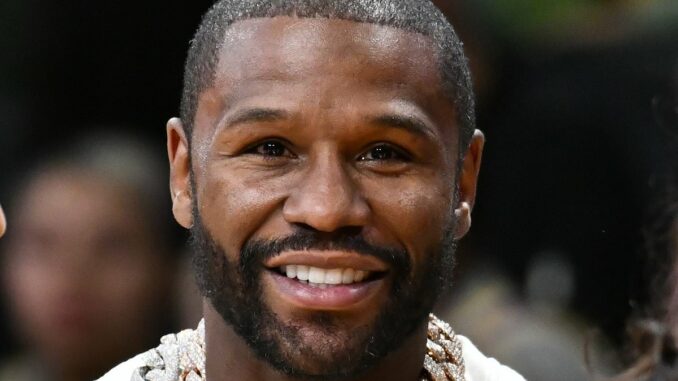 Floyd Mayweather hits back at critics of his exhibition fights by revealing he makes '$60 MILLION' per fight as he compares himself to Bill Gates and Warren Buffett in online rant
Mayweather blasts critics of his exhibition boxing bouts, as he reveals figures
He retired undefeated, but made a return to exhibition boxing matches in 2018 
Lightweight champion drew comparisons to Bill Gates and Warren Buffett 
Floyd Mayweather has blasted his critics for how much he earns through his exhibition boxing matches. 
The former professional boxer – who amassed an impressive 15 major world championships, including two WBC light middleweight champion titles – has hit back at critics of his venture into exhibition boxing matches. 
Via a post on X – formerly Twitter – Michael Benson posted Mayweather responding to critics. 
He joked: 'Dubai, pick up a couple dollars' he winked.
Speaking on his critics, he described them as 'upset' because of his success with exhibition boxing matches. 
Mayweather hit back at critics for his exhibition boxing bouts in which he makes huge sums
He amassed an impressive 15 major world championships during his professional career
'They're upset, see, they're upset because .. I'm smart, I cap all my faculties, I made a lot of smart investments.
'When great people like Warren Buffet, Bill Gates, the Waltons the people that own Walmart and Walgreens, when they're getting money in their 50s, 60s, 70s, even in their 80s and 90s – it's ok.
'A young kid like myself from the inner city, from the ghetto, I worked my way to the top. I was able to leave boxing on my own terms and keep all my faculties and a lot of my money.
'They're upset that I'm able to go out there and continue to make 40, 50, 60 million [dollars] outside the ring.
'You can't get mad, it's what God wanted.   
Mayweather first took to the ring for an exhibition match on New Year's Eve in 2018 to take on Japanese kickboxer, Tenshin Nasukawa. His opponent was knocked down three times. 
The undefeated boxer went on to face Logan Paul and YouTuber Deji Olatunji, with his Logan Paul clash generating an eye-watering $50million.  
Mayweather's famous fight with Conor McGregor made a revenue of $370m – dubbed as The Money Fight, with Mayweather winning with a tenth round knock-out.
Source: Read Full Article