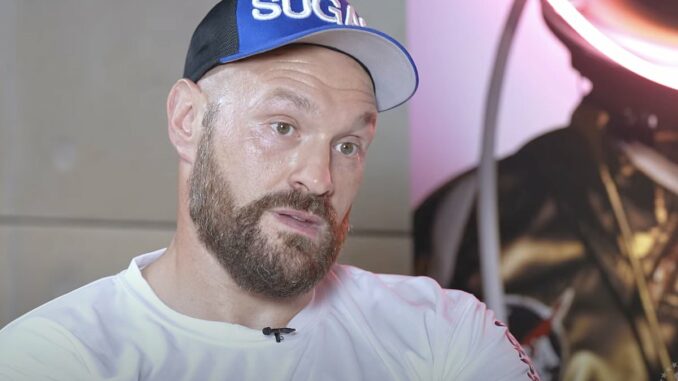 Tyson Fury labels Netflix show about his family 'BULLS***'… as the Gypsy King hits out at its lack of detail, insisting they should have filmed him 'taking a s*** and in the bath'
A new reality TV series 'At Home With The Furys' was released last month
It is supposed to provide an insight into Tyson Fury and his family's lifestyle
However, Fury hit out at the 'bulls***' show, insisting it wasn't detailed enough
Tyson Fury has hit out at the reality show about himself and his family, labelling it 'bulls***'.
'At Home With The Furys' has been hugely popular on Netflix since being released last month, immediately rising to the top of the streaming service's charts.
It is supposed to provide an insight into his family life and features Fury, wife Paris, their six children, his brother Tommy Fury and his fiancee Molly-Mae.
However, Fury revealed he wasn't happy with how it ultimately turned out, insisting the series wasn't detailed enough.
'Netflix didn't want to film the whole reality,' he told Barstool Sport's Sundae Conversation. 
Tyson Fury has hit out at the Netflix show about himself and his family, labelling it 'bulls***'
Fury insisted 'At Home With the Furys' didn't provide enough detail about his actual family life
'(It's) proper bulls***. I said you need to film me taking a s***, you need to film me having a shower, you need to film me in the bath and they said, "Nope, can't do it".
Host Caleb Pressley joked with Fury that maybe the camera wasn't big enough, before Fury replied: 'Or maybe they didn't have a minute lens that could zoom in enough.'
The Gypsy King went on to admit he is now a reality star, but hit back at suggestions the show was scripted.  
The programme also revealed the location of Fury's house but when questioned whether potential trespassers worried him, the 35-year-old provide a typical response.
He joked: 'Everybody's welcome, have a free-for-all, take everything I've got because it's insured and I can get it new… [I'm] stinking rich.'
Fury is currently preparing to return the ring when he will take on former UFC heavyweight champion Francis Ngannou.
The clash will take place under boxing rules and is scheduled for October 28 in Saudi Arabia. 
Fury is preparing to take on former UFC heavyweight champion Francis Ngannou (right)
Source: Read Full Article