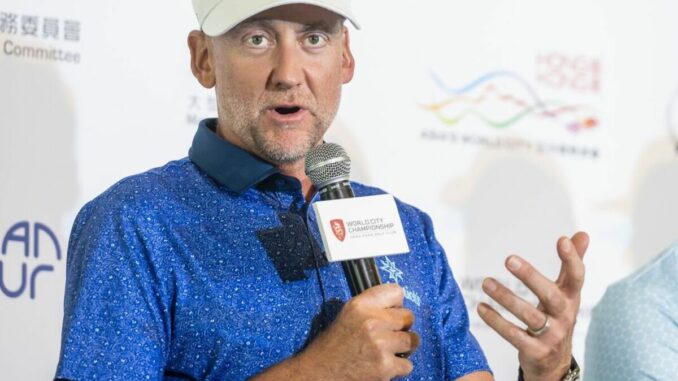 Rory McIlroy on Ryder Cup
Ian Poulter has been assured that the Saudi-funded LIV Golf League will not be derailed by its agreement to work alongside the PGA Tour, by the man who heads up the whole breakaway operation. The world of golf was delivered an unexpected bombshell earlier this year when the PGA Tour's Jay Monaghan announced that he had negotiated a 'framework agreement' with LIV Golf and the DP World Tour that would effectively see the three outfits operate as one entity.
But little progress has been made since the initial announcement was made in June and an initial clause that prevented LIV from trying to attract more players to join them from rival tours was dropped on competition grounds a month later.
Now Poulter has confirmed that Yasir Al-Rumayyan, whose $600 billion Private Investment Fund organisation bankrolls LIV Golf, has personally told him that the rebel tour has no intention of being watered down as part of the agreement with the rival tours.
Speaking to the Telegraph, Poulter said: "I talked to his Excellency last week [at the LIV event in Jeddah]. He told me, never mind 2024, 2025 – LIV will go and on."
Poulter, who is nicknamed 'The Postman' for always delivering points for his team at the Ryder Cup, said that he knows Al-Rumayyan will not abandon the project to serve his own self-interest "Because I was there and talked to him".
Poulter added: "And he is passionate as he was at the very beginning in all this. He loves the concept, loves how it's progressing and the impact it's made and is making. You see it throughout the sports world, not only in golf."
Poulter captains a team in LIV Golf called Majesticks alongside Henrik Stenson and Lee Westwood.
Speaking about his team's own plans, Poulter enthused: "We have signed the biggest sponsorship contract out of the 12 teams and will sign another and we have the best backroom organisation, with all the guys we have doing the deals and taking care of the business side.
"The team are all very close and we are unified. As you know, I'm a big believer of the tightness of the unit and you've seen with other LIV teams that might not be the case."
Don't miss…
LIV Golf may drop Masters champ as struggling star admits 'they can kick me out'[LATEST]
NFL stars make statement on £164million Alpine investment alongside Rory McIlroy[INVESTMENT]
Brooks Koepka response to receiving extra £3.3m on top of prize speaks volumes[MUTED REACTION]
Advert-free experience without interruptions.
Rocket-fast speedy loading pages.
Exclusive & Unlimited access to all our content.
Poulter's involvement with LIV meant that there was no place for him in Luke Donald's successful European Ryder Cup team in any capacity a few weeks ago in Rome. Despite knowing the consequences of his decision, Poulter has no regrets and has admitted that he was delighted to see Donald's team regain the trophy at the Marco Simone Golf & Country Club.
Poulter said: "Look, if you cut me in half, I bleed the Ryder Cup. I watched it of course. I'm not saying I set the alarm at 1.30am in Florida to get up when it started, but it was always on in the house and it was fabulous to see.
"I sent Luke and the players individual messages of congratulations. Europe have a great young team and it will be interesting to see how we do in New York in '25."
Source: Read Full Article