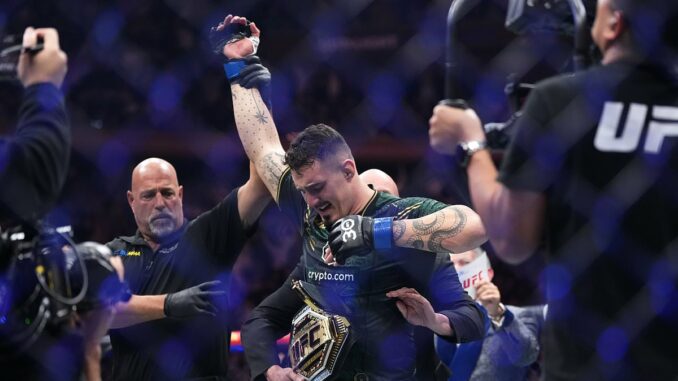 UFC 295: British star Tom Aspinall wins interim heavyweight title after stunning Sergei Pavlovich with FIRST round KO
Tom Aspinall landed a right hand early in the first round to put Pavlovich to sleep
Aspinall joins Michael Bisping and Leon Edwards as British UFC champions
DailyMail.com provides all the latest international sports news 
It took Tom Aspinall just one minute and nine seconds to knock out Sergei Pavlovich with punches and become the interim heavyweight champion at UFC 295.
Aspinall began by softening his Russian counterpart with leg kicks, but it was a right hand that put his opponent to sleep. 
'I can't even tell you (how it feels),' said an emotional Aspinall after becoming the third UFC champion from the UK. 'It's been a crazy two and a half weeks. If you ever get a chance to do something and you're scared to do it– you should f****** do it.' 
Aspinall went on to praise Pavlovich, as he had throughout fight week, before dedicating the belt to his father.
'He's a big scary guy. But I have a lot of power too and I believe in myself,' the Englishman said.
Tom Aspinall won the interim UFC heavyweight title by knocking out Sergei Pavlovich
Aspinall is the third UFC champion from the UK, joining Michael Bisping and Leon Edwards
Aspinall joins Hall of Famer Michael Bisping and welterweight king Leon Edwards in a short list of UK fighters to bring home UFC gold.  
Aspinall and Pavlovich came into the bout as the No 4 and No 2- ranked heavyweights, respectively.
The interim title fight was added to UFC 295 after Jon Jones' first title defense and legacy fight with Stipe Miocic got canceled with Jones suffering an injury on October 23.
An early knockout was expected, given both men have averaged under three minutes in the Octagon since entering the UFC.
Aspinall (14-3) has now won four of his last five fights, while Pavlovich (18-2) had not lost since November of 2018.
Source: Read Full Article