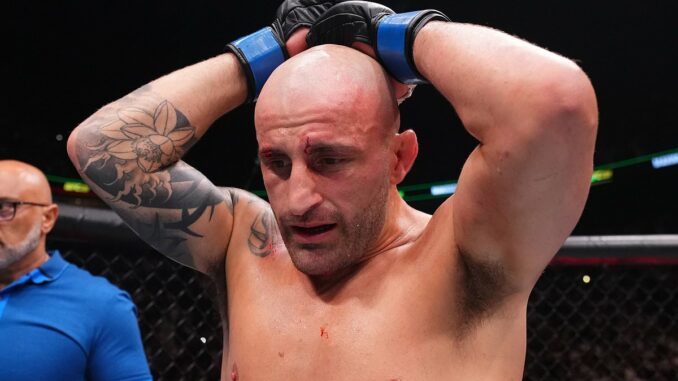 Distressed Alexander Volkanovski in tears after brutal knockout loss to Islam Makhachev as he reveals stunning mental health news
 Volkanovski breaks down in tears after knockout loss
 Aussie reveals the mental strain he has been under
 Says he struggles when he's not training for a fight
Alexander Volkanovski has broken down in tears following his painful KO loss at the hands of Islam Makhachev in Abu Dhabi, revealing the intense personal strain he has been under.
Makhachev defeated Volkanovski at UFC 294 with a devastating head kick and punches in Round 1 of their highly-anticipated re-match.
It was an impressive performance from Makhachev and settled whatever debate still remained from the pair's first bout in February.
Incredibly, it was just the second time in the Aussie's career that he has been stopped and the pain of it was visible for all to see.
Volkanovski became very emotional when speaking to press after the bout, fighting back tears when talking about the pressure he has been under.
Featherweight king Alex Volkanovski was devastated after his loss to Islam Makhachev
Volkanovski was in tears after the bout and revealed the mental battles he has been going through in the leadup to the event
'It is hard,' he said
'It really is hard for athletes.
'I never thought I'd struggle with it but for some reason when I wasn't fighting or in camp…'
Volkanovski was forced to pause and regather himself as he became choked up. 
'F**k, sorry,' he told reporters.
'It (not being in camp) was just doing my head in.
'So when this opportunity came up, I'll be honest I wasn't training as much as I should've, but I thought I had to do it.
'Had to take it. I thought it would be… I was telling myself it was meant to be.
Volkanovski revealed that not training for competition was 'doing his head in'
'I was doing my head in not fighting.
'Don't know why.
'I've got a beautiful family.
'I think you just need to keep busy. So I ask the UFC to keep me busy.
'I need to be in camp or I'm gunna do my head in.
'I'll leave it at that.'
Volkanovski then suggested it may have been 'silly' of him to take the fight at just 11 days notice, but took nothing away from his rival.
'Too many details, so I apologise for that,' he said.
'I think it (mental health issues) is a common thing, but it's OK to touch on it a little bit.
'Pretty much all I wanted to get out was that it was about much more than money.'
Makhachev is likely to face either Charles Oliveira or Justin Gaethje next, although he will be a significant favourite against both men. 
Currently, Jon Jones sits atop the pound-for-pound list but it is difficult to argue with the Russian on this kind of form.
Source: Read Full Article