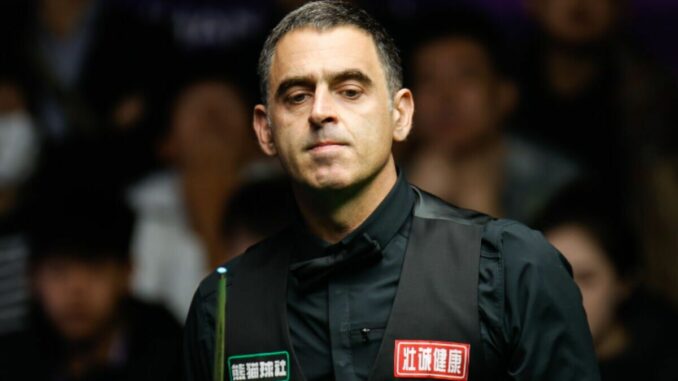 Princess Royal watched snooker championship final, Mark Selby says
Ronnie O'Sullivan has officially withdrawn from the Northern Ireland Open as he continues to clash with snooker's chiefs, having become the latest big name to drop out of the competition. The Rocket has named "medical reasons" as to why he will not be in attendance at Belfast, after supporting the 'Macau Five' who initially snubbed the event to play an exhibition in China.
A statement from the World Snooker Tour read: "Ronnie O'Sullivan has pulled out of the BetVictor Northern Ireland Open for medical reasons. O'Sullivan was due to meet Ahmed Aly Elsayed during the evening session of the opening day of the tournament in Belfast, Sunday October 22nd. He has been replaced by the highest available player from the Q School ranking list, Rory McLeod."
Mark Selby, Luca Brecel, John Higgins, Ding Junhui and Ali Carter all signed up to compete in Macau at the same time the event in Belfast was being held, as the quintet were warned that they could face serious disciplinary action by former WST chairman Barry Hearn.
WST confirmed that any player missing the Northern Ireland Open to play in a non-sanctioned event could be considered in breach of contract, but the Macau Open has since been postponed until December and the players will not be met with any sanction.
JUST IN Ronnie O'Sullivan fires Rafael Nadal warning to snooker rivals at Wuhan Open[INTERVIEW]
But O'Sullivan came out in support of those who wanted to play in China as opposed to Northern Ireland, which will not have gone down well with those who run the tour. "Players are just trying to earn money, it is their choice," he said. "And they are realising their value. They are trying to restrict us. Those involved in Shanghai were sent letters advising them not to play.
"I know for the tournament in Macau players were also sent even stronger threatening letters telling them it was in breach of their contract. That with an opportunity to play in an official tournament, they were turning it down and choosing to go somewhere else, and it was damaging for the sport.
Advert-free experience without interruptions.
Rocket-fast speedy loading pages.
Exclusive & Unlimited access to all our content.
Don't miss…
Rebel snooker stars face being 'fined or thrown out' for playing Macau event[INTERVIEW]
Snooker bosses send threat to five stars as Luca Brecel and co snub tournament[LATEST]
Judd Trump makes Ronnie O'Sullivan confession after winning English Open title[REACTION]
"It is b****cks, trying to scare players like that. It's wrong and I am glad they have taken a strong stance. This is about players being able to earn what they can, and choose how and when they play. They can enter a tournament – but they don't have to."
O'Sullivan has also been dealing with a tennis elbow injury that also forced him to withdraw from the British Open last month and the European Masters in August, as he explained the impact of his pain on daily life.
He explained: "My elbow has been killing me again – it is a nightmare, and I have had injections. I am going to have to get more treatment on it, it can hurt to pick up a cup of tea or a frying pan."
Source: Read Full Article