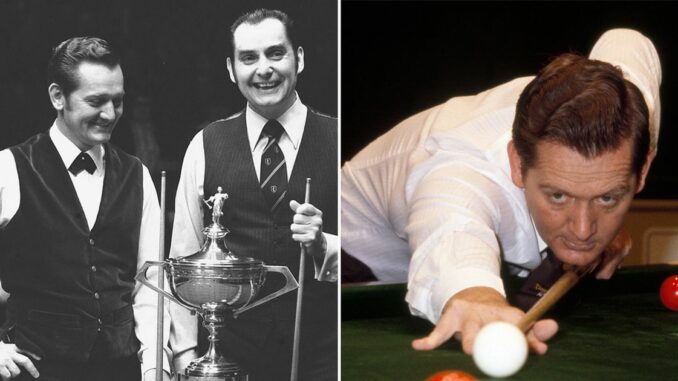 Bookmark
Offbeat news from the world of sport
Thank you for subscribing!
Offbeat news from the world of sport
We have more newsletters
Snooker legend Pierre 'Perrie' Mans has died at the age of 82, according to reports in South Africa.
The South African was adored by fans for his powerful potting ability and trademark waistcoats, having reached as high as No.2 in the world rankings.
His passing comes 44 years after he reached the World Snooker Championship final at the Crucible, losing out to Ray Reardon, the year before he lifted the trophy at The Masters.
Mans was professional between 1961 and 1987 and won tournaments around the world as well as winning the South African Professional Championship on 14 occasions.
READ MORE: 'Cocaine-loving Alex Higgins was scary – he called himself the Devil and threatened me'
TV presenter Richard Osman said of his passing on social media: "82. Leaving his opponents needing snookers, as so often. Sad news, I saw him play on my very first visit to The Crucible."
A fellow fan added: "RIP Perrie, the long screw back pink in the 1978 World Final is one of the greatest shots I've ever seen given the conditions back then."
A third added: "Perrie Mans, a great potter and an under-appreciated player. RIP Perrie."
Mans was also a winner of iconic TV gameshow Pot Black in 1977, beating Doug Mountjoy 90-21 to a huge BBC2 audience.
As well as his final at the Crucible, he reached both the quarter-final and semi-final of the biggest world tournament.
He was also noted for being one of the first high-profile left-handed players, inspiring youngsters of the same style.
A statement from Snooker and Billiards South Africa read: "Pierre Mans the legend of South African Snooker is not with us anymore.
"He will be forever remembered for his great Snooker prowess in South Africa and on the Pro Circuit overseas.
"Snooker and Billiards South Africa and all the Cue Sport Players of this country convey their condolences and sympathies to his Family and close friends. May he rest in peace."
Source: Read Full Article