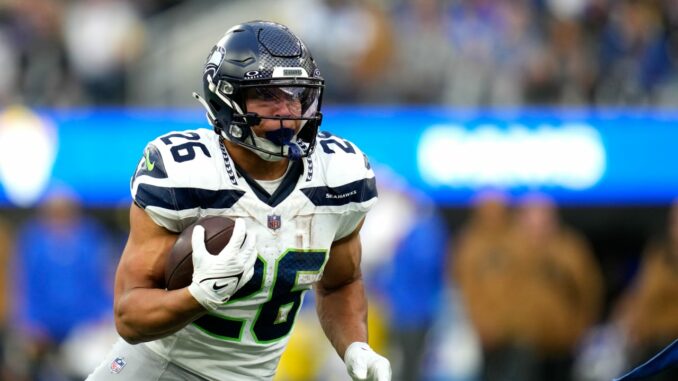 Well, this week is a funky one. We just lost another star quarterback to injury (Joe Burrow), and the bevy of backups thrown into action around the league is really starting to hurt other fantasy position players, as well. Plus, in addition to the guys hurt by questionable quarterback play, we also have guys who are just straight up hurt. (Looking at you, De'Von Achane and Cooper Kupp … again.)
All that said, this week's waiver wire offers a couple of potential league-winners at running back and a veritable hailstorm of interesting WR3s. That's what this column is for: Finding pickups with the potential to plug those critical holes in your lineup heading toward the playoffs. So, let's get to 'em.
As always, these are the most intriguing players who are rostered in less than 60 percent of NFL.com leagues. If you have questions, my DMs are open: @MattOkada on Twitter … or X … or whatever it is.
Related Links
The First Read: One thing each NFL team has to be thankful for entering Week 12
Separation season: Which teams helped/hurt their playoff chances Sunday?
NFL stats and records, Week 11: Bills' Josh Allen sets TD mark through six seasons; 49ers' Brock Purdy has perfect day
2023 NFL season, Week 11: Notable injuries, news from Sunday's games
2023 NFL season, Week 11: What We Learned from Sunday's games
2023 NFL season, Week 11: What We Learned from Ravens' win over Bengals on Thursday night
QUARTERBACKS

ROSTERED: 27%
Mayfield is coming off his worst outing since Week 6, but we didn't expect much against this revitalized 49ers defense. Importantly, he still threw for 246 yards and a touchdown, which feels like his absolute floor these days. Even more importantly, he now gets the Colts, who field a defense that's faced an incredibly soft quarterback schedule but allowed strong performances to the few studs it has faced. Not necessarily saying Mayfield's a stud, but he absolutely has 20-point upside in this matchup.

ROSTERED: 30%

ROSTERED: 0.2%
Obviously, it would help if we knew who was starting here, but in all honesty, it doesn't particularly matter. Carr had been stringing together some decent performances before suffering multiple injuries in Week 10, and Winston might be the most fantasy-capable backup in the league. With New Orleans coming off a bye, it seems likely Carr will get the start (barring any unfortunate news) against the Falcons this Sunday. And the Atlanta defense is in shambles — or at least it was heading into its Week 11 bye. The Falcons allowed 22.9 fantasy points per game to Will Levis, Joshua Dobbs and first-game-back Kyler Murray in Weeks 8 through 10. Yes, you read all of that correctly. Whoever starts for the Saints can be streamed in your lineup.

ROSTERED: 4%
There hasn't been much in the way of Minshew Magic since the veteran took over for Anthony Richardson back in October (outside of a fluky game against the Browns in Week 7). But I do believe he's capable, and he certainly has weaponry on offense. Still, this is all about the matchup. The Buccaneers' secondary has been absolutely torched over the last month, allowing 25.9 fantasy points per game to QBs — even with a six-point dud from Will Levis included. Josh Allen (29 points), C.J. Stroud (42) and Brock Purdy (27) all finished as top-two quarterbacks in the week they played Tampa Bay during that span. I don't sense an extremely high ceiling from Minshew, but 20-plus is viable, and a QB1-type performance feels more likely than not.
RUNNING BACKS
NOTE: Both Devin Singletary and Khalil Herbert are available in more than 30 percent of leagues, but not quite enough to qualify for this column. The new RB1 in Houston, Singletary is a must-add and solid start moving forward. Herbert had 19 opportunities in his first game off injured reserve and should be added, as well.

ROSTERED: 34%
The Seahawks' rookie running back made the GUYS TO 'STACHE last week, but actually saw his rostership percentage drop heading into Sunday. Tsk, tsk, tsk. Now you're going to have to scramble for the second-round pick heading into Week 12. Kenneth Walker suffered what is currently being reported as an oblique injury which could cost him time going forward. For as long as he's out, Charbonnet is a flex consideration, having posting 60-plus scrimmage yards in three of his last four games as the backup. The matchups over the next three weeks aren't great (vs. 49ers, at Cowboys, at 49ers), but it might not matter all that much if Charbonnet is the lead back.

ROSTERED: 27%
OK, so 3.1 of Chandler's 15 fantasy points on Sunday Night Football came on an amazing fake punt (that ultimately didn't matter much in a narrow loss). We likely can't count on those every week. And he was out-carried 18 to 10 by Alexander Mattison. Not my best sell? Stick with me. Not only did Chandler total 73 yards on the 10 carries he did get, but he also caught all four of his targets for 37 yards as a receiver. Mattison caught one of two targets — for negative yardage. Chandler also passes the eye test in ways Mattison simply does not, plus Mattison lost a fumble that sort of marked the turning point in Sunday's defeat. All of this after we highlighted Chandler one week ago for his excellent showing against the Saints. Mattison will continue getting carries in this offense, but I think Chandler might be the more valuable back for fantasy and should be added in most leagues.
GUYS TO 'STACHE: I know Keaton Mitchell was one of the biggest disappointments of Week 11 — I started him in a league and regret it to this day. The rookie is still incredibly explosive and should (by all logic and reason) get more opportunities moving forward. In the Rams' 17-16 win over the Seahawks, Darrell Henderson got the goal-line touchdown and all the receiving work, but Royce Freeman dominated the rushing attack with 17 carries for 73 yards. Both are 'stacheable in case Kyren Williams isn't ready to return in Week 12, as Sean McVay expects.
WIDE RECEIVERS
NOTE: Alright, there are a lot of names here, and most of them fall into the same tier: guys who've flashed upside but are hardly "trustworthy" at this juncture. As such, we're going to go rapid fire through the whole list. Just know that I've roughly arranged them in the order I'd add them. Good luck (to all of us).

ROSTERED: 47%
The Colts' rookie wideout has cooled off a little after a red-hot October in which he averaged 16.6 fantasy points per game, scoring eight fantasy points combined in Weeks 9 and 10. However, both those games were rather unfriendly matchups and game scripts. His next two games come against the Buccaneers and Titans, who are among the friendliest opponents for fantasy wide receivers. I'm willing to bet on a bounce-back from Downs.

ROSTERED: 33%
After posting 9.9 fantasy points in Week 7 and goosing in Week 8, OBJ has posted double-digit points in three straight games, with touchdowns in the first two and 116 yards Thursday against the Bengals. With Mark Andrews out for the season, Beckham has a shot to step up in this offense and earn WR3 consideration down the stretch.

ROSTERED: 32%
The even distribution of targets through the Green Bay receiver room has been incredibly frustrating, as it prevents us from zeroing in on any single wideout as a reliable fantasy option. That said, Reed leads the crew in touches (20) and scrimmage yards (299) over the last month and is right in the mix with Christian Watson and Romeo Doubs on snaps and routes. He also looks the best on tape, in my opinion. I'd like to have him somewhere on my roster heading toward the fantasy playoffs.

ROSTERED: 55%
Bad news first: After back-to-back outings with 69-plus receiving yards in Weeks 8 and 9, Dotson has totaled 23 yards over the last two games. The good news? He scored three touchdowns across those four games and has been as consistent a visitor to the painted area this season as you're going to find on the waiver wire. I don't love the matchup against Dallas in Week 12, but it only takes one or two plays for Dotson to return value.

ROSTERED: 1%
Every once in a blue moon, Gabe Davis will have a game. For the rest of the weeks — the vast majority — it looks like Shakir is the actual WR2 in this offense. He's averaged 12.2 fantasy points per game over the last month, including a 115-yard performance against the Jets on Sunday. With Buffalo's offense (apparently) back on track under Joe Brady following the firing of Ken Dorsey, you could do worse than Josh Allen's WR2 as an upside flex play.

ROSTERED: 48%
The 20th overall pick in the 2023 NFL Draft is hovering right on the brink of a breakout. He's logged five games with 40-plus yards over Seattle's last six contests and has looked quite impressive throughout. The breakout may be tough to find with DK Metcalf and Tyler Lockett still playing ahead of him, but high-capital, high-caliber rookie wideouts are often league-winning fantasy acquisitions heading into winter. JSN has that kind of upside.
GUYS TO 'STACHE: Elijah Moore has logged 12-plus fantasy points in back-to-back games and is getting decent targets, even with rookie Dorian Thompson-Robinson in at QB. He's not startable just yet, but keep an eye on his opportunities moving forward. Remember Noah Brown? Thanks to an injury absence on Sunday, he's still readily available on waivers and still has upside as the WR3 in the best pass offense in football (yeah, I said it). It's not impossible that Kyler Murray just really likes Greg Dortch. In Murray's second week back, Dortch led the team with eight targets for six catches and 76 yards — albeit in the absence of Michael Wilson, who I also like as a 'stache. Want to roll the dice on a 40-yard touchdown reception? Pick up and play Rashid Shaheed, especially in Week 12 against the Falcons (see Derek Carr/Jameis Winston above).
TIGHT ENDS
ROSTERED: 45%
After a dud in Week 10 (I did tell you those would come eventually) and a bye in Week 11, Hill is once again heavily available on the waiver wire. Given the recent renaissance at the position, I'll admit he's not as necessary a start as he was a few weeks ago. Still, even with that single-digit outing in Week 10 and a week off for the bye, Hill's 72.1 fantasy points since Week 6 ranks sixth among tight ends (fifth if you remove Mark Andrews). Plus, whether Derek Carr plays banged up or Jameis Winston gets the start in Week 12, we could see an increase in snaps for Hill in the short term. He's still a TE1 until proven otherwise.

ROSTERED: 2%
Disclaimer up front: Likely is not Mark Andrews, nor is he likely (chuckle) to fill the hole Andrews leaves behind in Baltimore. That said, in two games without Andrews during Likely's 2022 rookie year, he caught a touchdown in one and snagged eight catches for 103 yards in the other. And as much as I like Odell Beckham as a pickup (see above), there is now no true alpha for Lamar Jackson to pepper. Likely will get targets and touchdown opportunities. That's all we can ask for out of a waiver wire tight end. 

ROSTERED: 58%
Thomas is in a tier below Taysom Hill, and he's two tiers below the army of youngsters (Sam LaPorta, Dalton Kincaid, Trey McBride) and the red-zone ballers (Jake Ferguson, Dalton Schultz). But if all of those guys are rostered, Thomas is still being heavily targeted in this Washington offense. He is my favorite "every-week streamer" at the position.
DEFENSES
NOTE: As with the wideouts above, we have an avalanche of decent streaming options on defense this week. So, we're going rapid fire once again. And, once again, in priority order.

ROSTERED: 50%
In Week 12, the Dolphins draw a Jets offense that's been downright offensive to watch — by which I mean "causing displeasure or resentment" (shoutout Merriam-Webster). Zach Wilson was so bad on Sunday that head coach Robert Saleh finally pulled him for Tim Boyle … who proceeded to play even worse. Unless Aaron Rodgers magically returns for this Black Friday showdown (not holding my breath), I'm setting the bar for Miami's D/ST at 9.5 fantasy points and taking the over.

ROSTERED: 40%
The Bengals' defense hasn't been all that great lately, but it's also faced top-10 offenses in four straight games. Believe it or not, the Steelers do not have a top-10 offense (sarcasm). In fact, they are 28th in both scoring and yards. That's fifth-worst in the NFL, if you're keeping score. Kenny Pickett has thrown two touchdown passes in his last seven games. This is going to be ugly (which means pretty, if you start the Cincy D/ST).

ROSTERED: 58%
The Lions D/ST has been very hit or miss this season. Double-digit performances against the Falcons, Packers, Buccaneers and Raiders. Negative outings against the Ravens and Chargers. Only six points against the Bears in Week 11. Unsurprisingly, I am going to put a Week 12 meeting with the Packers in the category that previously included … the Packers. This one is also at home. Sign me up for a few sacks and a couple interceptions.

ROSTERED: 6%
Remember when this team allowed 70 points to the Dolphins? Me, too. Apparently, the Broncos took it personally and have been rather tough on defense since that Week 3 disaster. Denver's unit has averaged 11.3 fantasy points per game over the last three, a stretch that included the Chiefs and Bills (and Vikings on Sunday night). Best of all, they get Dorian Thompson-Robinson and the Browns in Week 12. Yes, please.

ROSTERED: 41%
The Saints need takeaways to score fantasy points, as they're bottom five in the NFL in sacks per game this season. So, it would helpful if they were facing, say, a quarterback averaging the third-most turnovers per game on the year. What's that? Desmond Ridder is that guy? And he was renamed the starter? Well, then. Fire up New Orleans.

ROSTERED: 14%
Apparently, the Giants' defense has taken a page out of its stadium mate's playbook and is intent on carrying New York's struggling offense to wins by any means necessary. That has translated to some surprisingly good fantasy outputs for this squad since Week 5: four games with 12-plus fantasy points, to be exact. In Week 12, the defense faces a hapless Patriots offense that's scored more than 20 points just once all season. Need I say more?

ROSTERED: 37%
In a Week 11 game that Washington lost, 31-19, the Commanders' defense still picked up nine fantasy points by sacking Giants quarterback Tommy DeVito nine times. Prior to Sunday, New York had fallen short of 20 points in eight straight games. This Patriots' defense isn't what it once was, but I don't know that it matters against New York. This game should be an offensive disaster, which is great news for both fantasy D/STs involved.
Source: Read Full Article