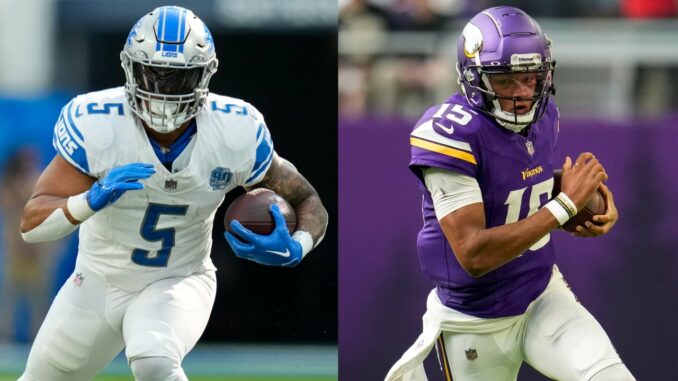 NFL+ — the league's exclusive streaming video subscription service — allows fans to dive deeper into the game they love. Whether you don't want to miss a minute of the action (Full Game), need to speed-run through a matchup (Condensed Game), or aim to break down tape like the experts (All-22), NFL+ has you covered. Each week, NFL.com will highlight the can't-miss moment from each game that fans can re-live on NFL+.
MONDAY GAME
Denver Broncos 24, Buffalo Bills 22
SUNDAY GAMES
Las Vegas Raiders 16, New York Jets 12
Arizona Cardinals 25, Atlanta Falcons 23
Detroit Lions 41, Los Angeles Chargers 38
Dallas Cowboys 49, New York Giants 17
Seattle Seahawks 29, Washington Commanders 26
Indianapolis Colts 10, New England Patriots 6
Cleveland Browns 33, Baltimore Ravens 31
Houston Texans 30, Cincinnati Bengals 27
San Francisco 49ers 34, Jacksonville Jaguars 3
Minnesota Vikings 27, New Orleans Saints 19
Pittsburgh Steelers 23, Green Bay Packers 19
Tampa Bay Buccaneers 20, Tennessee Titans 6
THURSDAY GAME
Chicago Bears 16, Carolina Panthers 13
NOTES:
MONDAY GAME


Nick Shook's NFL+ moment of the game:
A low-scoring affair finally saw a couple of key touchdowns scored late, so we'll start early in the fourth, when the Broncos embarked on a 12-play, 54-yard drive filled with clutch third-down conversions achieved by Russell Wilson and his cast of teammates, a healthy dose of red zone carries for Javonte Williams, and an excellent toss under pressure from Wilson to Williams for a go-ahead touchdown. The fun just starts there, though. Buffalo responded with a six-play, 75-yard touchdown drive filled with James Cook rushes — including a fumble in which he essentially dribbled the ball to himself — and a Josh Allen score to take the lead. Then, Denver delivers the final answer with a 10-play, 57-yard drive that ends in not one, but two field goal attempts. Why? Well, you'll have to tune in to find out.
Re-watch the Broncos' win on NFL+.
Back to top
SUNDAY GAMES


Brenna White's NFL+ moment of the game:
In this defensive matchup, there was one offensive star who shined for Las Vegas. Running back Josh Jacobs broke loose for a big play that helped the Raiders get the victory on Sunday night. Jacobs went up the middle and took off for a 40-yard run, getting out of tackles along the way before finally being stopped at the 13-yard line. It set the Raiders up for their only touchdown of the night — for either team. Jacobs had a season-high 27 carries for 116 yards and showed off his speed while doing it.
Re-watch the Raiders' win on NFL+.
Back to top


Kevin Patra's NFL+ moment of the game:
Kyler Murray is back! In his first game since suffering an ACL tear last season, the dynamic QB showed no ill effects from the injury. No play signaled Murray was back more so than his third-down scramble for 13 yards on the game's final drive. Murray took the shotgun snap from his own 42-yard-line, retreated from pressure back to the 20, avoided a sack, then turned on the jets to scamper away from Atlanta for a big first down. Per Next Gen Stats, Murray traveled 68.9 yards on his scramble and reached a top speed of 20.17 mph, his fastest since Week 16, 2021. It was the type of play you have to see to believe.
Re-watch the Cardinals' win on NFL+.
Back to top


Coral Smith's NFL+ moment of the game:
With a combined 79 points scored in this contest, there's no lack of re-watchable moments to choose from. But limiting it to just one, I'd cue up the Lions' fifth possession of the afternoon, and enjoy that entire scoring drive because it took just 14 seconds for Detroit to punch it in on one play by running back David Montgomery. Montgomery took the handoff and slipped by the first line of the Chargers' defense without breaking stride, then juked players in the secondary as he ran down the sideline and into the end zone for a 75-yard touchdown. The ensuing review of the play to ensure that Montgomery had not stepped out added an extra level of intrigue, but with the TD confirmed, the Lions went up 24-10 en route to the win Sunday in Los Angeles.
Re-watch the Lions' win on NFL+.
Back to top


Eric Edholm's NFL+ moment of the game:
The Cowboys dominated the second quarter, much as they have this season, outscoring their opponents by a combined 103-42 in the second 15 minutes of games. For whatever reason, they just take a bit to get cooking, but when that oven is preheated, better grab your mitts. Dallas faced its one true defensive test of the game to start the second quarter Sunday following Dak Prescott 's interception, getting a fourth-down stop at its own 4. That led to a 96-yard Dallas TD drive, the first of three in a completely dominant quarter. All three were led by Prescott, who threw for TD passes to Jake Ferguson and Brandin Cooks and ran in a 10-yard score to make it 28-zip, Cowboys, at halftime.
Re-watch the Cowboys' win on NFL+.
Back to top


Nick Shook's NFL+ moment of the game:
A sleepy game became an active one in the fourth quarter, and I'll keep this simple for you, the reader. The final five possessions between these two teams went as follows: field goal, touchdown, touchdown, touchdown, field goal. Sam Howell dropped two dimes on his teammates for scores, and Geno Smith led two crucial drives, with each ending in the Seahawks taking the lead. Only one, though, proved to be decisive. Run the replay to find out why.
Re-watch the Seahawks' win on NFL+.
Back to top


Michael Baca's NFL+ moment of the game:
Befittingly enough, it was a lowlight everyone was talking about following the Colts' win over the Patriots amid an offensive struggle in Frankfurt, Germany. Mac Jones' red-zone interception late in the fourth quarter was about as disastrous as it gets. Mike Gesicki was wide-open for the would-be go-ahead touchdown, and Jones underthrew his tight end several yards short, landing in the arms of Colts safety Julian Blackmon. The crucial INT led to Jones' benching for New England's final drive with the game still in reach. Bailey Zappe threw into triple-coverage several plays into the last gasp to seal the Patriots' fate, but it was Jones' mistake that likely resonated during what had to be a long flight home.
Re-watch the Colts' win on NFL+.
Back to top


Nick Shook's NFL+ moment of the game:
This game officially entered the chaos zone in the fourth quarter, which Baltimore opened with a rushing touchdown earned in part to Cleveland committing a defensive holding penalty on third and goal. The Browns wouldn't fold, though, completing a six-play, 75-yard touchdown drive, then following that up with a Greg Newsome pick-six that came via a deflected pass on a play that is worth rewatching for the madness alone. Cleveland ended up securing a crucial stop and covering 58-yards on 12 plays, including a Jerome Ford carry that called all 10 of his teammates into action to push him forward for extra yards before Dustin Hopkins capped the unbelievable comeback with a 40-yard field goal at the buzzer.
Re-watch the Browns' win on NFL+.
Back to top


Kevin Patra's NFL+ moment of the game:
After failing to put the Bengals away on their previous two drives, including an interception by C.J. Stroud, the rookie quarterback showed ice in his veins on the final possession with the game tied. Facing a third-and-6 with 42 seconds remaining, Stroud whistled a pass over the middle for 25 yards to Dalton Schultz across midfield. Two plays later, the QB threaded the needle to Noah Brown for 22 yards to set up the game-winning field goal. The plays, on the road against a contender, showed the rookie's mettle and put Stroud firmly in MVP discussion.
Re-watch the Texans' win on NFL+.
Back to top


Eric Edholm's NFL+ moment of the game:
On the second play of the second half, 49ers QB Brock Purdy faced a second-and-short at his own 34-yard line, looking to build on a 13-3 San Francisco lead. The Jaguars sent a rare blitz at Purdy and appeared to close the pocket pretty effectively, but Purdy was unbothered. He stood tall and delivered a pretty pass to George Kittle, who was matched up in man coverage against linebacker Devin Lloyd. Kittle hauled in the pass, shook Lloyd's tackle attempt and raced 66 yards for a back-breaking score. It was also Kittle's long catch of the season and Purdy's career-long completion. Jacksonville would have chances to cut into the lead after this, but turnovers and a dominant Niners offense closed it out.
Re-watch the 49ers' win on NFL+.
Back to top


Kevin Patra's NFL+ moment of the game:
Josh Dobbs displayed his full Houdini act on Sunday against a Saints defense that had no answers for the quarterback in the first half. Dobbs moved the ball up and down the field early, finding open targets. He slipped so many sack attempts that New Orleans defenders became visibly upset. Leading 10-3 late in the second quarter, the Saints attempted to stay in striking distance, forcing a third-and-6 from the 7-yard-line. However, Dobbs' magic had other plans. The QB spun out of another would-be takedown, danced outside the pocket, and skirted to the end-zone for the touchdown. The play was a microcosm of what Dobbs has brought to the Vikings offense the past two weeks.
Re-watch the Vikings' win on NFL+.
Back to top


Eric Edholm's NFL+ moment of the game:
It came down to one play for Green Bay. Trailing 19-17, the Packers drove to the red zone on their penultimate possession of the game, with Jordan Love being intercepted in Pittsburgh's end zone. But Love got the ball back in the final minute, driving the Packers 65 yards, trailing 23-19, giving them one chance to win the game on the Steelers' 16-yard line with three seconds remaining. Love dropped back and — with pressure in his face from Alex Highsmith – underthrew his receiver, Christian Watson. The pass was jumped and picked by the Steelers' Damontae Kazee, ending yet another thriller at Acrisure Stadium. The Steelers might not make it easy on themselves, but they're sitting pretty at 6-3, very much in the thick of the AFC North race.
Re-watch the Steelers' win on NFL+.
Back to top


Nick Shook's NFL+ moment of the game:
A low-scoring affair in Tampa didn't produce a ton of memorable moments, but this one is worth rewatching to witness the highs and lows of a football game from the perspective of Mike Evans. The star receiver dropped a guaranteed touchdown and was incredibly distraught, so much so that he slammed a cooler on the sideline and held his towel-covered head in his hands in dismay between possessions. But everyone loves a good redemption story, and Evans wrote on Sunday, returning to action to catch a 22-yard touchdown pass from Baker Mayfield — who is having a surprisingly good season, by the way — to give the Buccaneers a decisive 17-6 lead in the third quarter. That alone — plus Tampa Bay's stifling pass rush — made this worth watching.
Re-watch the Buccaneers' win on NFL+.
Back to top
THURSDAY GAME


Eric Edholm's NFL+ moment of the game:
The Bears won the game, but if there was one truly memorable play from Thursday's contest, it was Ihmir Smith-Marsette's 79-yard punt return to give Carolina an early lead. In a scoreless game, Smith-Marsette — who only started returning punts full-time this season — caught Trenton Gill's punt and immediately made the Bears' Josh Blackwell whiff. Smith-Marsette also wiggled past Dylan Cole and Patrick Scales, and Gill seemed to have an angle but couldn't push him out. Credit to the Bears' Robert Tonyan, who tried to make a goal-line tackle, but there was no stopping Smith-Marsette on a brilliant return. And on a night when the Panthers struggled offensively, it was their only touchdown of the night and Smith-Marsette's first punt-return TD in the NFL. According to Next Gen Stats, Smith-Marsette had a 0.4% chance of scoring a touchdown on the play.
Re-watch the Bears' win on NFL+.
Back to top
Source: Read Full Article