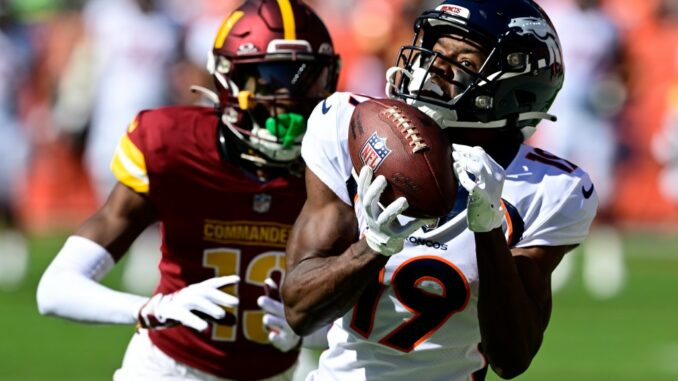 Stock Up
WR Marvin Mims, Jr.
The rookie wide receiver had five touches on Sunday and three of them went for 60 (and a touchdown), 54 and 45. The first two came on deep passes from Russell Wilson and the third on a punt return. He's the first Broncos player since the AFL/NFL merger with multiple 50-plus yard catches in a single game and the eighth NFL rookie with three or more plays of 45-plus yards in a game since 1998. Perhaps he'll play more than 16 snaps in Week 3.
Young edge rushers
Jonathon Cooper and Nik Bonitto combined for three sacks and three tackles for loss against Washington. Both showed promise during camp and in the preseason, but you never know exactly how it will translate. Bonitto is learning how to use his speed and bend against NFL tackles, but still has work to do in run support. Denver's OLB group looks well positioned to absorb the loss of Frank Clark to injury and continue producing until Baron Browning returns.
WR Brandon Johnson
Yeah, any Hail Mary play is a little bit fluky. But Johnson scored touchdowns on both of his catches Sunday and only saw his playing time tick down marginally (50% of Week 1 snaps to 45% in Week 2) despite Jerry Jeudy's return. Johnson has size and speed and is a nice role player in a receiving corps that has a chance to be pretty good if it stays healthy. The acceleration he showed to turn a crossing route into a 16-yard touchdown is indicative of what he can do with a little bit of space.
Pick value
According to Sumer Sports data, the Broncos' chances at the top overall pick jumped from 1.2% after Week 1 to 4.4% after Week 2 (ninth highest in the NFL). Such is life for a team that opens the season with back-to-back home losses. The Broncos, of course, will hope for a turnaround on the field despite spending the next two weeks on the road. In the meantime, though, it's not ideal that, Denver's odds of getting the No. 1 pick are almost identical to the odds 0-2 teams face making the playoffs (4.3%) over the past three seasons since the postseason expanded to 14 teams.
Stock Down
DC Vance Joseph
Pick pretty much any metric and the Broncos defense fared poorly Sunday. Washington had 399 offensive yards and 26 first downs en route to 33 minutes, 45 seconds of possession. The Commanders scored touchdowns on all three red zone trips. The Broncos didn't force a turnover. They sacked Sam Howell four times but also got caught with their ears pinned back on four screen passes for 87 yards. The tackling, particularly in the second half, was brutal. For a group that was supposed to be the one that hit the ground running this offseason, it's been an underwhelming start. They'll have to get it together fast and that starts with the veteran defensive coordinator back for a second stint with the Broncos.
RT Mike McGlinchey
McGlinchey's brought leadership to the Broncos and he's had tough assignments the first two weeks in Las Vegas' Maxx Crosby and Washington's bevy of talented rushers. But he allowed too much pressure on Wilson Sunday against the Commanders. The most glaring: A quick loss to Daron Payne on the opening play of the second half that led to a sack and immediately knocked Denver's opening drive off the rails. It was the first of five second-half sacks for Washington.
S Kareem Jackson
The Broncos' veteran safety is off to a rough start this year. He's concussed an opposing player with a high hit in each of Denver's first two games, been penalized for both and was ejected Sunday. It's possible he'll be suspended for Week 3 and a sure bet he receives another hefty fine. Washington players understandably took issue with his hit on Logan Thomas in the end zone and opposing teams from here out will keep a close eye on Jackson. Fourteen years of physical NFL service buys some benefit of the doubt and Jackson apologized last week, but this can't be a continuing theme.
Offensive identity
Running back Javonte Williams churned to 24 yards on his opening two carries. The Broncos at halftime had 12 carries for 71 yards (5.9 per carry) and a 10-point lead. And yet in the second half the Broncos ran the ball just 11 times, including four from Wilson. Game flows vary week to week, but jumping out to a 21-3 lead and finishing with 14 combined carries for your running backs is an odd way of showing you're committed to relying on your run game.
Want more Broncos news? Sign up for the Broncos Insider to get all our NFL analysis.
Source: Read Full Article