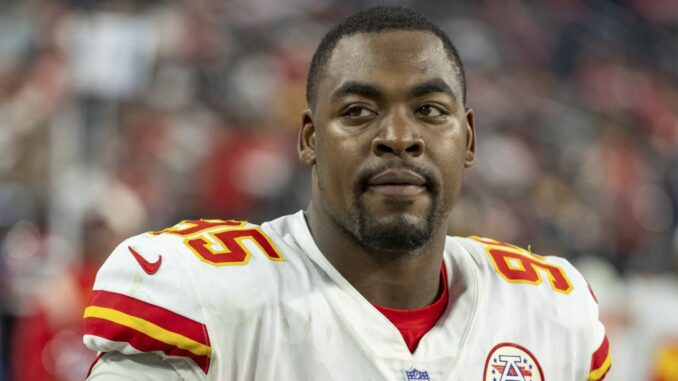 Chris Jones is at Arrowhead Stadium.
Unfortunately for the Kansas City Chiefs, Jones will be watching Thursday's action from a suite rather than joining his teammates on the field against the Detroit Lions in the NFL Kickoff Game, NFL Network's James Palmer reported.
With his offseason-long holdout carrying on into the season, Jones was officially inactive for the game, but will still watch it live. Palmer reported earlier Thursday there was a good chance Jones would be in attendance, as the Chiefs were not opposed to the four-time Pro Bowler being at the stadium and seeing the team's Super Bowl LVII banner unveiled.
There's a new banner in Kansas City 🏆 @Chiefs
📺: #Kickoff2023 on NBC
📱: Stream on #NFLPlus https://t.co/EBLJ3Rwf5g pic.twitter.com/X9dW8ik7yT
Related Links
NFL Power Rankings, Week 1: Steelers rising heading into 2023 season; Jets, Patriots fall before kickoff
Chiefs TE Travis Kelce (knee) out for 2023 NFL Kickoff Game vs. Lions
Chiefs DT Chris Jones opens up on holdout: 'All I'm doing is asking for a raise'
Looking for a raise ahead of the final season of his current contract, Jones has been a no-show for practices and now will miss the first game of the 2023 season.
He's been in close proximity to his teammates in consecutive days.
Prior to attending Thursday's game, Jones, 29, attended the Chiefs' annual "Red Wednesday" charity event at the Ronald McDonald House in KC.
"I can't really talk about it," Jones said Wednesday of his contract holdout. "Hopefully, it gets worked out. It's always been my goal to be a Kansas City Chief for life. I've said that multiple times on social media platforms, from interviews, and they know where my position is at. Hopefully we can get something worked out for the long term."
For the short term, Jones is a spectator at Arrowhead on Thursday, surrounded by fans who are no doubt clamoring for No. 95's return to the field that was below him.
The Chiefs head on the road for a Week 2 matchup at Jacksonville and it of course remains to be seen if Jones will be traveling with the team to suit up or not.
Source: Read Full Article