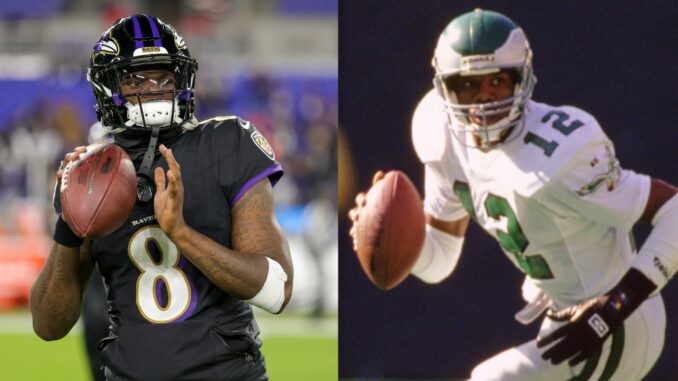 The fleet feet of Lamar Jackson have carried him to history once again.
The Baltimore Ravens quarterback's 8-yard carry in the first quarter Thursday against the Cincinnati Bengals put him into fourth place all-time for QB rushing yards, surpassing Randall Cunningham.
Jackson entered Week 11 needing just 11 rushing yards to run past Cunningham (4,928) for the No. 4 spot. He now trails all-time leader Michael Vick (6,109 yards), Cam Newton (5,628) and Russell Wilson (5,197).
Heading into Thursday's rivalry matchup, Jackson's 48.1 rushing yards were tops among QBs.
Only the second QB in NFL history to rush for 1,000 yards in a season (joined by Vick), Jackson is the only signal-caller with multiple 1,000-yard campaigns.
On Thursday, his long-lauded legs carried him up another rung on the all-time QB rushing list.
Source: Read Full Article