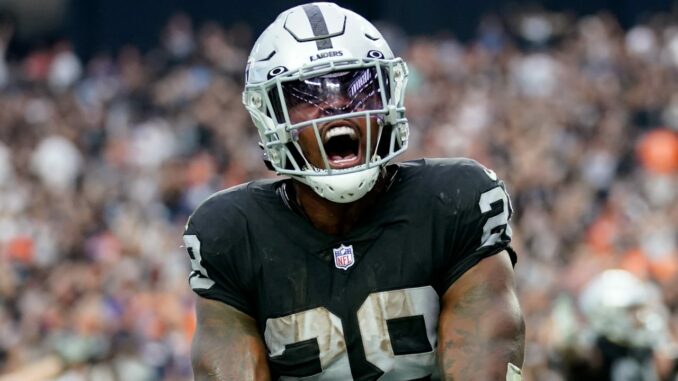 It's Year 6 of the RB Index! Where has the time gone? Like last year, I've decided to kick off the new season by predicting the top 10 leading rushers.
Before we jump into my projection, I want to remind you that I'll start my weekly ranking of the top 15 running backs next week, following the opening slate of games.
Alright, enough preamble. Let's get to it.

Jacobs ended his holdout in late August, signing a one-year deal worth up to $12 million. Great news for the Raiders, who desperately need the reigning NFL rushing champion in their backfield if they want to contend in the AFC West. Jacobs accounted for 80.3 percent of the team's total ground yards in 2022. I don't see that changing much in 2023.
Related Links
Nine last-minute predictions for 2023 NFL season: Josh Allen wins MVP, 49ers win Super Bowl LVIII
NFL QB Index, Week 1: 2023 season begins with Patrick Mahomes, Jalen Hurts on top
Lions RB Jahmyr Gibbs believes 1,000 yards rushing, 500 yards receiving within reach as rookie
2023 NFL Offensive Player Rankings, Week 1: Patrick Mahomes No. 1; four teams land two players
NFL Power Rankings, Week 1: Steelers rising heading into 2023 season; Jets, Patriots fall before kickoff
2023 NFL season preview: Fifty-eight things to watch on the road to Super Bowl LVIII

No running back has been better than Henry over the last five seasons, ranking first in the league in carries (1,464), rushing yards (7,101), rushing touchdowns (68), scrimmage yards (8,072) and scrimmage touchdowns (70) in that span. He'll vie for his third rushing title in 2023, no doubt, but there's a chance his carries could decrease with third-round rookie Tyjae Spears in place to spell the 29-year-old.

History says I'd be silly not to rank Chubb near the top of this list. The sixth-year pro has finished in the top three in the league in rushing yards in three of the last four seasons. He's as reliable as any back has ever been, averaging more than 5.0 yards per carry for his career, as he constantly keeps his legs churning upon contact to gain the extra yards.

Barkley led the NFL with 931 rushing yards through the first 10 weeks of the season in 2022, but racking up 381 yards the rest of the way destroyed any hopes of winning the rushing crown. Maybe the chips fall differently in 2023. Barkley is still the focal point of Brian Daboll's offense and will get all the opportunities to make plays.

OK, I hear you, Aaron. I probably could've ranked him higher in my RB1 rankings last month, considering Jones ranks sixth in rushing yards and scrimmage yards since 2019. He's excelled as a pass-catching option out of the backfield for the Packers, but his 5.1 yard-per-carry mark for his career ranks fourth all time (min. 1,000 carries). That is better than sneaky good. Combine that with the fact that he's rushed for more than 1,000 yards in three of the last four seasons, and Jones deserves the No. 5 spot here.

Jacksonville's second-year coach Doug Pederson sees Etienne gaining 1,600 yards on the ground in 2023. So do I. Etienne worked all offseason on attacking the hole downhill, which should help him become even more efficient than he was last season. That's saying a lot considering he averaged 5.1 yards a pop in 2022.

I love Kyle Shanahan for fully utilizing McCaffrey's skill set. A perfect fit in San Francisco's explosive offense, McCaffrey had over 1,100 scrimmage yards and 10 touchdowns in 10 games with the 49ers last season. He held the top spot in my RB1 rankings but this list is purely based on rushing production, which is why he sits at seven.

After posting 1,104 scrimmage yards as a rookie, Pierce will again be a focal point of the Texans' offense. The unit is in transition with a new offensive coordinator (Bobby Slowik) and rookie quarterback (C.J. Stroud), which bodes well for Pierce to build on his 2022 performance. After falling just shy of 1,000 rushing yards last season – when he missed the final four games with an ankle injury – he should easily crack 1,000 yards in Year 2 if he can stay healthy.

In 2022, Walker led all rookies in rush yards (1,050) and rush touchdowns (nine) and was the only running back in the NFL with three carries of 50-plus yards. He brings an explosive element to the Seahawks' run game, and despite Seattle adding rookie Zach Charbonnet to the backfield and more firepower to its passing attack, I like Walker's chances to build on his rookie production. The key is staying healthy.

Though Swift is sharing the load with Rashaad Penny, Kenneth Gainwell and Jalen Hurts, I see him taking the lead role in ground attack. He's a dynamic playmaker who has yet to play a full season or exceed 650 rush yards in a season. That changes in 2023.
The Ground Index presented by FedEx ranks NFL running back performances all season long. Check out the weekly FedEx Air NFL Players of the Week and cast your vote after Sunday Night Football.
Source: Read Full Article