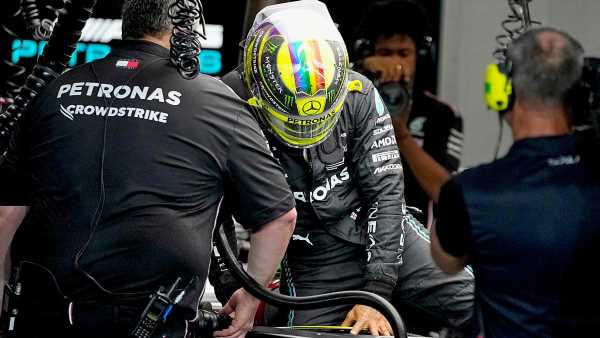 Explained: The strange way Lewis Hamilton holds his steering wheel
Hamilton has been seen with his left hand on the top of the steering wheel
It is a technique that has not be seen by the other drivers on the grid
The Seven-time World Champion has endured a difficult season as Mercedes struggles to get to grips with new regulations 
A Mercedes mechanic has given an explanation as to why Lewis Hamilton holds the steering wheel in a pecular way.
Fans have noticed the seven-time World Driver's Champion does not hold both the handles with either hand but instead has his left hand at the top.
Despite Hamilton's elite status, it appears to be a technique that no other driver on the grid has decided to adopt, not even teammate George Russell.
Despite much speculation on X, he has neer revealed the reason behind it and instead it has been alluded by a team mechanic taking fans on a tour of the Mercedes pit.
It is a technique deployed only at the start of a race before he takes a more convenitonal grip.
The Mercedes mechanic recreated Lewis Hamilton's race-start grip while explaining it's purpose
And in a clip shared on the social media platform a Mercedes mechanic informs fans that is to avoid a gear shift disaster at a crucial point of the race.
Adopting the same grip as Hamilton the mechanic said 'Do you know why Lews starts like that?
'Why? What do you think?
'Is he showing you something? Or is holding (the downshift gear paddle) so he can't go down a gear.
'Because what you don't want to do is accidentally go down a gear so If you put your hand there, you can't go down a gear.'
One of the suggestions for Hamilton's decision is that he favours a smaller gear shifting paddle to that of his fellow drivers and could be more prone to this issue.
Lewis Hamilton first starting using the grip in 2021 season
Though it is worth noting that the 38 year old has not always used this technique with it first being seen during the 2021 season.
Mercedes and Hamilton have struggled to get to grips with the new regulations introduced at the start of last season with the British driver yet to win a race since the start of 2022.
While their new direction of adding side pods has seen them start to compete at the top end again, they are still well off the pace of Max Verstappen's Red Bull.
And things went from bad to worse when he collided with George Russell at the start of the Qatar Grand Prix.
Source: Read Full Article