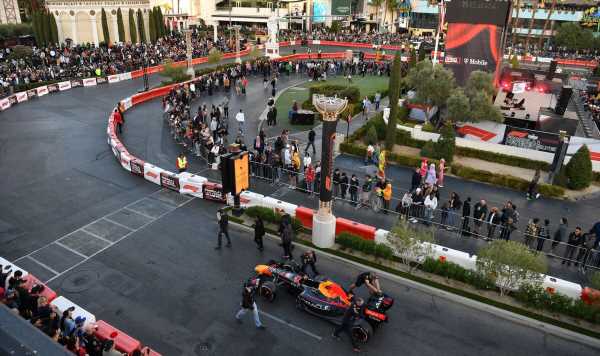 The F1 Las Vegas Grand Prix may not be a foregone conclusion after all, with an unexpected weather issue posing difficult challenges for teams. However, Max Verstappen and Red Bull come into the race having wrapped up both the drivers' and constructors' championships.
The Dutchman completed a three-peat of F1 world championships in Qatar and has won 17 races so far this season, while Red Bull has lost just one race, coming in Singapore to Ferrari and Carlos Sainz. But Las Vegas is set to be the coldest race of the year, with lights out at 10pm local time and temperatures predicted to be 12 degrees Celsius or lower.
The bitterly cold weather coupled with the Vegas circuit's long straights will make it difficult for teams and drivers to get tyres at optimal temperature to set quicker lap times in qualifying and when it comes to the racing on Saturday. Lock-ups could be a common occurrence later this month and that could present another team and driver the opportunity to land a blow on the dominant Red Bull of Verstappen.
"It'll just depend on exactly how cold it is," Mercedes trackside engineering director Andrew Shovlin told Autosport. "Because if the track is down in single figures, that's often a region where you go winter testing. You do a run, it's very difficult for the tires to either get them switched on, or there may be graining and things. And then sometimes you just wait until it warms up a bit. So actually having to sort of race and qualify in those conditions, it will be interesting."
Haas director of engineering Ayao Komatsu believes an opportunity could be there to be seized. The American team has struggled this year with high tire temperatures. He said: "It's a very different temperature window, so we've got to get the tires to work.
"But if I had to choose hot or cold, I'd choose cold conditions at this minute! So hopefully, we can get it to work. I think it'll be a big challenge for us, especially our team with the tools we've got in terms of pre-event simulation, more limited compared with let's say, Mercedes."
Don't miss…
Novak Djokovic theory raised as Serb 'distancing himself more and more'[LATEST]
Arsenal can sign three players in January with Partey 'wanting to leave'[LATEST]
Top 30 men's tennis stars in prize money including Djokovic and Murray[LATEST]
Support fearless journalism
Read The Daily Express online, advert free
Get super-fast page loading
Verstappen, who is seemingly mistake-proof these days, could end the season with 19 wins out of an available 22 with wins in Vegas and the season-concluder in Abu Dhabi. That would see the 26-year-old jump up to third in the all-time F1 wins standings, leapfrogging the great Sebastian Vettel, who has 53.
And should Verstappen continue his dominance in the 2024 and 2025 seasons by winning 15-plus races before 2026's regulations chances, he could find himself not too far off rival Lewis Hamilton's record of 103. That also depends on whether Mercedes continues to falter, with the team without a win since Brazil 2022.
Source: Read Full Article