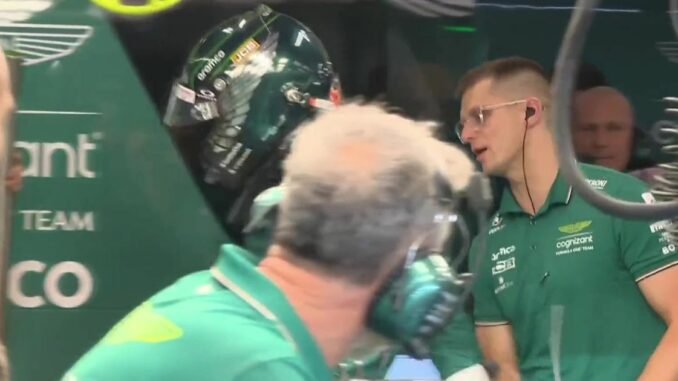 F1 driver Lance Stroll has been given a written warning by the FIA after he shoved his own personal trainer at the Qatar Grand Prix.
The Canadian racer, whose billionaire father Lawrence owns the Aston Martin team, was eliminated in Q1 of the Qatar Grand Prix, which led to an angry Stroll looking furious once back in the team garage. Getting out of his car, Stroll was told by trainer Henry Howe to go and get weighed.
However, instead of listening to Howe, who was simply telling Stroll what he should do per the FIA protocol, the driver shoved the trainer, in scenes that left F1 fans with a bitter taste in their mouth. Some even wanted to see Stroll sacked by Aston Martin following the altercation.
READ MORE: Christian Horner reveals how Red Bull team partied after Max Verstappen's F1 title win
READ MORE: F1 fans want Lance Stroll sacked for 'pushing' trainer and 'embarrassing' interview
And the 24-year-old has now been handed a written warning by the FIA. Per F1 freelance journalist Chris Medland, Stroll has now apologised for his role in the incident, and been issued "with a written warning from the FIA Compliance Officer regarding his conduct."
A statement from the FIA read: "The FIA maintains a zero-tolerance stance against misconduct and condemns any actions that may lead to physical harassment." And it's safe to say F1 fans on social media are not happy with the outcome of Stroll's 'punishment'.
Do you agree with F1 fans who want Lance Stroll sacked? Let us know in the comments section below.
One fan commented: "Zero tolerance and no penalty?" Another added in agreement: "Zero tolerance, but now there are no real consequences. Very nice fia, very nice." A third said: "Zero tolerance…but we will tolerate it."
A fourth wrote: "Thats a super soft punishment for his behaviour that weekend." And a fifth said: "Maybe I don't understand what 'zero tolerance' means …"
Prime Video is available as part of the Amazon Prime membership, which costs £8.99 per month or £95 annually for an individual.
The membership gives access to all the perks of Amazon Prime (including free Premium and Same- Day Delivery in selected residential postcodes, and other benefits) plus the full library of content available through Prime Video.
Prime also offers a discounted membership, Prime Student for higher education students.
You can also sign-up for Prime Video on its own for £5.99 per month, however, you won't get the other benefits that come with Prime — like free One-Day Delivery and Same-Day Delivery on eligible orders and fast grocery delivery and pickup.
£5.99 per month for Prime Video only, or £8.99 per month for Amazon Prime membership
Aston Martin have hardly covered themselves in glory this week either, with team principal Mike Krack comparing Stroll's outburst to that of a footballer being substituted. According to Krack, Stroll's shoving of the trainer was like: "a football player that is taken off the pitch – he he doesn't do a high-five to the manager, or he throws the jersey or he throws the water bottles.
He added: "I'm sure we run 10-20 times less adrenaline on the pit wall than the drivers do, but you put the microphone straight away in front of them, or you gauge every reaction that they do. Emotions are what we want from sportsmen and then if they react, we judge them quickly, 'Is this right, is this wrong?'"
Source: Read Full Article