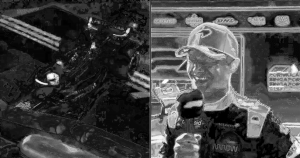 Lando Norris says he feels for George Russell after he crashed out on the last lap while fighting for the lead at the Singapore Grand Prix.
That said, he couldn't resist joking a little bit about his fellow British Formula One star's demise and was clearly relieved that it had happened.
Ferrari's Carlos Sainz took a shock victory in Singapore to end Max Verstappen and Red Bull's record win-streak.
Norris finished second in his McLaren, with Mercedes' Sir Lewis Hamilton completing the podium, though for much of the last phase of the race, it was was Russell who seemed destined for the win.
The 25-year-old ran in second for much of the race before pitting under the virtual safety car and with fresh tyres he quickly closed the gap back on Sainz and Norris though was unable to get past the latter on the narrow track.
He kept pushing, but on the final lap he clipped the wall ahead of turn 10, breaking his front suspension and sending him straight into the barriers.
Asked about the incident post-race, a grinning Norris was visibly thrilled about the result and relieved that he had held off his rival, saying: 'I hit the wall in the same place, I did the same. So I think he copied me and did it even worse!
'It was a really challenging race, the tyres were dropping off and you are pushing the limits. That's how racing should be, you make a small mistake and you are bitten for it.
'It's heart-breaking after such a great weekend – the car has felt great, qualifying was great, the race was great, we were bold with the strategy.
'I feel like I let myself and the team down. It's tough but we will come back.
For more stories like this, check our sport page.
Follow Metro Sport for the latest news onFacebook, Twitter and Instagram.
Source: Read Full Article